Celebrating 40 Years of the Fairfield Centre – Latest news from Mole Valley District Council
Last week marked 40 years since the opening of Mole Valley District Council's (MVDC) Fairfield Centre in Leatherhead. Originally opened as the "Leatherhead Day Centre" in 1982, the Fairfield Centre has offered a home from home and place for the older residents of Mole Valley to come together to socialise, exercise, learn new skills, partake in activities and make new friends for two score years.
To celebrate, during the week commencing 28th March the Fairfield Centre ran daily, pre-booked celebratory three course lunches and additional entertainment for its members. Celebratory entertainment included an 80s themed quiz, "Songs you remember" singalong and a reminiscence session to name but a few. These sessions ran in addition to a number of the Fairfield Centre's usual activities, including exercise, IT and art classes, as well as word games and puzzles sessions.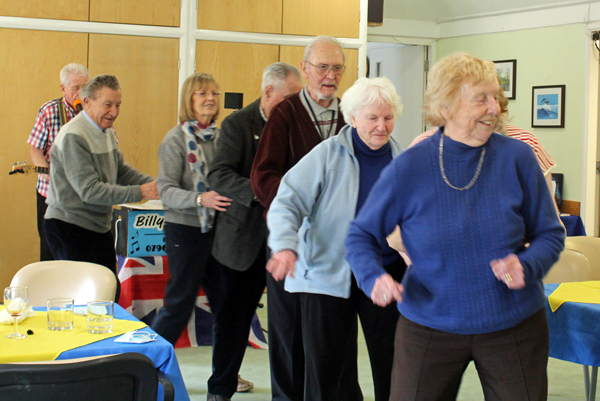 MVDC's Executive Head of Service (Communities), Rachel O'Reilly said, "For 40 years now we have been fortunate enough to have the Fairfield Centre in Leatherhead to provide a welcoming environment for Mole Valley's older residents. The Centre delivers a stimulating programme of daily activities, as well as delicious, healthy and affordable meals. The ongoing pandemic has really shone a light on the importance of social connections for health and wellbeing. Whilst our older residents were advised to shield or reduce their number of contacts, the Fairfield Centre switched to a programme of Zoom get-togethers to help keep members connected and boost their spirits. During this period they also conducted over 7,000 wellbeing calls to their members, offering a friendly voice during a difficult time.
"As restrictions have been eased Mole Valley District Council have gradually reopened the Centre; from our outdoor 'Terrace Café' last April, through to today, where we have been running our programme of varied activities, entertainment and nutritious hot meals for many months now. I would like to take this opportunity to thank the Fairfield Centre team and its volunteers for their hard work and dedication in supporting Mole Valley's older residents."
If you would like to find out more about the Fairfield Centre and becoming a member, please call 01372 376058, email Fairfield.Centre@molevalley.gov.uk or visit molevalleylife.co.uk.