Date published: 30th November 2021
Today (Nov 30) North Norfolk District Council and Everyone Active were delighted to throw open the doors of our brand new leisure centre in Sheringham.
A crowd of eager customers surged the facility at 7am to be among the first to make use of the fantastic new pool, gym and studio. 
The doors were opened by Cllr Virginia Gay, NNDC's Portfolio Holder for Leisure, Culture and Wellbeing, Emily Capps, Assistant Director for Environmental and Leisure Services, and Karl Read, Leisure and Locality Services Manager.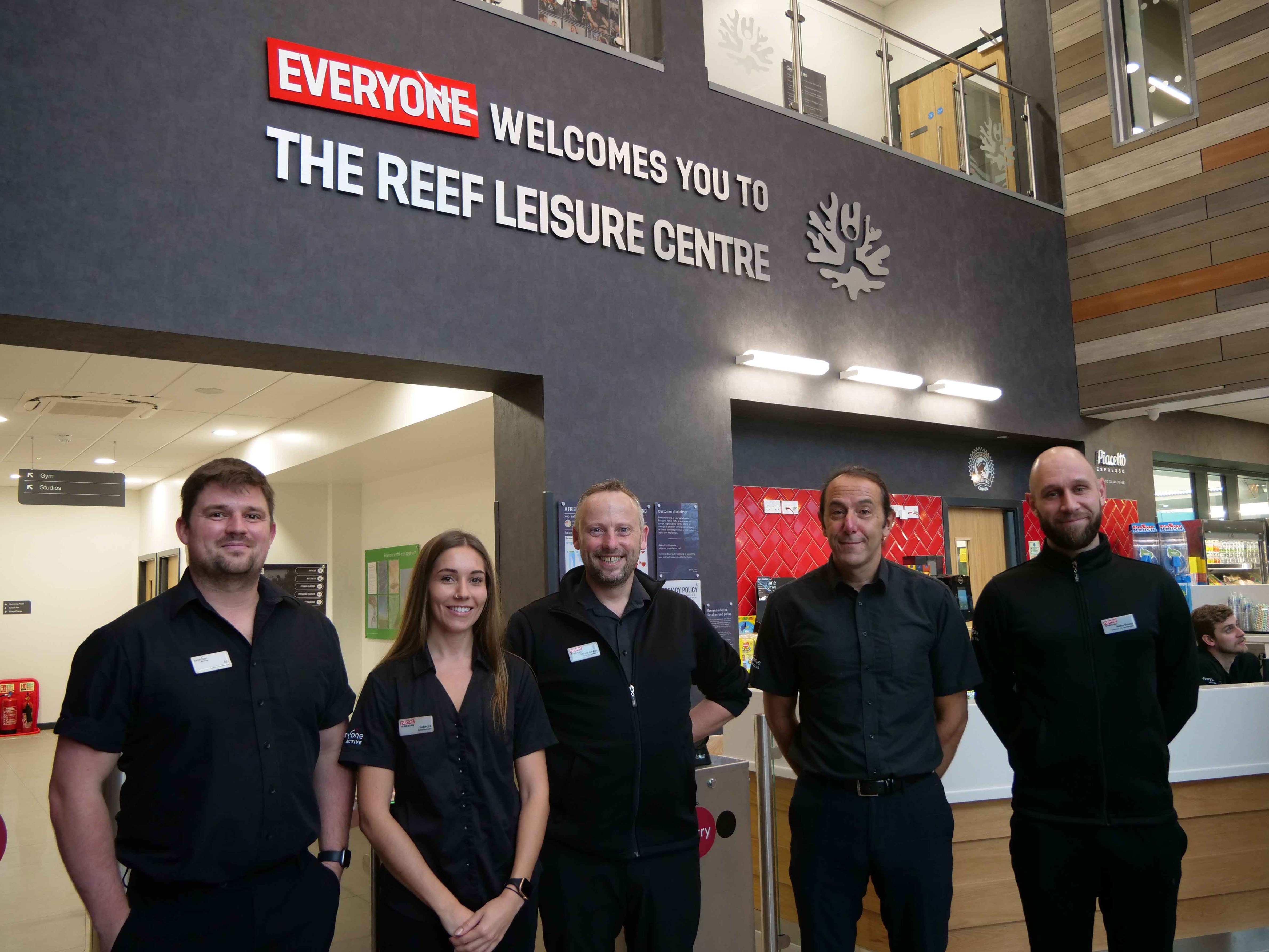 Visitors were impressed with what's on offer:
Emma and Willow had their first swim in the Learner Pool:
Sue had her first eagerly awaited swim:
Alex attended the first Studio class!
Steve had his first swim too:
Stuart Jardine, Everyone Active's Contract Manager, said:
"We were really proud to welcome the community to this fantastic new facility.
"Seeing customers queuing up before 7am was a great feeling for all our colleagues. People couldn't wait to get in and that is a good indicator of the interest and enthusiasm there is towards The Reef.
"The feedback we had from customers was incredibly positive, not just in terms of the look and feel of the centre, but also the depth of activities on offer.
"Our first day open was a huge success and colleagues are really looking forward to serving the public at The Reef for many years to come."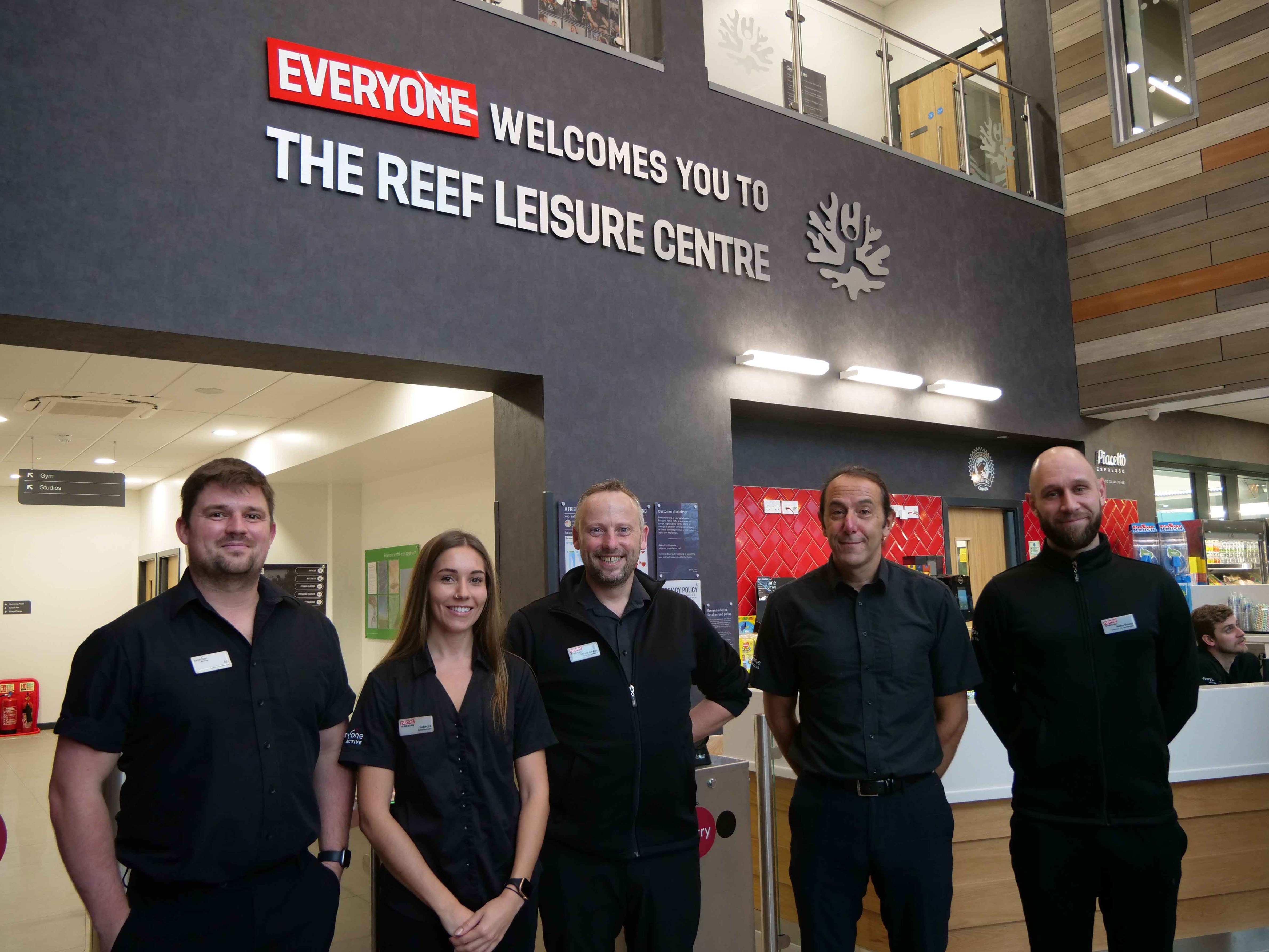 Cllr Virginia Gay, portfolio holder for Leisure, Wellbeing and Culture had her first swim in the pool
"Lots of people were here just after 6:30am, they were queuing up to come in and they'd all come to go to the gym and the pool.
It's a great relief to have it open and we always knew that it was coming along – but now to see people actually coming in and see people upstairs in the gym and people swimming here this morning has been brilliant."
Watch the first people arrive:
The Reef offers a diverse mix of facilities, including a main pool, learner pool with adjustable depth floor, splash pad, 60-station fitness suite, dance and activities studio, group cycling studio and café.
The 25m main pool is built to Sport England's high standards and supports a range of aquatic activities from competitive swimming events to inflatable play sessions for children, which are due to be added in the near future.
The moving floor on the 13m learner pool allows the water depth to be changed for different activities and user groups such as swimming lessons, water confidence and toddler sessions and aqua fit exercise classes.

The main pool is accessible via shallow steps with an assisting handrail and a Poolpod for pool users who require a wheelchair. The Poolpod is supported by a wheelchair storage zone near the Changing Places facility and a dedicated pool-side wheelchair for disabled users to transfer to, which is compatible with the Poolpod.
Alongside the use of conventional heating methods, water at The Reef is heated through solar thermal energy, meaning energy from the sun directly heats the water and reduce the reliance on gas.
For gym-users, the upper floor offers a variety of activities.
The Reef has a 60-station health and fitness suite, including a range of exercise machines and free weights.
The dance and activities studio, which covers an impressive 200sqm, offers opportunity for group exercise classes and studio sessions.
In the group cycling studio, the 23 stations allow a number of classes, varying in intensity and distance, with virtual due to be added shortly.
Get more information or become a member.
Header photo: David Millington Ltd.