Cash for communities to kick start projects supporting children and young people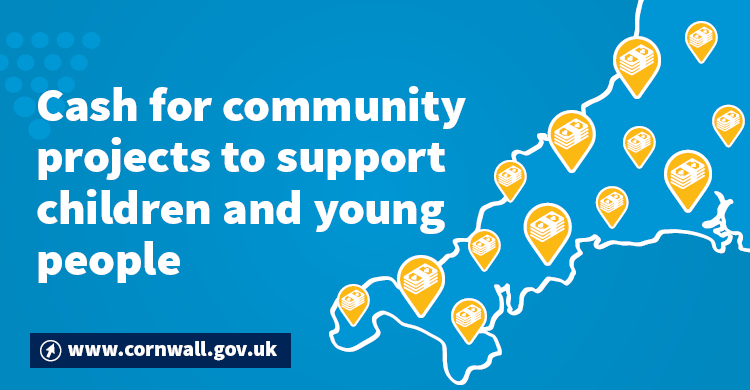 Community groups can now apply to the Council for up to £100,000 to fund infrastructure projects that benefit children and young people.
The Council has today – Monday, April 4 – launched the second Community Infrastructure Levy – or CIL – fund, enabling community groups, town and parish councils and not for profit organisations to bid for between £20,000 and £100,000.
A total of £500,000 is available to support local infrastructure projects which focus on supporting children and young people and help to either alleviate the impact of development on an area or help development to come forward.
Since January 2019 Cornwall Council has been charging developers CIL as a way of reducing any potential adverse impacts on an area resulting from a development.
CIL payments are set aside by the council to be spent on infrastructure projects that will benefit communities and support development. Between 15 to 25 per cent of the levy goes to the town or parish council where the development is.
Olly Monk, Cornwall Council portfolio holder for housing and planning, said: "The Community Infrastructure Levy allows us to raise funds from new developments and pass this on to community projects making a real difference.
"This second round quite rightly puts the focus on projects to support children and young people – we already know there is significant interest in this fund and I look forward to seeing the innovative ways in which communities plan to put this money to good use."
The first round, held in 2020, saw £623,000 awarded to fourteen local infrastructure projects across Cornwall that helped communities towards achieving more low carbon living. These included improved access routes at Newquay Community Orchard, installation of solar panels at Stithians Community Centre, and the creation of an electric car club in Bude.
This year, the Council is asking applicants to submit an expression of interest with a brief summary of the aims and objectives of their project. This will ensure that applicants only spend time and effort in working up a full application for eligible and appropriate projects.
The initial Expression of Interest stage will run for 12 weeks, after which eligible projects will be invited to submit a full application. Applications must then be submitted by the end of October, with the successful projects expected to be announced in early 2023.