University provides free MA places for refugee women from Afghanistan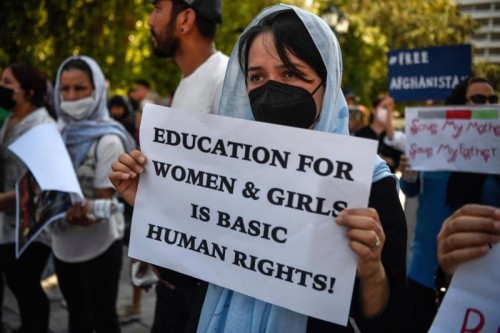 The University of Manchester has provided free places on its Masters in Educational Leadership in Practice programme to a group of 15 Afghani refugee women, supporting them in their ambition to set up schools, colleges and nurseries for Afghani refugees living in exile.
Working around their busy teaching schedule, an expert in the Manchester Institute of Education is providing remote teaching and training to the women through The University of Manchester Worldwide blended learning scheme.
The scheme is part of global cross-institution initiative coordinated by the Asian University for Women (AUW) in Bangladesh following the withdrawal of US troops from Afghanistan in late 2021, when educated Afghani women found their lives – and the future of their education and training – threatened by the Taliban.
Recognising support was urgently needed, AUW Vice Chancellor Dr. Rubana Huq reached out to Afghani women who the university had educated over the years, and ensured that they had a safe passage out of Afghanistan. It was with this support that many educated Afghani women stranded in Kabul secured passage on one of the last US planes to leave the city.
Having procured a safe base for the women in Bangladesh and the US, Dr. Huq reached out to educational institutions across the world, making a plea for support in helping the women continue their education.
The University of Manchester's Vice Chancellor Professor Dame Nancy Rothwell was one of the first to answer the call, connecting AUW with the Manchester Institute of Education to develop the MA Educational Leadership offering.
"We live in a world full of inequalities, and education means I come to understand them, engage with them and finally overcome them – education means hope to me," said one of the students. "I have come a long way, and a longer one lies ahead so that the next generation of Afghanistan does not go through what we went through."