Philharmonia Orchesta to perform on campus
The University of Bedfordshire is set to host a performance by the Philharmonia Orchestra based around their Hear & Now project – an award-winning intergenerational community project which has been running for more than ten years.
Involving students from the University's School of Arts & Creative Industries, this project is a unique musical collaboration between older people living with dementia and their carers, young singers and instrumentalists from grassroots community organisations and schools, as well as members of the Philharmonia Orchestra.
The University of Bedfordshire has been working with the Philharmonia for a number of years. The orchestra's latest Hear & Now sessions will culminate in a performance on Wednesday 13th April from 3pm in the Theatre based at the Bedford campus.
Lucy Lines, a third-year Performing Arts student, has been supporting the Philharmonia project while on campus.
She said: "I am excited for the event, as it's something different for the University's theatre. This has been a fantastic experience for me to work with some great musicians."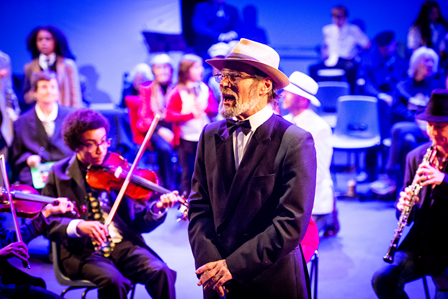 This performance is not the first collaboration between the Philharmonia and the University as, in 2019, academics from Bedfordshire's Research Institute of Media, Arts and Performance (RIMAP) undertook a small-scale research project investigating the effects of taking part in Hear & Now on the wellbeing of groups involved – recording measurable improvement in all of these groups. The findings were presented at an in-person #BedsTalks event, held prior to the Covid-19 pandemic.
Paula Page, Collaborative Projects Manager at the University of Bedfordshire, spoke about welcoming the Philharmonia.
She said: "It's brilliant to continue working with and supporting the Philharmonia Orchestra with their Hear & Now project.  It has been a privilege for the University to host the rehearsals and performance, which works with local intergenerational community organisations."
Hear & Now in Bedford is co-produced with Orchestras Live and presented in partnership with the University of Bedfordshire, Fusion Youth Singing and Tibbs Dementia Foundation's Music 4 Memory.
Through a series of workshops, the project aims to provide therapeutic support for those living with dementia, improve understanding for younger participants, and enable isolated people to build relationships.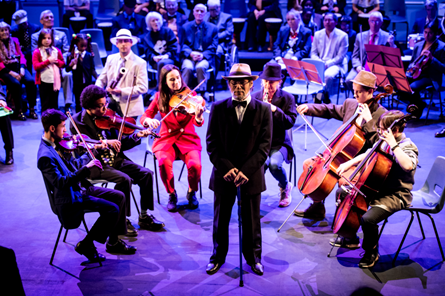 Lucy Al-Zoghbi, Learning & Engagement Project Manager with the Philharmonia Orchestra, added: "We are incredibly grateful to the University for their support with our Hear & Now project this year. We've been delighted to return to Bedford after a long time away due to the pandemic and the University facilities and staff have enabled us to run a series of fun and creative workshops that engage local community members in the joy of music making." 
To find out more information and to register for a free ticket, click here. Doors will open from 2:45pm, with the performance starting at 3pm.
All images are credited to Beth Walsh.