Vaccine van numbers almost double over summer to reach 7000th jab

Posted on Monday 13th September 2021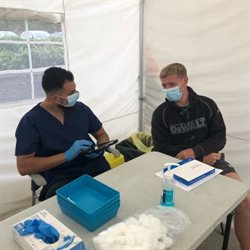 Numbers attending Blackpool's mobile Covid-19 vaccine clinic almost doubled over a four-week period during August, to reach an impressive 7000 vaccinations. 
26-year-old bricklayer Mitch Henderson from South Shore (pictured) received the 7000th jab on 9 September at Fleetwood Leisure Centre, where several vaccine van events have been held. 
Blackpool's vaccine van is a joint operation set up by Blackpool Council's Public Health team and facilitated by health services provider, FCMS. Two fully qualified NHS vaccinators from pharmacy sites carry out the vaccinations at the van. 
Vaccination pop-up events in the van have run throughout summer for the general public in dozens of Blackpool locations. Upcoming events are taking place at easily accessible locations such as the Odeon cinema and Layton Recreation Ground. 
The team have also worked with businesses and sixth form education settings to hold dedicated events for workplaces and students, in a bid to get as many vaccinated as possible before families returned to college and work in September.  
Between 1 August and 9 September, numbers jumped sharply from 3000 to 7000 – an increase which Dr. Arif Rajpura, Director of Public Health at Blackpool Council, says can only be a good thing: 
"It's great that more and more people are coming forward for their jabs in Blackpool and we have hit 7000 at the van.  

 

"By travelling around to different areas and doing these pop-up clinics, we hope it's easier for anyone to access their vaccinations at a time and location convenient for them. 

 

"Often our everyday lives are busy, and we don't make our health a priority. But if you're yet to have your first or second jab, and you have questions about the vaccine, make it a priority to visit the van. 

 

"There are qualified NHS professionals there, who have vaccinated thousands of people, and can put your mind at ease." 
Get more information on upcoming vaccine van events at www.blackpool.gov.uk/VaccineVan 

Posted on Monday 13th September 2021