Project to rewild River Lea begins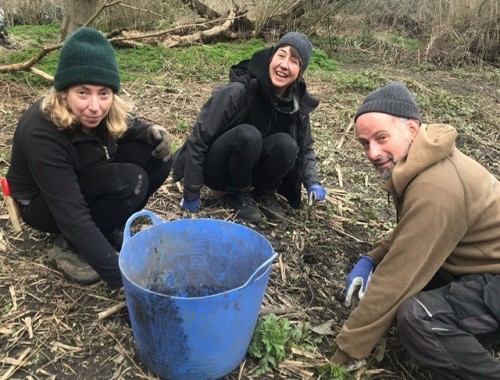 A project to restore eroded river banks by the River Lea started last month, with volunteers from Wildlife Gardeners of Haggerston joined by Hackney Council staff to plant new reed beds by the river and construct new log pile habitats for small mammals and invertebrates.
Aimed at mitigating long-standing upstream pollution, restoring wildlife habitats and improving the ecological functioning of the river, the project will also plant 520 trees, and introduce 4000 herbaceous plants, providing habitats for otters, bats, amphibians and a kingfisher family living by the river.
The new vegetation will help stabilise the eroding river banks and make it easier to remove trapped litter from the river, ensuring it does not flow downstream, form microplastics and pollute the sea.
The project has been made possible with funding from the Greater London Authority's Grow Back Greener Fund, Hackney Council and Lee Valley Regional Park Authority. It was designed by Wildlife Gardeners of Haggerston and will train volunteers from local community organisations to plant new vegetation by rivers, and help them learn about ecology.