Travel & Tourism forthcoming events are not to be missed…
The Level 3 Travel, Aviation, Hospitality & Events students have been busy planning events as part of their conference/event planning unit. They have been split into two teams and created 2 events in which they will be assessed/graded.
They have had to create an event management company name and create their own logo. They have both chosen to do events for charity. They also have to market their events and produce the required resources. Both teams have been busy preparing for the events, they have been given a small budget per team to run the event with all proceeds going to their chosen charities.
As they both have prize-giving activities they are seeking donations for raffle prizes.  They have contacted local businesses who have been supportive, but if you have anything you can donate that would be great.  If you can bring any donations to Sarah O'Connell 1st Floor staff room. Or if you want to be involved in any way please email Sarah [email protected], you can even purchase your own stall at one of the events.
The first event Remembering Palestine is on the 16th of May (1100-1400) there is a market square on the DHB ground floor with stalls to raise money for the Remembering Palestine charity. This is a FREE event to attend and you can book a stall for a donation and be part of the event as per the poster attached. There will be lots of activities going on to raise money during the day.
The second event on the 19th of May (1800-2100) is a Back to the 80's themed event in the college training restaurant in which the catering students will also be involved.  There will be lots of fun activities happening during the service of a 3-course meal, provided by the catering students. We are limited to 60 places so ensure you book early to secure your place. Please contact [email protected] to book your space! 
 It would be great to see you at the events to support us and to raise as much money as we can for both charities.
Thank you in advance for your support.
Sarah O'Connell (Course tutor)
Saihaan (Event Manager Remembering Palestine)
Molly (Event Manager Diva Events presents back to the '80s).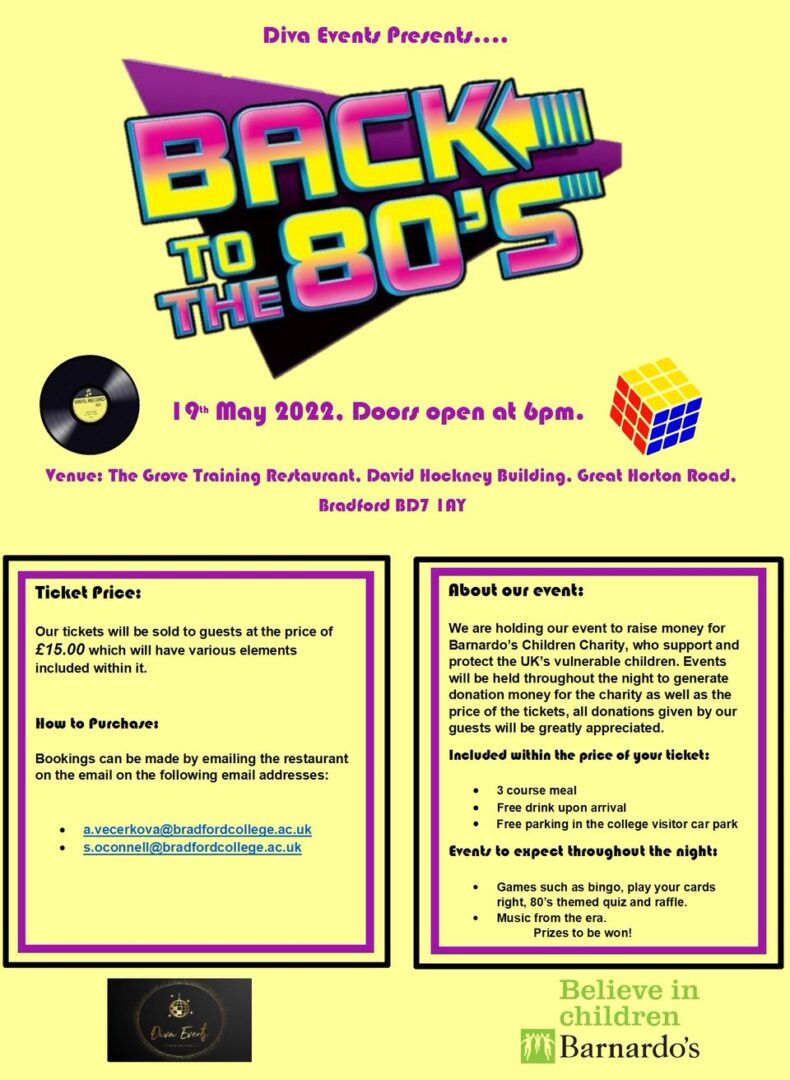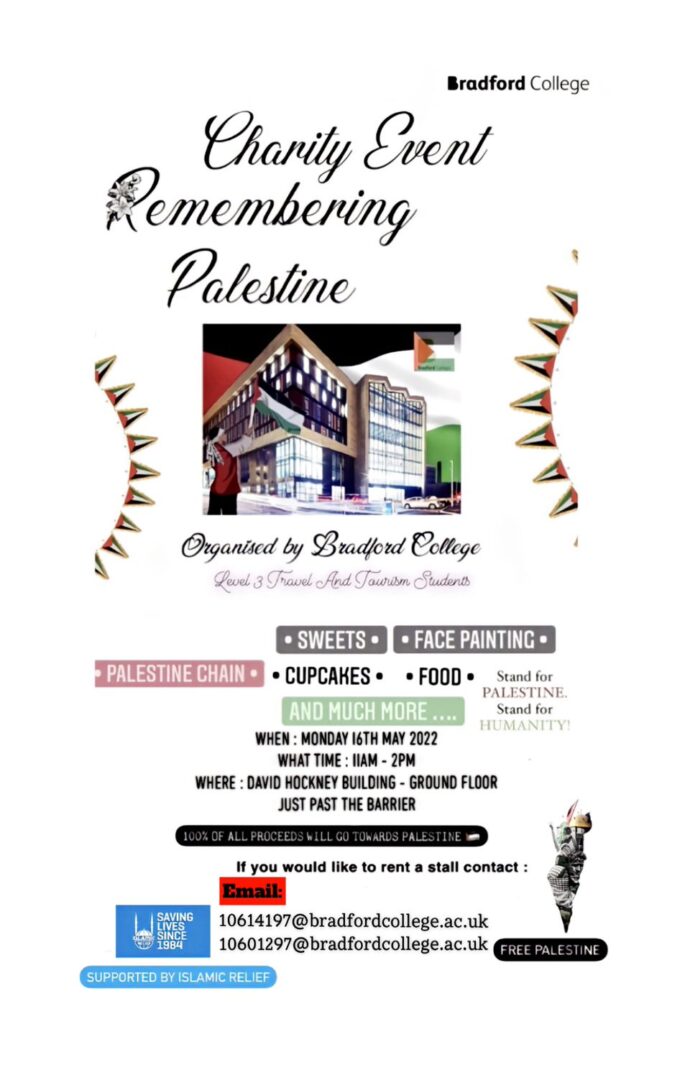 https://www.bradfordcollege.ac.uk/wp-content/uploads/2022/04/Saturday-Art-Club.jpg
2022-04-08T00:00:00+00:00

Bradford Group