Share your memories and mementoes of Hartlepool's royal celebrations
As the country celebrates The Queen's Platinum Jubilee year, people in Hartlepool are being invited to share their own memories and mementoes of how the town celebrated Her Majesty's Coronation and subsequent royal events.
Called 'I Remember', the project is being run by Hartlepool's Community Hubs and libraries and contributions will be the focus of a special exhibition during the national Platinum Jubilee celebrations in June.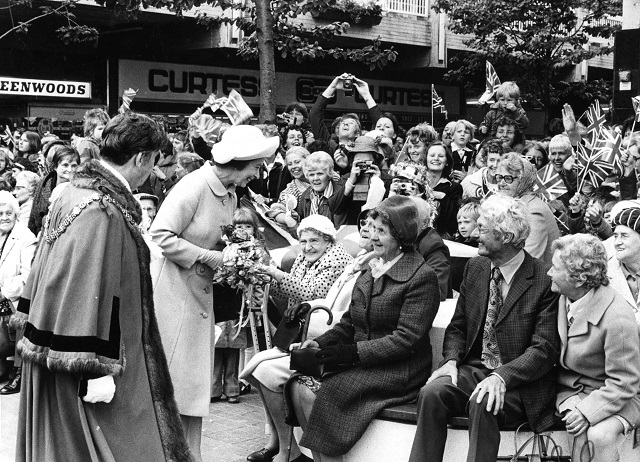 The Queen meets wellwishers in Middleton Grange Shopping Centre during the 1977 Silver Jubilee celebrations. Photograph courtesy of the Hartlepool Mail.
Gemma Ptak, Hartlepool Borough Council's Assistant Director (Preventative and Community-Based Services), said: "As we celebrate this amazing milestone for Her Majesty The Queen and for the country, we're keen to look back at how Hartlepool has celebrated royal events during her reign.
"In particular, we'd love to hear people's reminiscences of how they celebrated the 1953 Coronation in Hartlepool – did you have a street party, for example, or decorate your home or did you receive a commemorative item from school?
"We'd also like to hear people's experiences of subsequent royal events, such as the 1977 Silver Jubilee, when The Queen visited the town, or her later visit in 1993 to open the Marina, or Princess Anne's 1970 visit to open Middleton Grange Shopping Centre.
"As well as recording their personal reminiscences, we're very much hoping people will share with us their photographs of those events – original photographs will be carefully copied and returned – and lend us items of related memorabilia to feature in the exhibition.
"It's an opportunity to look back on some of Hartlepool's happiest royal days and to pay tribute to the Queen's remarkable reign."
As part of the project, the Hubs team will be visiting local care homes so that residents can record their memories of the celebrations on audio 'digital postcards.' The team will be taking along 'reminiscence boxes' containing items from the period, to help rekindle past memories. 
Other people can get involved by calling into their nearest Community Hub or library to record a digital audio postcard (staff will be on hand to help), leave a written reminiscence or bring in photographs for scanning or items for loan.
For more information please email community.hubs@hartlepool.gov.uk