Blackpool
Heritage Open Days Are Back For 2021


Posted on Tuesday 31st August 2021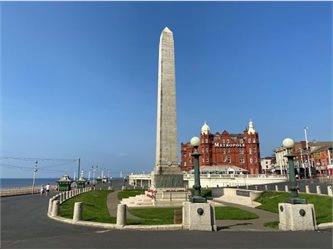 Heritage Open Days is England's largest festival of heritage and culture.
Across the country, thousands of heritage venues take part, opening their doors and providing a variety of heritage events free of charge.  
For Blackpool, the event is an opportunity to explore and showcase the town's extraordinary and eclectic history, uncovering unique local stories and hidden treasures. 
"Heritage Open Days provides the opportunity to explore and celebrate our heritage. There is something for everyone to enjoy and the time and effort put in by local organisations and volunteers is incredible!"
says Beth Garlington, Heritage Officer, Blackpool Heritage Service.
This year, members of the public have the opportunity to explore the iconic Blackpool Tower building that has enticed, impressed and entertained visitors for over 125 years! The historic guided walks will feature a War Memorial tour, a promenade history walk and a Stanley Park heritage walk that will also include the rare opportunity to climb the Cocker Clock Tower.  Places of worship and religious organisations will also be open, along with many other venues across Lytham St Annes and Cleveleys. 
Heritage Open Days Blackpool and the Fylde Coast is coordinated by Blackpool Council's Heritage Service and Showtown Blackpool.
More information can be found on www.heritageblackpool.co.uk/whats-on and www.heritageopendays.org.uk.  View the full on-line events guide for Heritage Open Days Blackpool and the Fylde Coast, here.
Heritage Open Days takes place Thursday 16 to Sunday 19 September 2021.

Posted on Tuesday 31st August 2021