Dorset Council installs solar panels to cut carbon emissions and reduce cost of waste services
Newly installed solar panels at two of Dorset Council's waste depots are already producing over 200,000 kWh of renewable energy each year and providing most of each building's power needs.
As part of the Public Sector Decarbonisation Scheme (PSDS) which saw the Council awarded £19m of central government funding by Salix to make publicly owned buildings more energy efficient, solar panels have been added to the roofs of the Crookhill waste services depot in Chickerell, and the Poundbury waste services depot in Dorchester.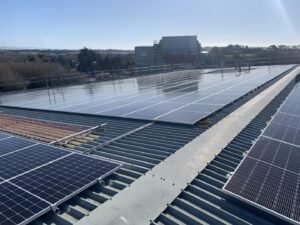 At Crookhill, 302 solar PV modules have been installed on the roof of the main depot building. These are expected to produce around 135,180 kWh of electricity each year – the equivalent of 36 homes' power – and saving around 30 tonnes of carbon emissions.
While the panels are expected to provide around 70% of the power needed at the depot, it's worth noting that some recent sunny days have seen the whole Crookhill site running purely on solar-generated electricity alone, from dawn until dusk.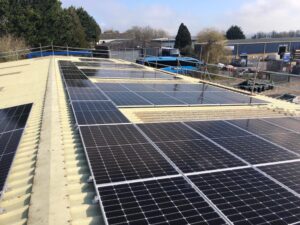 At the Poundbury depot, 182 panels have been added to the roof. This is expected to generate around 71,057 kWh each year, which is more than the site's typical annual usage, and save around 18 tonnes of CO2 annually.
The panels on the roofs convert the sun's energy into direct current electricity (DC), which is then converted into alternating current electricity (AC) that is used on the premises. The panels will always generate as much power as they can, so if the sites do not use this energy then it will automatically feed into the national grid.
Similar panels have already been installed in schools, libraries, and leisure centres as part of the PSDS programme that is being coordinated by Dorset Council's Sustainable Property team within the Assets and Property directorate. The work also includes the installation of heat pumps, LED lighting and improved building management systems at various Dorset Council sites and buildings across the county.
Cllr Ray Bryan, Dorset Council's Portfolio Holder for Highways, Travel and Environment, said:
"At a time when energy is so expensive for everyone, I'm delighted to see we're already reaping the benefits of producing our own renewable electricity across these waste depot buildings. Not only will this save money that we'll be able to redirect toward more essential services, but the carbon savings will help us reach our net-zero emissions target as per our Climate and Ecological Emergency strategy.
I would encourage people to investigate whether installing solar panels or other energy saving measures at your home may be useful. If you run a business or a public/community sector organisation, our Low Carbon Dorset programme may be able to help you improve your energy efficiency and increase your use of renewable energy.
A huge thanks goes to Ineco Energy and Wessex Eco Energy who installed the panels at Crookhill and Poundbury respectively, as well as the many Council officers who are working tirelessly to ensure our £19m PSDS grant is spent effectively and efficiently."