Blackpool
Blackpool Council seeks school crossing patrol officers


Posted on Thursday 26th August 2021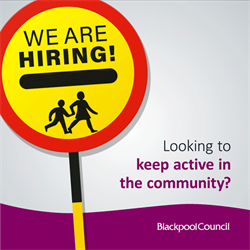 Blackpool Council is looking to fill 6 vacancies for school crossing patrol officers who can make it safer for children and parents to cross busy roads.
Each post is paid and offers community-spirited individuals the chance to earn some extra income and enjoy playing an active role in their local area for a small portion of their day.
There are a total of 39 locations across Blackpool where the council provides school crossing patrol officers. Opportunities are currently available outside five schools:
St Bernadette's

Unity Academy

Bispham Endowed

Devonshire Primary Academy

Our Lady of the Assumption
Each role is 7.5 hours per week during term time and full training is provided.
A vacancy is also open for a mobile relief position which provides cover in cases of absence or illness, with paid mileage included. This role is 5 hours per week, with further pay for any additional hours worked.
Many of Blackpool's current patrol officers are semi-retired and enjoy the job because it fits into their day and offers a meaningful role in the community. The council also employs a number of younger officers who feel that the ability to plan around other commitments, such as additional part-time jobs or family duties, is extremely important.
Crossing patrol staff often see the job as a hugely rewarding long-term role which sees them build up a natural rapport with the school, its pupils and their parents.
Lesley, Blackpool's longest serving school crossing patrol officer, said:
"As I've done this job for nearly 40 years, it's now part of my life. It's something that gives me a lot of pleasure, gives me a reason to get out of bed on a morning and gives me a routine.

"It's a very rewarding job and well worth doing."
Members of the public are quick to share their appreciation too, with the council's Customer Relations service regularly receiving compliments from parents, pedestrians and pupils alike.
One grateful Blackpool parent recently sent in their thanks to another of the council's current patrol officers. They said:
"I just wanted to express my feelings of gratitude to management and hope they are aware of the great impact that our lollipop man has on all the pupils.

"He is always so friendly and approachable, and exhibits a sense of community. My 4 year-old daughter gets so excited every morning to see him, waving and shouting his name, as do many of the children.

"He always goes above and beyond in his job, not only making sure everyone is safe but also making time for each and every person, child and adult alike."
Cllr Neal Brookes, Blackpool Council's Cabinet Member for Enforcement, Public Safety, Highways and Transport, said:
"We're looking for community-spirited individuals who have some extra time in their week to take on a new challenge.

"We know that safety outside schools is a concern for parents, who want to feel safe in the knowledge that their children have someone they can trust keeping an eye on them as they start and end the school day. We want all of our positions across Blackpool to be covered so that children can cross without fear.

"If anyone knows of someone in the local community who can act safely and responsibly, and perhaps bring a bit of joy and fun to the school run, please share this opportunity with them."
Anyone interested can visit the Greater Jobs website and filter by Blackpool and Fylde to view the full vacancies, or call 01253 476197 for more information.   

Posted on Thursday 26th August 2021