Residents with a disability to be supported into work
Residents with a disability will receive more support to get into work and expand their horizons with a new partnership between the council and national disability employment specialists, Pluss.
People with a learning or physical disability, autism or mental health needs, will receive bespoke support to search for, secure and retain employment.
The assistance ranges from CV creation and work experience to practical help like navigating public transport.
Pluss builds on people's strengths and aspirations to develop skills and opportunities of training, voluntary roles and paid employment. It also offers coaching to ensure jobs are sustainable with individuals progressing in their chosen career.
The council has a legal duty under the Care Act to facilitate employment and volunteering opportunities to people with disabilities, and other vulnerable adults, and has awarded a three-year contract to Pluss from this spring.
The aim is to help 50 people through the partnership.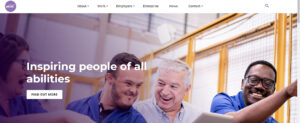 The employment specialists will also make connections with employers to raise the agenda of hiring people with disabilities and championing the skills and benefits this will bring to their workplace.
Increasing the number of people in employment positively impacts many areas of an individual's life and can improve self-worth through contributing to their community.
The work will broaden residents' aspirations to reach their potential by building independence, life skills, a network off friends and a resilience which may not have otherwise existed.
Councillor Peter Wharf, portfolio holder for Social Care and Health, said:

"Some people have little or no aspirations which Pluss can unlock. Alternatively, others have the aspiration but do not know how to achieve it.

"The service will help people with practical advice and support from navigating a bus or train timetable, the etiquette of getting on a bus like having the money ready for the driver, to what is expected in a place of work.

"This contract will see people grow and become the best they can be and encourage businesses to get involved by assisting with easy read documents for example, which can be a barrier for some people before they even start.

"This contract with employability specialists Pluss, will empower people to change their lives."
Neil Cattle, Operations Manager at Pluss, said: "We are absolutely delighted to be working with Dorset Council to help more people into employment and firmly believe with the right support, there is a job out there for everyone.
"We are looking forward to working with communities and employers alike, both of whom will both benefit greatly from the wealth of skills and talents so many people with a disability bring to the workforce every day."
The council has also developed a 'Pathway to Employment' initiative offering four apprenticeships with the support of Pluss.
The new partnership aims to improve the Adult Social Care Outcomes Framework ratings for people with a learning disability or mental health needs in paid employment, which in 2019/2020 was below average in the southwest region and nationally.
Previous support was only accessible to adults with a learning disability so the new service is expanding the number of people who can be assisted to include people with Care Act eligible needs.
The residents, which will include young people who transition to adulthood during the partnership, who will be supported by Pluss will be referred by the council's Adult Social Care teams.
The collaboration is part of the A Better Life Adult Social Care strategy to create better days for residents.