Cardiff
BAFTA Double Nomination for Acting Grads « #RWCMD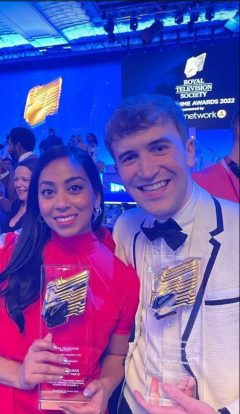 They're all over our screens and audiences can't get enough of them! Acting grads Callum Scott Howells and Anjana Vasan are both up for BAFTA's.
With the winners announced in May, Callum is up for the Best Supporting Actor, and Anjana Vasan for Best Female Performance in a Comedy Programme.
They both found out they were BAFTA nominees less than 24 hours after each winning a Royal Television Society award (pictured above, and below).
Callum won the Best Male Actor for his performance in It's a Sin and Anjana won Female Comedy Performance for her role in We are Lady Parts, both Channel 4 productions.
Well done to Comedy Performance – Female winner Anjana Vasan for an "original, authentic and very funny" performance in We Are Lady Parts for @Channel4 #RTSAwards pic.twitter.com/pjU20y0YKf

— Royal Television Society (@RTS_media) March 29, 2022
These prizes add to the growing awards and nominations both actors have under their belts, including the Gotham Independent Film award where Anjana was nominated for Outstanding Performance in a New Series for We Are Lady Parts, an Evening Standard Theatre award nomination for Best Actress for A Doll's House, and BAFTA Cymru award, where Callum won Best Actor for It's a Sin.
Newcomer Callum Scott Howells wins the Actor – Male award for "a really fine performance of profound tenderness and subtlety" for It's a Sin. Congratulations @callumshowells! #RTSAwards pic.twitter.com/tOzlcymsaT

— Royal Television Society (@RTS_media) March 29, 2022
'I'm so grateful to the Royal Welsh College for everything my teachers and coaches taught me during my time there,' said Callum.

'I genuinely feel like everything I brought to the role of Colin, and continue to bring to every role I play, is embedded in all the invaluable lessons I was taught while I was there.'
Where have you seen them?
You may recognise their faces, but here's the low-down on the characters they've been nominated for playing:
LA!
Callum can be seen in the sensational TV show It's a Sin as Colin Morris-Jones, a sweet, hard-working Welsh boy who moves to London to work. The drama by RWCMD Fellow Russell T Davies follows the story of five friends and how their lives are tested as they grow up in the show of AIDS. However, they're determined to live and love more fiercely than ever.
If you haven't seen the show, then maybe skip this next part…
Here come the spoilers as Callum is also up for a BAFTA for Virgin Media's #MustSeeMoment in the heart-breaking scene when Colin learns of his fate.
thank you so much @BAFTA ! this really means the world ❤️ https://t.co/rJWzPbRTrV

— Callum Scott Howells (@callumshowells) March 23, 2022
Training on the job
Leading a double life, Callum was cast and then filmed the TV series all while trying to complete his final year at the College.
'I'm massively proud to say I'm a graduate of RWCMD and I couldn't recommend the College enough as a place to train as an actor/artist.'
'It's a place where you're celebrated for being you first and foremost, and then you're allowed to build, learn and grow on that as your foundation. I really did have the best three years ever.'
Lady Parts and Lady Assassin…
In the anarchic and irreverent music comedy, We are Lady Parts, Anjana plays Amina Hussein, a PhD student and part-time guitar teacher who's desperate to find a husband. However, she joins a Muslim female punk band, called Lady Parts, as their lead guitarist with hopes of getting their first proper gig.
Your favourite new Muslim punk band is finally HERE 🎸 #WeAreLadyParts playing a gig near YOU soon. Thursday, May 20, 10pm 🤘 pic.twitter.com/bedKk5EBRn

— Channel 4 (@Channel4) May 13, 2021
'I think studying drama helped me get out of my head and find a way to be open,' she recalls in an interview with ScreenDaily. 'I started my career feeling like I wanted to do a lot of classical theatre work, but recently I've seen that film and TV can be just as exciting. I'm drawn by new ways of telling stories.'
Anjana can also be seen in the final season of Killing Eve, written by Phoebe Waller-Bridge and Laura Neal, playing Pam, an assassin in training.
Since completing her MA at the College in 2012, Anjana has performed on stage and on-screen in a variety of productions, including the National Theatre's Behind the Beautiful Forevers and Dara, Cordelia in Shakespeare's Globe Theatre's King Lear, Niru in A Doll's House at the Lyric, Hammersmith, in Netflix' Black Mirror and Sex Eduction, and Call the Midwife, to name a few.
In a review of A Doll's House the Guardian talks about Anjana's acting skills, and her 'career-defining' portrayal of Niru.
'Over the past few years, she has proved her versatile talent. She has been funky as Hermia in Emma Rice's A Midsummer Night's Dream, languorous as a blues singer in Summer and Smoke, and fascinating as Galileo's daughter (in Brecht's Life of Galileo). She's magnetic as she moves…Indeed, her feet – flicking out flirtatiously or dismissively – do as much work as many actors' faces.'
What's next for these two?
With so much love and support for their current roles, we're all waiting to see what roles they take on next:
Anjana is set to return as Amina for the second season of We are Lady Parts. Meanwhile, Callum's focus will be on the upcoming Netflix and Film E4 feature Homeless World Cup with Bill Nighy.
and his Twitter fans would love him to be the next Doctor Who – of course!
Find out more about training as an actor at the College.
Related Stories: