PhD student highlights ways to encourage regional investment
A PhD student who is researching entrepreneurial finance is set to represent the University of Bedfordshire at an upcoming webinar themed around the future of the Oxford-Cambridge Arc.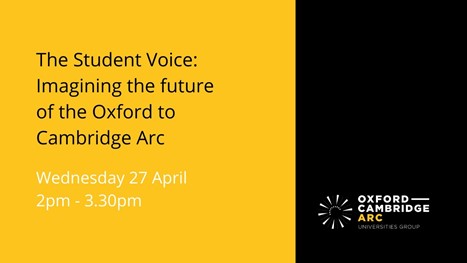 Hosted by the Arc Universities Group (AUG) on 27th April, the webinar – titled, 'The Student Voice: Imagining the Future of the Oxford-Cambridge Arc' – will be presented by a number of student panellists from institutions across the AUG, who have been meeting regularly at workshops to discuss the future of the Arc for next generations. Topics explored have included the environment, jobs, transport, housing and sense of community.
Winifred Soribe, who is in her final year of studying for a PhD with the University's Business & Management Research Institute (BMRI), was selected to represent Bedfordshire on the AUG Student Panel. She previously achieved a Masters in Accounting & Business Finance from the Business School and currently volunteers on Beds SU's Board of Trustees.
Winifred recently penned a thought piece for AUG ahead of the webinar, considering how businesses and organisations can help to make the Arc a more attractive proposition for investors…
The Oxford-Cambridge Arc is home to world renowned universities, attracting some of the brightest minds who in turn create innovative solutions to some of the pressing problems we face.
However, across the Arc, there are less affluent areas that do not receive much-needed attention and funding. The prosperity of each county IS the prosperity of the Arc region, and so adopting an inclusive approach whereby poorer counties and their parishes are allocated more funds that enable them to provide better housing and overall community experiences could open them to up to the overflow of human capital currently overcrowding affluent counties of the region.
Consider a commuter's experience during peak times in Oxford, with everyone racing to work in their cars leading to congestion, pollution, and fatigue. This scenario, quite common in other city centres within the Arc (and indeed across the UK) increases pressures on the already depleting natural resources. The question here; can working habits change to limit travel thereby enabling commuters to live in other parts of the Arc, which in turn contributes to the economic growth of those areas. With average house prices ranging from £400,000 – £500,000 in Cambridge and Oxford, economic mobility across the region reduces pressures on household income especially with reference to fixed costs such as rent or mortgages.
Economic mobility can be a tool for solving the current climate crisis. When people have more disposable income, they can fund greener ways of living such as installing solar systems or buying electric vehicles, amongst others.  As the Arc strives to lure some of the brightest minds – and businesses (including Astra Zeneca in Cambridge) – in the world, it must consider how a green economy approach can make it more attractive. A green economy is one where nature and its various manifestations are considered as the primary bearer of 'good gifts' in the form of natural resources which in turn generate financial returns. For this reason, it must be cared for in a way that ensures future generations are able to benefit from it as we currently do. To achieve this, we must embed resilience planning into our 'build back better' strategy.
Resilience planning focuses on adapting our world to the challenges we face today and reshaping it for future generations. The agricultural sector can be fortified by integrating IoT that accumulates data on various processes within farms and supply chains and highlight where wastages are occurring. Decarbonising our communities via greener forms of travel, energy and general consumption can also go a long way to achieving a net zero environment. Environmental awareness in practical terms, where lay people understand the necessity of an 'act now approach' without the accompanying 'panic and fear rhetoric' does much to achieve long term change.
Achieving the above doesn't happen in a single day, it takes time and requires a culture change that can be accelerated through education. Fortunately, the Arc is ahead of its peers in this respect, we only need to adopt an inclusive approach that carries all counties and their respective parishes along with the understanding that when all individual parts work well, the human body operates at its optimum.
Read Winifred's full blog here.