Manchester
University staff member cycling 1400km to raise money for Ukraine war victims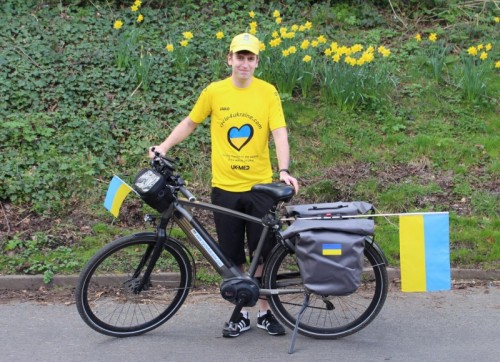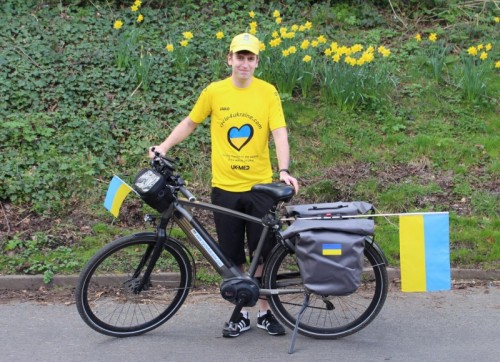 A member of staff from The University of Manchester is set to cycle around the entire circumference of The Netherlands – 1400km in total – to raise funds for UK-Med's Ukraine Appeal.
News and Media Relations Officer Joe Stafford was so moved by the images of refugees fleeing Russia's invasion of Ukraine and the harrowing stories told by people in the firing line, that he decided he had to help in some way.
UK-Med – a charity based at The University of Manchester – has provided humanitarian healthcare assistance during crises around the world, and is currently seeking to raise money to provide emergency medical aid for the millions of people displaced by the war. 
Their expert medical team is currently based in Lviv, and is working tirelessly by visiting hospitals, health facilities, shelters and centres for internally displaced people to understand the critical health needs caused by the conflict. They are working closely with partners on the frontline to rapidly assess priority health needs, in order to enable them to provide support quickly to affected communities.  
They hope to raise enough money to fund a range of health response options, potentially including a World Health Organisation approved facility to provide emergency care for injuries and other significant healthcare needs. The facility, which is the size of a football field, can provide triage, first aid and treatment for minor trauma to over 100 people a day.
Joe will be cycling the challenging Ronde van Nederland route, which broadly follows the coastlines and borders around the whole of The Netherlands. Along the way, he plans to speak to as many people as he can to raise the profile of the work UK-Med is doing, and he will be posting about the journey on social media.