Academics help validate new 'long Covid' treatment
A team of nutritional scientists, led by a visiting Professor from the University of Bedfordshire, has developed a capsule-form treatment which enhances the recovery of patients experiencing 'long Covid'.
Professor Robert Thomas – who works with the University's School of Sports Science & Physical Activity – initially led a national study which ran from early 2020 that proved how treating Covid sufferers with lactobacillus probiotics (a blend of five different gut-friendly bacteria) combined with inulin (a chicory-rich ingredient) helped to alleviate, manage and shorten their symptoms.
He then discovered that adding an additional mix of other natural substances known as phytochemicals (found in rich plant-based foods) can significantly help with treating Covid symptoms further. The chosen ingredients deemed most suitable were pomegranate, chamomile, turmeric, purified citrus bioflavonoids which are present in most Vitamin C-rich foods, and resveratrol – a plant compound that helps to reduce excess inflammation, improve oxidative defence and has even been reported to have direct anti-viral properties.
After selecting these new ingredients, 147 volunteers from across Cambridge and Bedford – who were suffering with either acute or persistent symptomatic Covid-19 symptoms – took part in a study between May 2020 and November 2021, during which they were required to regularly take an assigned capsule variant. The results were then analysed by statisticians from the University of Bedfordshire's Institute for Sport & Physical Activity Research (ISPAR) to determine which blend of ingredients would most effectively work in synergy against Covid.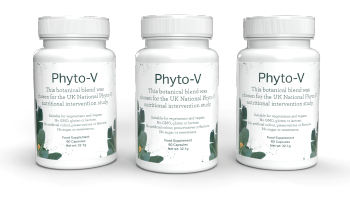 The results, announced in April 2022, revealed that symptoms improved significantly over the seven months, with volunteers taking the phytochemical rich food capsule – 'Phyto-V' – seeing the highest improvement. The figures showed:
A two-fold further reduction in mean fatigue scores
A three-fold reduction in cough score
A two-fold improvement in overall wellbeing scores
Professor Thomas, who is also a Consultant Oncologist at Bedford and Addenbrooke's Hospitals, said: "This safe phytochemical-rich concentrated natural whole food capsule significantly shortened the duration and severity of short and long-term symptoms caused by a Covid-19 infection. 
"In addition, sub analysis of the participants' demographics revealed that those more likely to have pre-existing gut condition had an even better response to intervention. This included those with gastrointestinal symptoms, those previously hospitalised or sedentary, older men.
"I would like to thank all those who participated in the study, particularly as the majority were feeling pretty unwell at the start of it."
Dr Jeff Aldous – Lecturer in Exercise Physiology – assisted with the analysis of the results. He commented: "I hope that the findings from our work can support medical practitioners to treat the long-term symptoms of Covid-19. This collaborative research between the University of Bedfordshire and both Bedford and Addenbrooke's Hospitals has allowed us to combine our expertise in order to tackle the ongoing issues that have arisen following the pandemic."
A full report of the study had been published by MDPI (Multidisciplinary Digital Publishing Institute) which can be read here.