Go CV reaches major milestone – Coventry City Council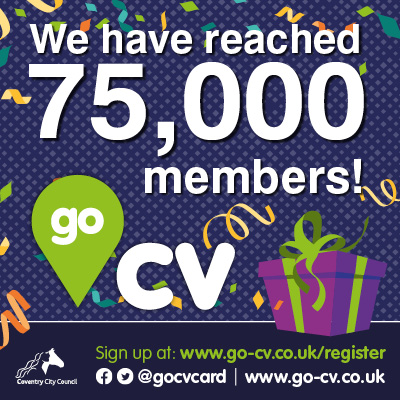 Coventry's Go CV residents scheme has reached another major milestone this week – 75,000 members!
The free Council run card scheme was set up to offer benefits to Coventry residents for sport, leisure and cultural attractions in their own city.
Now 75,000 people are enjoying great deals, such as reduced entry to The Wave waterpark, free entry to Coventry Transport Museum, large discounts on gym membership at CV Life Centres, reduced Adult Education Course fees, plus a wide range of other discounts and competitions from an increasing number of partners.
Andy Williams, Director of Business, Investment and Culture said:




"I'm delighted that 75,000 Coventry residents have signed up for a Go CV card. That's 75,000 people who are able to enjoy some of our attractions at discounted prices. For people on a qualifying benefit the discounts are even greater – enabling as many people as possible to access sport and culture to support better physical and mental health.




"Thank you to everyone who has signed up, and to all the partners and businesses who have joined the Go CV family and helped make it such a success. "The next few months are also set to be exciting with the development of a Go CV app. This will continue to make it easier to enjoy all the discounts Go CV has to offer and it will help to support and promote a wide range of local businesses."
Visit the Go CV website to learn more about how to register and its partners and offers.