Layton Library gifts books to children in virtual schools assembly

Posted on Wednesday 28th July 2021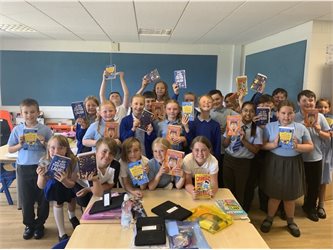 Layton Library, one of Blackpool's many popular libraries, recently hosted the town's very first library service 'virtual assemblies' with children from local schools as part of a wider goal to excite local children to read and improve literacy.
Local Layton ward councillor Kath Benson and also Blackpool Council's Cabinet member with responsibilities for Community Engagement and Libraries joined Layton Library Manager Jane Berry to welcome Years 2 and 5 from Devonshire Primary and Year 5 at Layton Primary to the virtual assemblies.
Local ward funding from councillors Kath Benson and Martin Mitchell was used to gift books to the school children during the assemblies.
Cllr Kath Benson said:
"It was tremendous and an absolute pleasure to virtually visit the children. We were asked some amazing questions about the number and types of books that the library has, most popular authors, when the library was built and so much more. It was fantastic to see their curiosity and I hope that it will inspire them to read more."
Cllr Martin Mitchell said:
"It was terrific to be part of this project and to encourage the gift of reading amongst the new generation. Of course when a child opens a book it reveals a pathway to a hitherto unseen world, a world where imagination and the senses can triumph."
Jane Berry, Layton Library Manager added:
"It was lovely be asked by a child about when I had joined a library myself. It was a joy to share my memory that I had joined at the age of around 7 and used to visit the library on Saturday mornings on my bike with my dad once a fortnight."
Natalie Dean, Subject Lead for Reading and a Class Teacher at Devonshire school, added:
"In 2020 we set ourselves a reading goal to ensure that all of our pupils had a chance to not only visit Layton library, but also become lifelong members, so they could access the wonderful opportunities that the library brings. The fabulous librarians are always on hand to help foster the children's love of reading. 

"Before Covid temporarily closed the library, we had managed to bring several year groups on a trip to see the library and it was amazing to watch the children in awe and wonder, marvelling at the limitless choices on the bookshelves. For some pupils, it was their first time inside a library outside of our school library.

"We are thrilled to have been asked to be a part of the local literacy campaign being led by our local councillors and we have been lucky enough to be visited 'virtually' for story time. We look forward to being able to continue our work with the library."
An ongoing initiative to encourage children at both schools to sign up as library members will also be supported this year by working closely with the schools.
Potential plans for the redevelopment of the children's area within Layton Library are also being explored.
Blackpool Library services on a wider level are also supporting the national Summer Reading Challenge 'Wild World Heroes' this year, which encourages children to keep up with their reading over the holidays. There's lots of exciting events going on both indoors and out.
For all the information on summer events visit the Blackpool Libraries Facebook page, or pop in to a local library for details.
For current Blackpool Library opening times please check our Libraries page or the service's Facebook and Twitter pages.

Posted on Wednesday 28th July 2021