Support for the Armed Forces Community and Veterans
An online mental health event for the Armed Forces community will take place on Thursday 12 May at 2pm as part of the wider National Mental Health Awareness Week (9 to 15 May).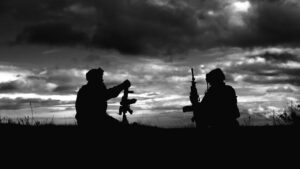 Kevin Moore, a former Royal Navy Engineer and Falklands veteran and the programme manager for the Armed Forces Covenant in Dorset will be hosting the event, which is free to join.
He, by his admission, has been to some dark places and has ticked many of the 'cliched damaged Veteran' boxes along the way.
He is living proof that seeking help and talking through your issues can lead you out of poor mental health and into a better state of mind.
Since leaving the Armed Forces, Kevin has worked in the Public Sector and now feels proud and privileged to be in a position that enables him to give something back to the Armed Forces community.
Kevin says: "I hope veteran and members of the Armed Forces community across Dorset will join me for the event where we can explore some myths concerning the Armed Forces and mental health together.  Members of the public are also invited to take part.
"It's not all Post-traumatic stress disorder. Many issues are more to do with loneliness, isolation, a sense of loss and no longer belonging, and difficulties in adjusting.
"Many veterans and serving personnel feel misunderstood and anxious. This impacts not only them, but also the wider family and relationships."
Cllr David Walsh, Armed Forces Champion for Dorset Council, said: "There are over 58,000 Armed Forces veterans in Dorset, plus around 40,000 serving personnel and their families.
"We know there are many veterans who still struggle with physical and mental scars.
"Through the Armed Forces Covenant and links to health and wellbeing services, welfare, housing and employment, support is available for both current and past members of the Armed Forces and their families."
You can find out more about what support is in place for members of the Armed Forces on the website.
The Mental Health and Wellbeing event is free and to book your place, sign up on the link below.
Mental Health and the Armed Forces Community Tickets, Thu 12 May 2022 at 14:00 | Eventbrite