Call to combat loneliness in Cornwall during Mental Health Awareness Week
Residents in Cornwall are being asked to help lift someone out of loneliness as part of Mental Health Awareness Week (May 9-15).
We're all encouraged to get in touch with friends, family members and neighbours who we may have lost touch with during the pandemic.
Hosted by the Mental Health Foundation, the annual awareness week this year focuses on the impact of loneliness and the practical steps we can take to tackle it.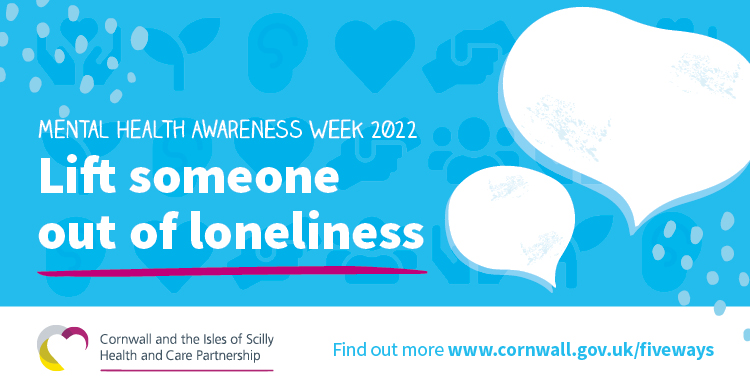 Research by the foundation shows that three times as many people reported feeling lonely during the pandemic as they did before. Our connections with each other suffered and, in some cases, broke down entirely.
Loneliness can affect people of all ages with those on low incomes or with long-term physical and mental health conditions said to be more likely to experience it compared to the general UK population.
Rachel Wigglesworth, Director of Public Health for Cornwall and the Isles of Scilly, said:
"Our connections to other people and our community are fundamental when it comes to protecting our mental health and we need to find better ways of helping each other and tackling this loneliness epidemic.
"So why not get in touch with a friend or family member you haven't spoken with recently or drop in on a neighbour you haven't seen in a while? You can also use the Mental Health Foundation's Loneliness School Pack to help teachers and pupils explore the theme in schools and download the Wear it Green fundraising Pack to show your support for the week.
"Reducing loneliness is a major step towards a mentally healthy society and we can all play a part."
Cllr Dr Andy Virr, Portfolio Holder for Adults and Public Health, said:
"Loneliness is a significant public health issue and remains one of the key indicators of poor mental health. Research shows that being connected to other people in a way that helps us feel valued is vital when it comes to protecting our mental health. Long-term feelings of loneliness have also been shown to be associated with higher rates of mortality and poorer physical health outcomes.
"This is why it is so important that we rebuild connections with loved ones, friends and neighbours that may have been disrupted or even broken during the pandemic."
NHS Kernow chairman and mental health advocate Dr Paul Cook said:
"The past two years have affected everyone in different ways, and none more so than on people's mental health. As a GP, my colleagues and I speak to lots of people who are struggling to manage or feel lonely and isolated after having to have kept their distance from people during the pandemic.
"Connecting with people is vital for good mental health, and I would encourage everyone to pick up their phone and talk to someone they've not spoken to for a while, or meet up with friends and family. Feeling connected with people can lift your mood, which impacts upon all areas of your health and wellbeing."
The Council's Public Health team and local NHS are also reminding residents they have until May 30 to give crucial feedback on its Suicide Prevention Strategy and help save lives.
People can have their say by visiting https://letstalk.cornwall.gov.uk/suicide-prevention
To find out more about Mental Health Awareness Week, visit www.mentalhealth.org.uk
For more ideas on ways you can lift someone out of loneliness visit www.healthycornwall.org.uk/MHAW22 
For more on mental health support available in Cornwall visit www.cornwall.gov.uk/mentalhealth
If you are worried about your own or someone else's mental health call the Cornwall and Isles of Scilly 24/7 NHS mental health response line on 0800 038 5300. It's free to access by anyone, any age, any time, day or night.