To mark the start of #FosterCareFortnight we are shining a light on our fantastic fostering community, to hear what made them decide to foster with Dorset Council and the advice they'd give to others who are considering it.
Sue and Des from Weymouth have been fostering children and young people for over 32 years.
The couple started their fostering journey in Wales and moved to Dorset 30 years ago. They have three birth children and an adopted son. During this time, they have fostered over 50 children. They currently have permanency for a seven and 15-year-old, but have also fostered a young person from the age of 13. She is now 19 and still lives with them.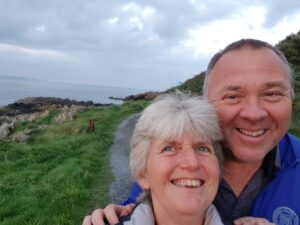 Sue said: "In my early 20s, I saw a sign in a shop window in Wales asking if people could offer a child a break through a weekend respite scheme. It didn't take us long to decide we wanted to find out more and we soon found ourselves going through the approval process. Once we were approved, we were able to offer care for a child which was a tremendously rewarding experience.
"Shortly after, we moved to Dorset and brought our approval with us. This meant we could immediately offer respite care in our new Dorset home and we carried on fostering when our children were born.
"We've looked after children aged between 0 to 18 with most of them having additional needs. Respite care is hugely important for the birth families or permanent foster care families of the children we look after, as it helps to give them a break."
What has been the biggest challenge?
"Fostering is full of challenges but trying to keep children safe and happy when the tough start in their lives has made them so vulnerable, is one of the biggest challenges. Sometimes it can feel as if we are failing at that – but it feels incredible when we notice small things that show they are starting to settle."
What has been biggest reward? 
"I love being a mum and fostering is that and so much more. Combining running a home and family, with being a professional who's reporting, working and advocating for the child in meetings, and juggling all their different needs, means there is never a dull moment."
What would you say to someone who's considering becoming a foster carer?
"Do it! It's so rewarding and it's definitely a way of life. Our 19-year-old will stay with us for a while longer, so they really do become part of the family."
What skills or personality traits would you say foster carers need?
"A sense of humour, patience and a big heart."
Foster with Dorset Council
Our fostering service puts the children who need loving, local foster homes at the heart of everything we do. The key focus is on keeping local children close to their schools, friends and birth families.
Our foster carers transform the lives of children and young people by opening their hearts and homes to those who need it the most. At present, demand for foster carers in Dorset is high – especially for teenagers and sibling groups.
Find out more about fostering with Dorset Council and register your interest today. Keep up to date with the latest fostering news and subscribe to our monthly enewsletter.
If you'd like to find out more in-person, the fostering team hold regular fostering drop-in events across Dorset and you can follow us on Facebook for all the latest fostering news and updates.