25 hour show to celebrate 25 years on air
The University of Bedfordshire's community radio station, Radio LaB, is marking 25 years on air this month – celebrating with a marathon 25-hour broadcast.
The award-winning station was founded as Luton FM in May 1997, with it going on to be the starting ground for many successful radio alumni from the University – as well as joint ventures with the local community.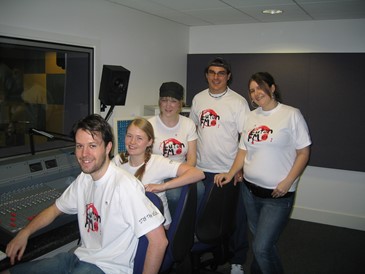 To mark this long-standing achievement, the station will broadcast a special show running for 25 hours from 4pm on Tuesday 10th May, with each hour playing music from iconic artists from the last 25 years, including the likes of Adele, Britney Spears, Girls Aloud, and Coldplay.
Radio LaB student managers, Nathan Randle and Toby Crabb, will also chat with Radio LaB alumni and staff from the years gone by to ask about their experiences, memories and what happened to them next.
Nathan, a third-year Radio & Audio student, has been involved in organising this lengthy broadcast. 
He commented: "I am really excited to be organising this programme to celebrate 25 years on air for Radio LaB. I'm proud to be a part of the rich radio history here at the University, and I'm looking forward to the challenge of hosting a 25-hour live show, whilst playing some of the biggest hits from the last 25 years and speaking to many of our station's previous presenters."
Among the guests set to feature on the special broadcast is a host of Radio LaB alumni now working in the industry, including Melvin Odoom, Toby Friedner, and Kelly Betts.
Terry Lee, Senior Tutor in Radio & Audio, who oversees the running of Radio LaB said: "Making radio is a real privilege – it is amazing to think that radio has been prevalent at the University for over 25 years now. I am immensely proud to have been a part of this story since I joined Bedfordshire in 2014.  
"Radio and audio are as important as ever – we are committed to ensuring Radio LaB's facilities are representative of professional broadcasters, and that our output remains relevant to students and young people across Luton and Bedfordshire." 
Click on the names below to hear from former Radio LaB staff and alumni about their memories of the station…