It's now even easier to contribute your memories and photos to special Jubilee exhibition
People in Hartlepool wanting to contribute their recollections and photographs for a special upcoming exhibition for The Queen's Platinum Jubilee can now do so online.
Residents have been invited to share their reminiscences, pictures and memorabilia of how the town celebrated The Queen's Coronation and subsequent royal events for the 'I Remember' project run by Hartlepool's Community Hubs.
Contributions will be the focus of a special exhibition in the town during the Jubilee celebrations in June.
As well as being able to call into their nearest Community Hub or branch library to record a digital audio postcard (staff are on hand to help), leave a written reminiscence or bring in photographs for scanning and return or items for loan, people can now contribute their memories and pictures online at yoursay.hartlepool.gov.uk/i-remember
The website – which has been set up by Hartlepool Borough Council – enables people to type in memories, upload photographs and video reminiscences and like and discuss other people's contributions. It's easy to use and there are full instructions.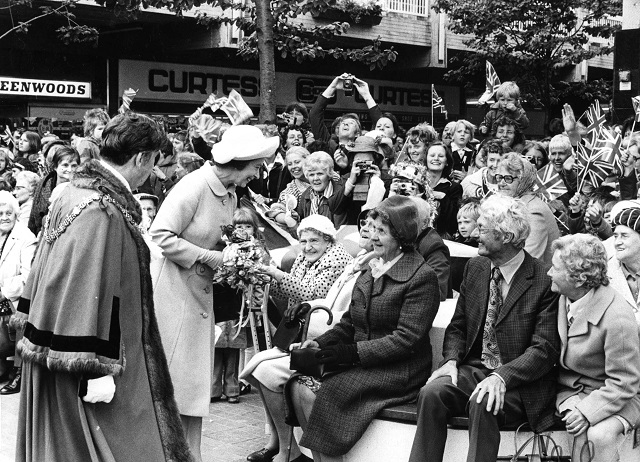 The Queen meets wellwishers in Middleton Grange Shopping Centre during the 1977 Silver Jubilee celebrations. Photograph courtesy of the Hartlepool Mail.
Jamie Kelly, Hartlepool Borough Council's Community Hubs Manager, said: "The exhibition is an opportunity to look back on some of Hartlepool's happiest royal days and to pay tribute to The Queen's remarkable reign, and thanks to our new website you can now contribute to it without even leaving home.
"We're keen to look back at how Hartlepool has celebrated royal events during The Queen's reign, including the 1953 Coronation but also subsequent royal events such as the 1977 Silver Jubilee, when The Queen visited the town, or her later visit in 1993 to open the Marina, or Princess Anne's 1970 visit to open Middleton Grange Shopping Centre.
"We also very much hope that young people and school groups will get involved by interviewing their parents and grandparents and adding the written or video interviews to the website.
"It will create a marvellous record for posterity and a fascinating and fitting tribute to our Queen."
The closing date for submitting contributions is Monday 23rd May.
For more information about the 'I Remember' project please email community.hubs@hartlepool.gov.uk