Dorset
Operation Heathland Campaign – Dorset Council news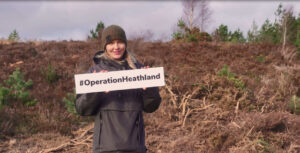 2022 sees the return of our Operation Heathland Campaign run by the Urban Heaths Partnership (UHP), a drive to ask all visitors to our heaths and forests to help us protect them. This year we have celebrity support and are asking everyone to create and share their own photos and videos clips across social media, to say why they're supporting #Operation Heathland. Please see video here.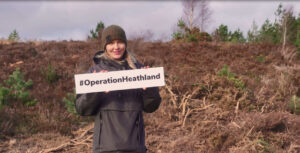 These precious places are used by many people and for different reasons, and the pressures on them are ever increasing. At present there's also a heightened threat from wildfire with the extended period of dry weather. With this campaign we are calling on everyone to help protect these fragile habitats. We are asking those who regularly visit these sites to learn a little more about them and everything that lives and grows there, and to share this knowledge with as many people as possible by using the hashtags and sharing social media posts.
Hopefully, this wide sharing of knowledge and information will encourage all visitors to our heathlands and forests to understand them more, and to respect, protect and enjoy them, encouraging everyone to understand how valuable they are.
A partnership approach is nothing new, the Police Operation Heathland order has been running through the summer months for over 20 years and this year we are taking Operation Heathland to the public, asking for the messages to be shared far and wide.
Paul Attwell, Team Manager of the Urban Heaths Partnership, commented "We are working with partners, especially Dorset Police and Dorset and Wiltshire Fire and Rescue Service, to remind everyone that lowland heath is now rarer on the planet than rainforest, quite a shocking fact. It also supports some of the UK's rarest wildlife which we'll lose if this habitat disappears. So, it's all about raising awareness and engendering a passion to look after it now and for future generations."
Area Manager Marc House, Head of Prevention at Dorset & Wiltshire Fire and Rescue Service said "As the warm and dry weather continues, we know people will be drawn out and about to our countryside areas. We want to be sure that the local area stays as safe as it can be for everyone. If you're visiting our heathlands, woodlands or countryside, please avoid having a campfire and take a picnic rather than use a disposable barbecue – just a few simple steps can make a real difference to preventing fire from starting. We'd also remind people to take care if having a barbecue or bonfire at home. All too often, we see property destroyed when an initially small fire suddenly gets out of control. Never leave a bonfire or barbecue unattended, and site them well away from fences, trees or buildings."
When you are out and about in the forest and heathlands remember these points to help you enjoy your visit:
Keep yourself and dogs to tracks, footpaths and bridleways. This will reduce the risk to you and your dog from ticks and snake bites and will keep plants and wildlife safe from disturbance. During the bird nesting season you will be requested to keep your dog on a lead.
Put in a bin or take home your dog mess and litter. It's detrimental to the heathland and a health risk to wildlife and other users.
Never have a fire or BBQ on heathland, it is illegal to do so. If you need to take food a picnic is an easier option.
If you see a fire in the countryside, get to a safe place and call 999 with as many details about the location as possible.