Your guide to a safe night out in Hackney: new campaign launches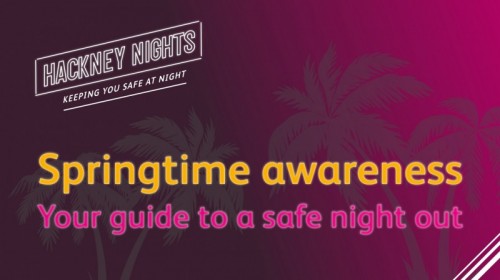 HDS15493 – Twitter 1200x675px slide
A new awareness campaign to help people enjoy a safe night out in Hackney has launched as part of the Council's Hackney Nights safety scheme. 
The campaign will be shared on social media and in Hackney's nightlife spaces highlighting key issues affecting nights out such as the sale and use of laughing gas, pick-pocketing and drink-spiking. 
Safety guidance within the campaign includes tips such as watching your drinks being poured, leaving important debit/credit cards at home and facts about the effects of laughing gas.
Alongside the springtime awareness campaign, the Council is also launching a new accreditation scheme in June 2022 which will aim to ensure Hackney licensed venues follow the same safety guidance. 
The new accreditation scheme encourages licensed venues to become safer and better equipped to deal with issues around the sale of alcohol and to encourage a healthy environment for all visitors, staff, and customers. 
Venues will voluntarily complete a list of criteria which ranges across many areas and staff will receive training around Coronavirus safety, crime prevention and awareness, health and well-being and sustainability. 
Premises who successfully gain the accreditation will benefit from a 30% reduction to late night levy fees. 
The Hackney Nights springtime awareness campaign and accreditation scheme is funded by the Late Night Levy.