Grimsby Institute Hosts 'Destress For Success' Event To Celebrate Mental Health Awareness Week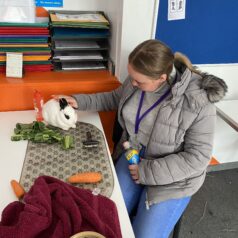 The wonderful staff here at Grimsby Institute have been working hard to organise and host a 'Destress For Success' event today to celebrate Mental Health Awareness Week, to help our learners manage the stress of exams. It's been wonderful watching our learners take part in a range of activities, and seeing the positive impact it's had on their mental health. 
The MooShake stand offered free vitamin and protein packed smoothies to learners, and in total made over 350 drinks. Our Animal Care Staff brought rabbits and guinea pigs to meet our learners and help them de-stress, which proved to be extremely popular. A reaction board was also set up for learners to test their reflexes and have a bit of fun in between exam revision. There were a range of other activities too including yoga, hand massages, manicures, behaviour workshops, mindfulness colouring and music. 
Olivia McKinley, one of our Level 1 Childcare learners said: "I've really enjoyed the wellness event today and helped me feel less stressed. I really enjoyed meeting the animals and getting to hold one of the rabbits. The college should do more events like this in the future."