Blackpool
Multi-million pound housing redevelopment welcomes first new residents


Posted on Thursday 8th July 2021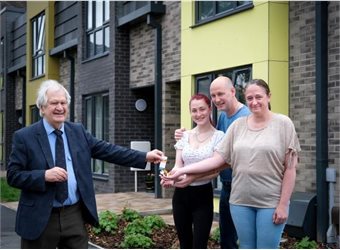 £10m brand new affordable housing redevelopment Troutbeck Cresent in Mereside, Blackpool has welcomed some of its first new tenants. 
Angela and Mark Short along with their two children, Jemma, 17, and Declan 18, have just moved into one of the new build homes that have been completed during phase one of works at Troutbeck Crescent which has seen nine properties released for occupancy. The scheme will ultimately offer a total of 75 modern, affordable, high quality social housing rented homes to replace the original six three-storey blocks of flats that were on the site.  
The scheme, developed by Blackpool Council is set to deliver 27 two bed houses, 18 three bed houses, 2 three bed accessible houses, 9 two bed accessible houses and 19 one bedroom apartments. Once completed the homes will be managed on behalf of the council by Blackpool Coastal Housing (BCH). 
BCH is owned by Blackpool Council and aims predominantly to provide first class and affordable social housing with a choice of quality homes. It manages around 5,000 properties on Blackpool Council's behalf. 
The project has been funded by Blackpool Council and supported with grant funding from Homes England under the Shared Ownership and Affordable Homes Programme 2016-21.   
The development which started in September 2019 and saw the demolition of 81 existing flats will not only provide new properties but incorporates accessible homes specifically designed to enable independent living for residents with disabilities. 
Situated on a prominent road network into Blackpool, the 2.3 hectare Troutbeck Crescent housing development site looks to provide well designed homes with good space standards and low running costs within an attractive environment that integrates with the surrounding area, and creates an inviting gateway into Blackpool. 
The development is being constructed by Blackpool based company RP Tyson Construction and was designed by architects Cassidy and Ashton. 
Cllr Ivan Taylor, Blackpool Council Deputy Leader with responsibilities for housing, said:
"The previous housing at Troutbeck Crescent had become increasingly unpopular and difficult to let – as a result there was a high turnover of tenants.  

"The new homes reflect the properties that are in highest demand in Blackpool. They are well designed and offer economical and good living space for people with different requirements and needs. It is one of many significant investment schemes and projects across the town that is making Blackpool better. 

"We are delighted to have recently welcomed Angela, Mark, Declan and Jemma as some of the first residents and wish them well in their new home. 

"It's also good to know that over 90% of the appointed construction company's workforce are local residents which has real benefits for our local economy, as well as the careful 'green' considerations with the relocation of trees and shrubs." 
Angela Short, one of the first new tenants commented:
"Our family has lived in Blackpool for some years but we were looking for a new home that better suited our needs. We saw the development at Troutbeck Crescent and when we viewed a three bedroom property we were impressed by the decent sized rooms and design. For us it was ideal.  The letting team were so friendly and helpful and following our application we were over the moon when we got the keys for our new home." 
Blackpool Coastal Housing's Chief Executive, John Donnellon, said:
"This is a scheme that the council and Blackpool can be proud of, replacing ageing accommodation with modern high quality housing for Blackpool residents.  Delivering the project with a local contractor to a high standard providing valuable local jobs and skills sets the standard for future developments." 
RP Tyson Construction was appointed as principal contractor to undertake the construction of the residential dwellings. Jeremy Whittle, Managing Director of the company, commented: "We were delighted that the council chose us to deliver this prestigious housing development for their tenants, it means so much to us, Blackpool is our home." 
Cassidy + Ashton as lead architect have co-ordinated all design services for the scheme. Lawrence McBurney, Director at Cassidy + Ashton, said: "We are very proud to see the initial phase of this exciting development completed and the first residents move in. This is a key gateway into Blackpool and we hope the high-quality design of the dwellings and external spaces will enhance the quality of life for the residents as well as the passing public." 
The next phase of the development is expected to be completed this summer with the scheme completed in Spring 2022. 

Posted on Thursday 8th July 2021