First ESNEFT patient signed up for cancer study
When Sheila Taylor was told the devastating news she had Non-Hodgkin lymphoma she was prepared to have any treatment necessary so she could get better.
So when doctors suggested she join a research study trialling a new type of cancer treatment, she was keen to say yes.
The 58-year-old, who lives in Pinewood, Ipswich, became the first patient to join Ipswich Hospital Research team's Cancer Research UK REMoDL-A study.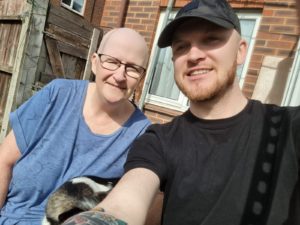 Sheila with her son Nicholas and dog Jack, who also has been treated for cancer
Sheila said: "I'd found a lump on my back during lockdown. My doctor didn't think it was anything to be worried about, but then nine months later my son noticed my face was really yellow."
Initially there were concerns it was pancreatic cancer, but further investigation showed Sheila had Non-Hodgkin lymphoma and on Christmas Eve 2021 was offered chemotherapy treatment.
She added: "It was a really difficult time as it was before Christmas and my dog and best friend Jack was also diagnosed with cancer in his leg.
"After I was diagnosed lumps seemed to pop up everywhere!"
Doctors suggested Sheila may be suitable for a research study, so she had a biopsy taken to see if she would be able to join the study using the drug.
The study is looking to see whether adding a newer drug called Acalabrutinib helps to improve outcomes. Acalabrutinib is a targeted therapy which blocks signals that some cancer cells need to grow. Patients are randomly allocated to receive standard treatment or standard treatment plus Acalabrutinib. The outcomes between the two groups are then compared.
She said: "I requested Michael Bublé was played during the biopsy! When I was offered the possibility of this new drug I was so happy to have the chance to try it. It's been the most traumatic time."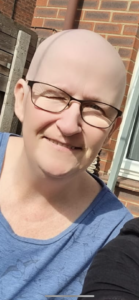 Sheila Taylor
Sheila began chemo in January and has been supported through treatment by her son Nicholas and his girlfriend who live with her, and her son Adam and his family. She added: "Jack has also been operated on and the sarcoma removed from his leg. I rescued him three years ago but he's ended up rescuing me through this."
Sheila's treatment within the study is ongoing.
Paul Ridley, clinical research practitioner at Ipswich Hospital's Research Unit, added: "This is a new study happening across the country and we're very happy to be able to offer this locally to our patients. Sheila is having regular rounds of chemotherapy and is being closely assessed with regular blood tests, scans and questionnaires.
"The study will continue for several years and will involve many patients – but Sheila is the first at Ipswich. She is a really enthusiastic research participant and it is a privilege to be involved in her care."