REF results reveal University of Bedfordshire to be world leading in multiple research areas
Research by the University of Bedfordshire has been recognised as world leading by the Research Excellence Framework (REF) 2021.
REF 2021, the system used to assess the quality and impact of research conducted by UK universities, announced the results on Thursday 12th May and the University has excelled in a number of areas, including research carried out by the Centre for Research in English Language Learning and Assessment (CRELLA) and work from the Institute of Applied Social Research.
Overall, 60% of the University's research and 50% of its impact was judged to be world leading or internationally excellent.
Through the REF, CRELLA has pitted itself against the more traditional universities and is placed above both Oxford and Cambridge in the English unit of assessment, ranking 3rd out of 92 submissions, with a huge 72% of their research classed as world leading – the highest possible rating.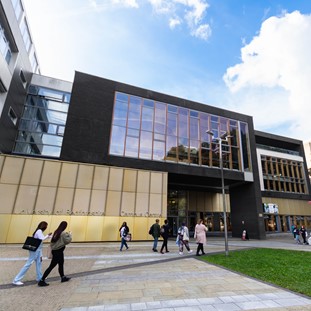 Professor Rebecca Bunting, Vice Chancellor of the University of Bedfordshire, commented: "These results are truly exceptional. REF 2021 marks an important advance in the recognition of language testing as a field of study and the leading role of the University of Bedfordshire within that area.
"It is fantastic news for the University of Bedfordshire and testimony to the quality of the research carried out at the University."
Professor Anthony Green, Director of CRELLA, said: "I would like to thank all my colleagues at the centre for this significant achievement. I am delighted that the impact of our research has been acknowledged with our submission achieving 100% world-leading, 4* impact.  The results reflect very well on our expertise and our strength as a global centre of excellence for research in this area."
Academics from the Institute of Applied Social Research are also celebrating very good REF results, with 81% of its research classed as internationally excellent or world-leading, a shining example of the team's dedication to ensuring their work reflects the University's values and brings immediate and applicable benefits to some of the most vulnerable groups in society.
Professor Emily Munro, Director of the Institute of Applied Social Research, said: "The Institute of Applied Social Research at the University of Bedfordshire is committed to conducting research which both anticipates and shapes key changes in policy and practice to improve social welfare practice, with expertise in safeguarding children and adults, child sexual exploitation and other forms of sexual abuse, extra-familial harm, youth justice, adult social care, trafficking, and migration.
"It's fantastic to see that overall four fifths (81%) of our research has been rated as world-leading or internationally excellent, which is testament to the team's commitment to working with those with lived experience of the issues we explore to ensure that our research has impact."
157 UK universities took part in REF 2021 and the results will be used by the four higher education funding bodies to allocate about £2 billion per year of research funding to UK universities.
Notes to Editors
Available for interview –
Professor Tony Green, Director of CRELLA, Professor in Language Assessment and Professor Andrew Church, Pro Vice Chancellor for Research and Innovation.
For interview opportunities with Tony and/or Andrew contact 01582 489399                                     
Professor Cyril Weir OBE founded CRELLA in 2005 when he took up The Powdrill Chair in Second Language Acquisition funded by the Steele Charitable Trust and led CRELLA until 2015. In 2015 Cyril was awarded an OBE in honour of his services to English language assessment.