Posted on Wednesday 31st January 2018
Work starts Monday 12 February for five weeks to replace the traffic signals at Cooper Dean roundabout as the existing signals have reached the end of their serviceable life.
Work will be seven days a week 7am – 5pm.
There will be temporary signals and lane closures in place which will have some impact on traffic flow. These will change throughout the duration of the works as progress is made. There may be temporary pedestrian crossings in place.
Please take extra care when using the roundabout and reduce your speed.
Expect delays – if you can plan ahead and take an alternative route please do so.
Please accept our apologies for any inconvenience caused during these essential safety and maintenance works.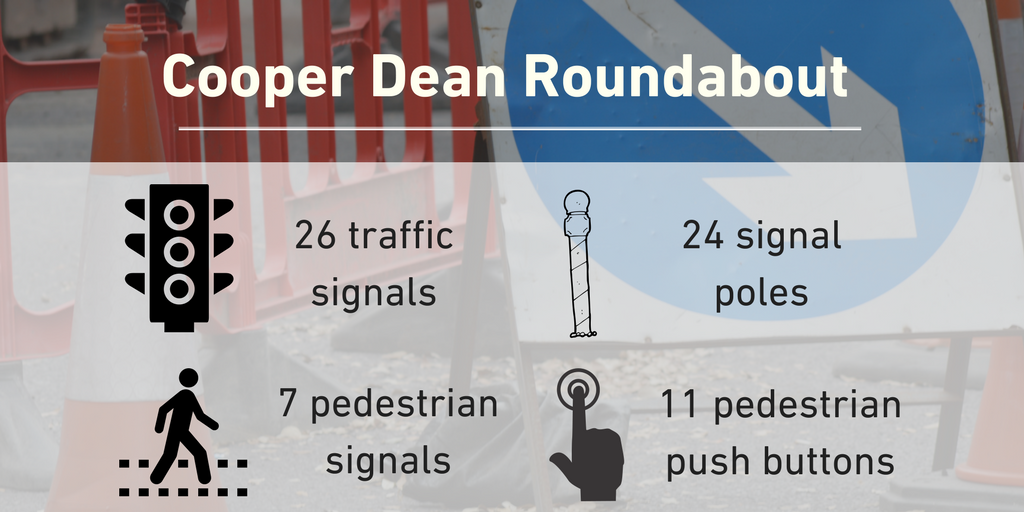 Reliability at Cooper Dean roundabout is crucial.
Vital maintenance work starts 12 February as existing signals have reached the end of their serviceable life.
Works have been programmed to make full use of all traffic management in place.  This will be out 24/7 due to the traffic signals being turned off.  Consideration was given to working outside of peak hours, however this would have significantly prolonged the duration and traffic management will be in place in any event.
Night time working is always considered, but due to the complexity and nature of the work this was discounted.  When working at night there is always an increased risk to the teams on site, particularly when dealing with electrical works which at Cooper Dean will be both in confined spaces and underground.
We will have double crews working on-site, and will be working weekends throughout the duration to try and speed up works as much as possible.
We have worked very closely with the three different contractors to program the works as efficiently as possible. There is a mixture of civil engineering works and electrical traffic signals work requiring specialist contractors.
In total 24 poles, 26 traffic signals, 7 pedestrian signals, and 11 pedestrian push buttons all need to be disconnected, removed, replaced and re-cabled. As well as this, a new traffic signal controller is being installed which connects everything together to run the junction. 
Certain parts of the works can only be completed once others are finished, for example the poles need digging out and replacing (including setting these in the ground) before the traffic signals can be installed and wiring completed.
Please follow us on facebook or twitter for updates as work progresses.