Former Grimsby Institute Apprentice, Ellie Mumby, Qualifies To Compete For Team UK In The WorldSkills Final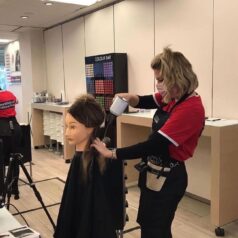 Ellie Mumby, who previously studied an apprenticeship at Grimsby Institute, has qualified to represent Team UK at the prestigious WorldSkills competition. She's one of six hairdressers to be selected and has gone through sixteen months of training plus a rigorous selection process to qualify. 
WorldSkills is an international competition that celebrates professional skills and demonstrates how important they are for economic and cultural growth. It offers students the opportunity to explore their passions and learn new skills, particularly in vocational fields. The finals will be happening in Shanghai, from 12th – 17th October, where Ellie will be competing against the world's best hairdressing students. 
Ellie said: "WorldSkills has been the most amazing journey that I am so thankful to have been a part of. I'm so excited to continue on to Shanghai now and compete internationally." 
Rachel McLean, Curriculum Manager for Salon Professionals, said: "We're so proud of Ellie and what she has achieved. She has worked extremely hard, demonstrating commitment and determination. I wish her all the best in Shanghai, and we will be cheering her on as she showcases her skills on the world stage."