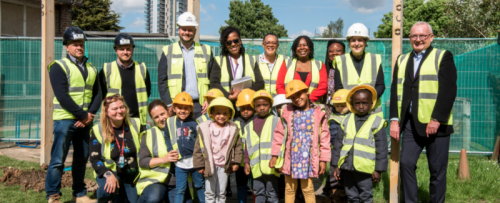 Work has begun to transform the Grade II listed Woodberry Down Children's Centre Early Years building, which will provide a new home for Lilliput Playgroup, a crèche and more training facilities for adults and young people.
An extension will be built on the current site to provide a new space for children under five and "stay and play facilities" to allow for a wider range of activities.
As well as a new purpose built crèche, improvements will also allow for day care and more adult learning and group work for adults and young people, with consulting rooms and more services to be delivered on-site
Mayor of Hackney Philip Glanville and Cllr Caroline Woodley, Cabinet Member for Families, Early Years, Parks and Play, visited the centre last week to mark building work getting under way.