Cornwall Council has secured funding of more than £4.5m to help support households who have been hit the hardest by the national cost of living crisis.
The Household Support Fund – made available by the Department for Work and Pensions (DWP) – is aimed primarily at helping families and pensioners who would otherwise struggle with food and energy bills.
It will provide a one-off payment of £100 to around 16,500 pensioners identified as having low incomes. They will receive a letter with a code that allows them to receive the cash payment at their nearest Post Office.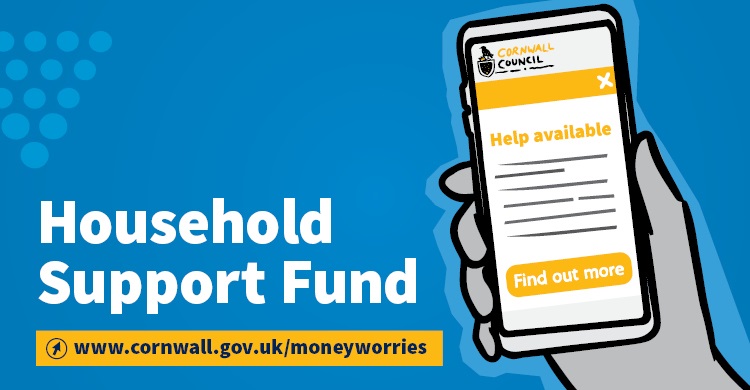 Around 15,500 families who are eligible for free school meals will also receive a one-off payment of £80 per child in primary and secondary school. This will replace the previous free school meal holiday voucher scheme and details on how to receive it will be publicised in the coming weeks.
The remaining money will be used by the Council and partner organisations such as Volunteer Cornwall, Disability Cornwall and Community Energy Plus to help support those most in need.
A range of support is already available through a number of organisations and schemes, which can be found on the Council's 'I am worried about money' webpage.
This spans everything from debt advice and job-seeking to emergency food provision, council tax discounts and crisis grants for people who suddenly find themselves struggling.
Cllr Dr Andy Virr, Portfolio Holder for Adults and Public Health, said:
"The significant rise in living costs has been taking a huge toll on many of our most vulnerable residents and families so this extra government funding is very welcome. Hopefully it will go some way to ensure pensioners and parents in particular can afford to heat their homes and put food on the table.
"The money will also allow the Council and its partners to continue working hard to identify and help those most in need in Cornwall and I would urge people to check out the 'I'm worried about money' webpage to find out what help they can receive and how to access it. Alternatively, they can call 0300 123 1118."
Cllr Barbara Ellenbroek, Portfolio Holder for Children and Families, said:
"This is welcome funding for families on low incomes who have children eligible for free school meals. Unlike the previous voucher system, there is now more flexibility for parents and carers to choose how best to spend the money for the benefit of their household.
"We are totally committed to helping anyone who finds themselves in financial hardship and when we identify those in need, we always look at a range of different options to help them both now and in the future. This might include referrals to employment programmes, adult education courses, skills-based training, debt management and housing support, for example.
"If you're struggling, please get in touch or use our webpage to find out what support is available to you."
People are also reminded that there is a wealth of support available for anyone struggling with their mental health.
Visit our mental health support pages
If you are worried about your own or someone else's mental health call the Cornwall and Isles of Scilly 24/7 NHS mental health response line on 0800 038 5300. It's free to access by anyone, any age, any time, day or night.
Press release published on May 18 2022