Devon
Open Up To Skills training provides post-Covid boost for popular hotel in Exeter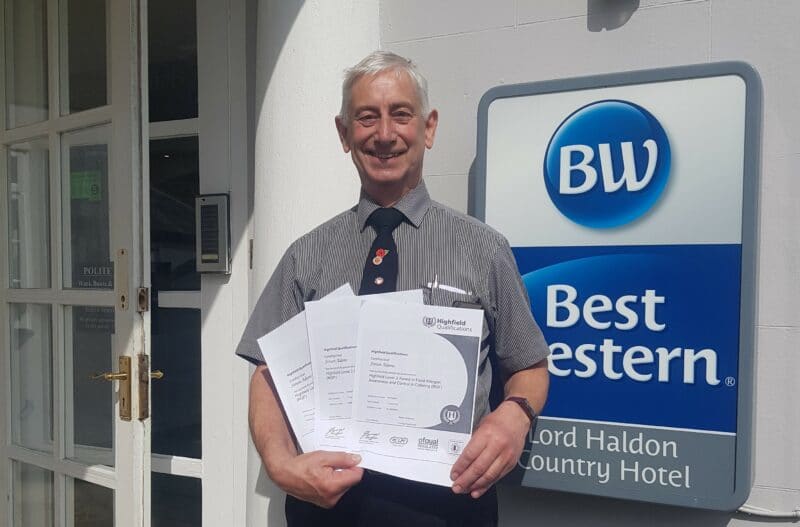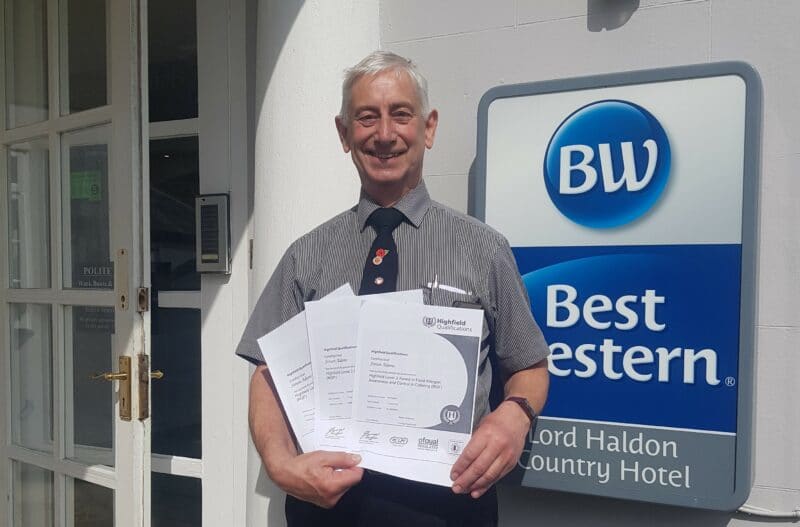 The hospitality sector, a key part of Devon's economy, has been one of the sectors most affected by the Covid-19 pandemic, but there is reason for optimism as local businesses seek to get back on their feet.
One such business is the Lord Haldon Country Hotel in Exeter, part of the Best Western chain of hotels, which has been investing in training and upskilling its staff ahead of what promises to be a busy summer. The Hotel has taken part in our 'Open Up to Skills' initiative, which is supporting Devon's catering, hospitality, leisure, retail, and tourism sectors to rebuild workforce skills following the devastating impact of the Covid-19 pandemic.
As a result, the Hotel has been able to train up five of its staff from different areas of the business, including hospitality, front of house and reception. Investing in its employees in this way will help the hotel to ensure it meets the high quality associated with the Best Western Brand.
These accredited courses were delivered by skills specialist Seetec Outsource and funded through Open Up To Skills. With some businesses still struggling to recruit and retain staff, these funded training opportunities can help them to fill skills gaps while supporting individuals to retrain or progress in work.
Speaking about his time on the course, Simon Adams, an employee at Lord Haldon Country Hotel said: "Taking the courses and passing all the exams has been a real achievement, as retaining information is a little harder as you get older. But the sessions were fun, informative, and engaging, which made learning a lot easier. The highlight for me was the conflict management course. We learned some useful techniques which I'll be able to apply in my front of house role."
The interactive training sessions were designed to motivate and engage employees, build confidence, and support them to improve working practices within their teams. The sessions were delivered on site at the hotel over a period of several weeks, with a flexible approach that suited staff shift patterns and minimised disruption to business operations.
Seetec Outsource is part of the employee owned Seetec Group, which, through its four business divisions, helps thousands of people across the UK and Ireland into work, to gain new skills, or offer a route to rehabilitation for those with a criminal past. Its employee owners are passionate about ensuring that everyone has an equal opportunity to find a new career, through in-work support and training opportunities that meet participants' learning needs.
The training was focused on building some of the key knowledge and skills needed within the hospitality industry, including food safety for catering, food allergen awareness and conflict management. The need for upskilling comes from the impact that Covid-19 had on the hospitality industry.
A House of Commons report showed that, from January-March 2020 to July-September 2020, the number of workers in the nationwide hospitality sector fell by 6% (147,000) due to the pandemic. The Office for National Statistics was quoted in the report stating that as of early March 2021 only 43% of hospitality businesses were trading, compared to 74% across all industries. Training schemes like this are therefore key to helping the sector bounce back, and helping employees to improve their skills.
Speaking about the positive impact of the training, Paco Bayona-Ruz, General Manager at Lord Haldon Country Hotel, said: "The funded training available through the 'Open Up To Skills' initiative has been a fantastic opportunity for us as a business. Upskilling our staff and supporting them to achieve a recognised qualification means that we can provide better levels of service for our customers. Helping employees to progress in their career also ensures that they feel valued, and this helps with staff retention."
Councillor Rufus Gilbert, Devon County Councillor for Economic Recovery and Skills, said:

"It's encouraging to see how the Open Up to Skills project is helping local businesses in some of the hardest hit sectors, such as hospitality, to invest in their staff. Seetec Outsource is delivering quality training which benefits businesses and employees, and that, in turn, will provide visitors with an even better experience when they come to Devon. That has to be a step in the right direction to help Devon's economy to build back better and ensure a swift and strong recovery."
Matthew Hannigan-Train, Regional Manager at Seetec Outsource in Devon, added: "We are proud to provide companies and organisations with specialised training that gives their employees a chance to learn new skills or progress in their chosen roles. While working in partnership with Devon County Council through the Open Up To Skills initiative, we were able to provide interactive training sessions to staff at Lord Haldon Country Hotel in Exeter. We are delighted with the feedback we have received from the learners and congratulate them all on their amazing hard work and achievements following their successful completion of the courses."