Leeds
New installation and free activities at Leeds Central Library bring to life the fascinating story of the Cottingley Fairies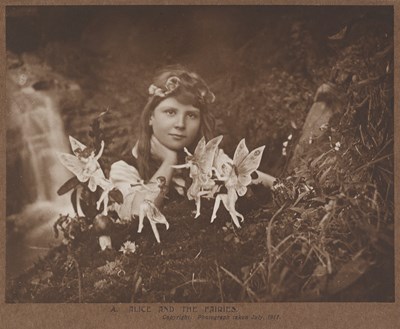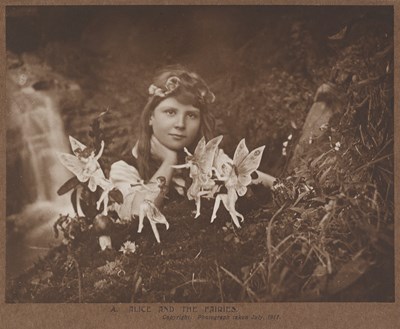 The story of the Cottingley Fairies has intrigued generations ever since the first photographs took the world by surprise in 1920.
Cousins Elsie Wright and Frances Griffiths took photographs of themselves with what looked like winged dancing fairies at the bottom of their garden in Cottingley.
The fairy photographs captured the public imagination, and 100 years ago none other than Sir Arthur Conan Doyle, the creator of Sherlock Holmes, published The Coming of the Fairies, in which he set out his belief that the photographs were genuine.
A first edition of the book will be one of the highlights of Fairy Light, a new free installation at Leeds Central Library which opens on 28 May:  it's ideal for families and just in time for the half-term holidays.
A rare first edition of The Coming of the Fairies will appear alongside another book from the Leeds Libraries' collections, Princess Mary's Gift Book, on which Elsie based her own fairy drawings before posing them on hat pins for the photographs.
Fairy Light will also invite visitors to step into an imagined recreation of the girls' bedroom in Cottingley, as it could have looked in the summer of 1917 when the girls took the first photographs.
The installation is a collaboration between artist and folklorist Elizabeth Dearnley, filmmaker Amy Cutler and sound designer Tamsin Dearnley, who all have connections with West Yorkshire.
Elizabeth said: "There has always been a fascination with what inspired those two young girls to create what became one of our most famous modern myths. Our retelling of the story explores how Elsie and Frances might have come to create the fairy photographs – as visitors explore their bedroom and listen to their voices, shifting lights and projected film will transform the space into something altogether more magical and mysterious.
"We'd love to see children sitting on the beds, listening to the conversation between Elsie and Frances, and imagining that they are back in 1917, helping the girls to plan their famous fairy photographs."
Responsive sound design by Tamsin will enable audiences to trigger magical sounds by interacting with the space; the conversation between Elsie and Frances can be heard using a QR code (please bring a pair of headphones).
As well as the installation, there will be a programme of events and art workshops with a fairy theme for both adults and children. Tickets for all these events are available at www.ticketsource.co.uk/leedslibraryevents 
Fairy Light launch drinks reception and preview. Friday 27 May, 5.00 to 7.00pm. Free but please book a ticket
Join Fairy Light artists Amy Cutler, Elizabeth Dearnley and Tamsin Dearnley in conversation with A Study in Deception curator Dr Merrick Burrow of the University of Huddersfield, as they explore this century-old story of loss, hope and belief and its continuing resonances in 2022. Monday 30 May, 6pm to 7.30pm. Free but please book a ticket.
Our Drop in and Draw free lunchtime drawing sessions with have a fairy and folklore theme every Thursday during June. From 12.30pm and 2.30pm in The Drawing Room, Leeds Central Library. No need to book, just drop in.
Be inspired by the Fairy Light installation and then join a relaxed and fun workshop in our Drawing Room where illustrator Emma Christie will be on hand. Draw a fairy to take home and keep. Monday 27 June, from 5.30 to 7.30pm. Tickets are £9 and include refreshments. For adults and children 11 and over.
Make a zero waste wire fairy to twinkle in the moonlight this midsummer or bring along a clean glass jar to create a terrarium to attract the fairy folk. For adults and children aged 11 and over. Tickets are £3 to cover materials and refreshments. Tuesday 28 June, 5.00 to 7.00 pm.
Andrea Ellison, Senior Librarian at Leeds City Council, said:
"This is a great opportunity to share the rare and exciting books in our collections which tell the story of the Cottingley Fairies and the two girls who created them. It would be fantastic to see the Fairy Light installation go on to fire the imaginations of today's youngsters."
Councillor Mary Harland, Leeds City Council executive member for communities, said:
"The collections held by Leeds Libraries are a wonderful resource which bring our cultural heritage to life. The Fairy Light installation is a great opportunity to explore this fascinating episode in our city's story and how it continues to inspire today's artists and designers in Leeds."
Discover more about how Elsie and Frances fooled Sir Arthur Conan Doyle and see their fairy photographs at the University of Leeds' free exhibition The Cottingley Fairies: a study in deception which is showing at The Treasures of the Brotherton Gallery and runs until November 2022.
Artworks inspired by Fairy Light can be shared on social media, using the tag @LeedsLibraries