Posted on Friday 20th May 2022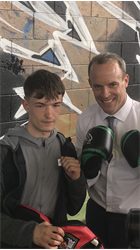 On Wednesday Blackpool welcomed a visit from the Deputy Prime Minister, Dominic Raab, Victoria Atkins MP, who leads the Ministry of Justice's work on youth justice and Keith Fraser Chair of the Youth Justice Board.
Blackpool's youth justice service has gone from strength to strength over the last few years and following a visit from the Her Majesty's Inspectorate of Probation, in May and June last year, the service is now rated 'Good' and in some aspects 'Outstanding'. 
Continuing the innovation and improvement the youth justice service have recently started to deliver a project in conjunction with Blackpool Council's leisure services team and Blackpool Boys & Girls Club to provide boxing activities for young people.
These activities were set up after some engagement work with young people, following the easing of Covid lockdown measures, on what activities they would like to get involved in. The activities serve as a diversion for some young people from criminality and anti-social behaviour.
Following the visit to Blackpool the government have announced national funding for youth justice services for early intervention to connect children and adolescents to target wraparound support to stop them going down a path of criminality.
Cllr Gillian Campbell, Blackpool Council Cabinet Member for Inclusion, Youth and Transience said:
"I am incredibly proud of our youth justice service, the improvements that have been made and their creative and innovative approach.

The team works tirelessly with our partners across Blackpool to advocate for children and tackle the issues some young people and their families face.

We welcome this announcement of some additional funding which will allow us to develop more preventative and early intervention support for children."

Posted on Friday 20th May 2022