A lifelong love of physical activity and sporting competition has seen the joint chair of two local NHS trusts continue to excel at his chosen sport at the age of 67.
Professor Derek Bell, joint chair of both North Tees and Hartlepool NHS Foundation Trust and South Tees Hospitals NHS Foundation Trust, is a proud member of the Scottish master's hockey team.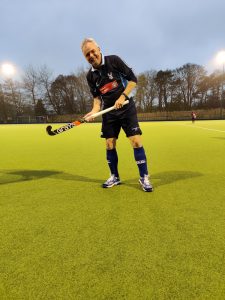 Derek, a professor of acute medicine, took up hockey at the age of 13 after being inspired by a teacher who represented Great Britain in the sport at the 1964 Tokyo Olympics.
An instant enthusiast, Derek plays in midfield and defence and has previously played for several teams including Scottish schools, Scottish under 21s, Scottish and British universities, in domestic and European competitions. Derek, who was also part of the Scotland squad but not capped due to injury and medical school commitments, has been part of the master's team for around 20 years.
His hockey highlights include beating a tough selection process for the British University team, subsequently winning a European tournament in 1978, and winning the Scottish league with a club in Edinburgh.
Derek's commitment to his chosen sport sees him still playing for his local Edinburgh team most Saturdays and a monthly masters training session, the team with which he has won a bronze medal in the Australia-hosted world masters cup, the home nation's cup and this year lifted the Celtic cup against stiff competition from Ireland and Wales.
Derek is keen to encourage others to be more active. He said: "On an average week, I'll run three or four times and a couple of cycle rides, plus my hockey training.
"I exercise to keep fit and control my weight, although to be honest, controlling what you eat is the most effective method of weight management.
"It's also a great de-stressor. When you run or cycle, you tend to think clearer and it can have a huge positive impact on mental health.
"The best advice I can give to someone looking to take up more exercise is to not overdo it. It is crucial not to do too much too quickly. A brisk walk for five minutes and then a rest is a perfectly acceptable starting point."
Derek's 24-year old daughter McKenzie has followed in her father's professional and sporting footsteps as the newly qualified medical doctor is also a member of the Scotland women's team.
Derek Bell is now focusing his efforts on taking part in this year's world masters competition in Tokyo, which has been delayed for two years due to the pandemic.
Looking back on his sporting life, Derek commented: "Sport has afforded me many great privileges, among the most important has been the opportunity to meet so many people around the world. Sport brings people together."
Leave a comment