New Clissold Park splash pad nears completion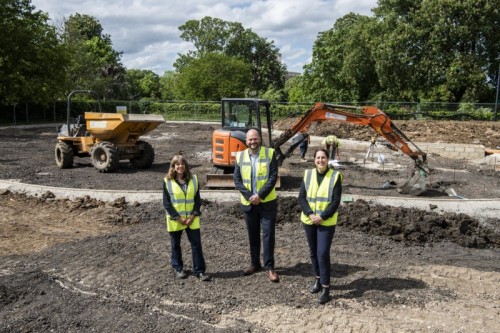 A new kids' splash pad is set to be completed at Clissold Park this summer, as part of the Council's commitment to expand facilities in parks and improve play opportunities for children and families.
Located in the old bowling green area, the splash pad features brightly coloured water fountains and sprays, and will provide opportunities for water play with little or no standing water, which helps improve safety and allows fun features to be included in designs.
The bowling pavilion will house new and accessible toilets and a cafe kiosk, to ensure the space is welcoming and inclusive.
The new splash pad is part of a significant programme of investment in Hackney's parks and green spaces, which the Council has prioritised – despite 40% funding cuts since 2010 – because of the immeasurable benefits to health and wellbeing that high quality green spaces can bring.
It replaces the old paddling pool in Clissold Park, after an independent health and safety review found that it needed major work that rendered it beyond economical repair.
A consultation was carried out on its replacement in 2020, with 73% of respondents saying they liked or loved the design of the new splash pad.