Anyone wanting to get out and enjoy some gentle exercise while relaxing the mind and body from the stresses of the day should consider Qigong.
That's the message from Cllr Duncan Wood, who recently completed a month of sessions at the Belmont Community Hut in Newtown.
Cllr Wood is taking part in 12 Moves in 12 Months – a challenge to try out a new activity each month during 2022.
It aims to champion some of the amazing community groups and organisations in Exeter who are supporting people to be more active in their daily lives.
Cllr Wood is spending time each week in a group or class to try new activities for himself as a great way to get active and stay healthy.
It began with yoga in January, before moving on to Nordic walking, bowls and Qigong (pronounced che-gong)
Qigong is a system of coordinated body-posture and movement, breathing, and meditation.
Cllr Wood said he thoroughly enjoyed the challenge and the space it gave him to escape the hectic nature of our everyday lives.
He said: "It is a brilliant way to relax. I found that when I fell into the trap of thinking about the usual things my movements weren't as smooth and I wasn't as balanced.
"You can feel that inner dialogue that we have dying down when you take part, and all the things that can stress you during the day all fade away.
"You concentrate on controlling the movement and the breathing, it's really good for centring yourself.
"Speaking to some of the other people at the classes, they said that they felt that they could get so much more done in the day after leaving the sessions. Usually our daily lives develop into a range of movements that are quite limited, and Qigong explores how we move. In the sessions you move your body and joints in ways that you don't normally and your muscles feel warm.
"The key thing for me was the control of movement involved, the breathing, having that hour to yourself to concentrate on yourself and your fitness. It was brilliant – I really enjoyed it."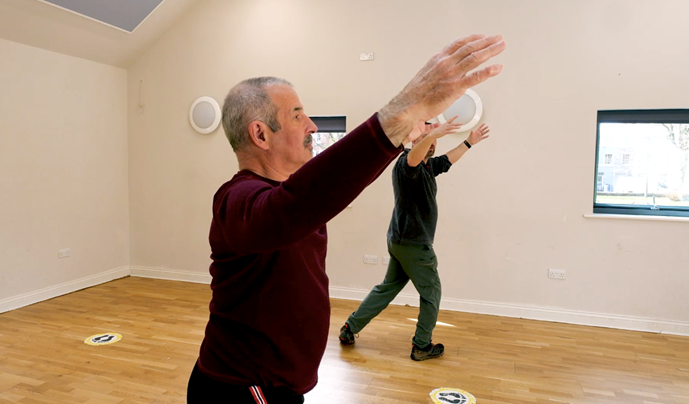 Qigong instructor Joe Salmon, who has been practicing both Tai Chi and Qigong for more than 25 years, said: "Anyone is welcome to come to one of these classes – people of all ages will benefit. It is about mindfulness and movement, it gets your body moving gently, it nourishes you and makes your mind feel calm – it is the perfect way to relax.
For more information about Qigong at Belmont visit https://newtowncommunity.org.uk/qigong/
12 Moves in 12 Months is part of the Live and Move #ShareYourMoves campaign to help people become more active in the city.