Dorset
New innovation hub officially opens at Dorset Council's Innovation Park Near Wool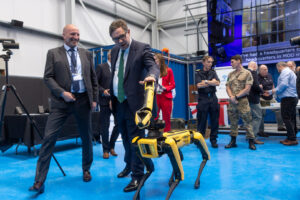 A new state-of-the-art innovation centre was formally opened by Minister for Defence Procurement, Mr Jeremy Quin MP, at a ribbon-cutting ceremony last week.
The Ministry of Defence's new Defence BattleLab is located at Dorset Council's Dorset Innovation Park (near Wool) and brings together military personnel, academic institutions and private sector companies to trial and experiment cutting-edge technology.
It is a multi-million-pound facility featuring rentable desks and office spaces for companies and organisations. It also boasts an engineering workshop, areas for collaboration and conference rooms.  It has 5G mobile connectivity, ultra-fast broadband, and a direct train line to London.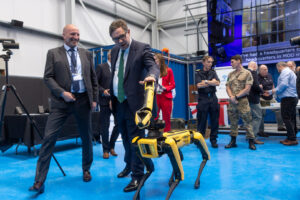 It marks a £5.7m collaboration between the Ministry of Defence (MoD), Dorset Council, and Dorset Local Enterprise Partnership (LEP). Dorset LEP invested £1.7 million of Dorset's Local Growth Fund into this new facility, with Dorset Council contributing £1.1m of the land value and running its construction.
The Council has had a leading role in the Defence BattleLab project since the start, introducing the MoD concept to Dorset LEP, and was heavily involved in promoting the Enterprise Zone for inward investment as part of its Invest in Dorset programme, providing guidance and support throughout.
Council officers also worked with the MoD's Defence BattleLab team to help them understand the landscape of investment, key sectors, working with government and other regional assets.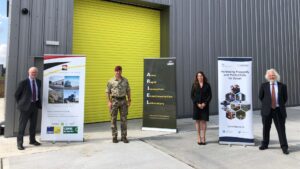 Dorset Innovation Park is already home to leading defence related companies such as Atlas Elektronik UK, QinetiQ and Norco Composites & GRP. The South Dorset area also hosts a wide range of cutting-edge defence industry such as Eaton Mission Systems, Coda Octopus, Ultra CEMS, Drumgrange, BMT, G3 Systems, and two units of BAE Systems and HeliOps.
Cllr Tony Ferrari, Dorset Council's Portfolio Holder for Economic Growth, Assets and Property, said:
"Dorset delivers a unique combination of facilities that allow organisations to closely develop products with military users, faster and more interactively than using traditional means.  The Innovation Park provides leading edge 5G technology, and maps on to a long-established military infrastructure of Lulworth Ranges with free fire, cleared air and sea space. It also links to the Army's Signals and Comms organisations at Blandford, and the Royal Marines at Poole.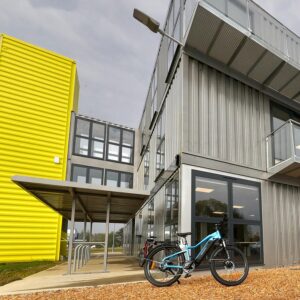 The Defence BattleLab offers an unprecedented opportunity for industry to collaborate with the military, delivering capability to our armed forces faster than has ever been possible before."
Dorset LEP Chair, Cecilia Bufton said:
"We share the Army's ambition to grow an ecosystem of highly innovative companies. In providing a collaborative space where SMEs can benefit from the smart technology we've brought in, where they can explore how to apply their technology to the defence industry, and where there is opportunity to test and develop innovative solutions for the sector. We believe the Defence BattleLab has real potential to attract investors, inspire collaborations and encourage more SMEs into the county.
"Today's ribbon-cutting is an exciting moment for our partnership, for this Enterprise Zone site and for the county of Dorset, and I'm delighted that this Local Growth funded project has met this pivotal milestone."
Defence Procurement Minister, Jeremy Quin MP said: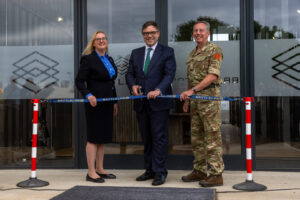 "As the pace of technological change continues to spiral, Defence must be forward leaning and innovative in its approach. Collaboration and innovation will be the catalysts to maintaining advantage over our adversaries. The BattleLab will bring together the best talent and expertise in industry and push technology boundaries to equip our Armed Forces with the latest state of the art kit. This will be supported by our new Land Industrial Strategy, which will increase transparency with industry to help drive joint working."