Celebrating our volunteer heroes – Dorset Council news
Volunteers' Week, 1 – 7 June is a time to say thanks and recognise the fantastic contribution volunteers make to our communities.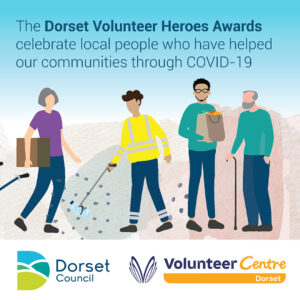 At the heart of the Covid-19 pandemic, volunteers across the county delivered an exceptional display of kindness and compassion and their efforts have been essential for helping people stay safe and for keeping our communities going.
Dorset Council and Volunteer Centre Dorset have formally recognised their efforts and achievements following an appeal for the public to nominate their volunteering heroes, the Dorset Volunteer Heroes Award scheme.
In total, nearly 100 people were nominated by the public for the kindness, selflessness, and commitment for their volunteering efforts during the crisis.
From checking in on neighbours, delivering groceries and medicines, making friendly phone calls to those feeling isolated, to stewarding the testing and vaccination centres –thousands of people across the county have benefited from the help and kindness of a volunteer in some way, shape or form during the last two years.
Cllr Laura Miller, Dorset Council Portfolio Holder for Customer and Community Services, said: "We have witnessed an incredible response from volunteers locally and people stepping up to support their fellow residents.
"The time and effort they provided to others in their hour of need was very much valued and we want to celebrate them all and formally recognise their efforts and achievements."
Roger Marsh, one of the volunteers nominated, is Chair of the Patient Participation Group in Sherborne.
Throughout the pandemic, he provided comprehensive reports for every town council meeting and was instrumental in ensuring the vaccination clinics were run efficiently. He also did all the risk assessments for the safety of volunteers and patients who came to the clinic, and informed everybody via social media channels about COVID vaccination clinics and all aspect of health matters and events in the Sherborne area
Roger said: "Being retired has given me the opportunity to play an active role in the community. As one grows older health becomes more important in one's life and I am lucky enough to enjoy good health at an age where many don't.  As a result of the Covid pandemic health has become more important in many people's lives. This has given me additional motivation to promote health and wellbeing activities within the community to keep health at the top of people's agenda.
"Volunteering is such a worthwhile activity that is rewarded when you feel that you can actually make a difference. One should never volunteer for personal gain, but only to help and make improvements for others."
As well as a letter and certificate from the Chairman of Dorset Council, Cllr Val Pothecary, the volunteers will be invited to attend ceremonies to plant fruit trees in carefully chosen locations across the county later this year for local people to pick and enjoy.