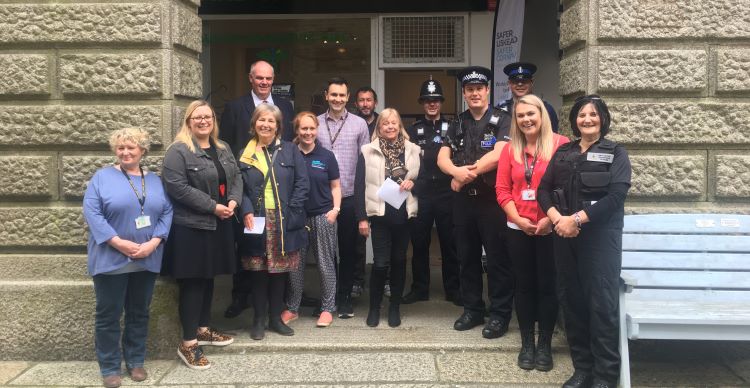 Pop up community safety event in Liskeard
Safer Cornwall has unveiled a new three-year plan to cut crime and anti-social behaviour, improve community safety and help residents feel safer.
The community safety partnership brings together the police, council, fire and rescue service, health and probation services and other organisations to tackle issues such as domestic abuse and sexual violence, problem drinking and drug use.
While latest crime figures show that Cornwall has the third lowest crime rate in the country when compared to locations with similar social and economic features, the partnership recognises there are still important issues to address.
To shape Safer Cornwall's new plan, residents were invited to share their views about the community safety issues that matter locally and what could be done to address them.
A series of focus groups and events as well as an online Have Your Say survey were held last year to gather people's opinions.    
The new plan sets out how Safer Cornwall will tackle its priorities to work better with communities, provide specialist services and support for the most vulnerable, look at how trauma affects people and improve communication with residents.
It targets the issues that have the greatest impact on communities such as domestic abuse and sexual violence, exploitation, anti-social behaviour, problem drinking and drug use, and sets out how it provides services and support to people affected by these problems.
Carol Mould, Cornwall Council Cabinet Member for Neighbourhoods said: "The Safer Cornwall partnership is focused on the priorities that communities have said they need to see addressed.  It's vital that that our communities feel safe and are safe."
"We have an extensive programme of work to target resources so that Cornwall is a safe, healthy and resilient place for the benefit of everyone who lives, works or visits here."
"But no single organisation can do this alone – partners can only achieve these results by working together, and with local communities."
Safer Cornwall Chair, Police Commander Jim Pearce said: "This plan sets out a balanced approach, working in and with communities to tackle the most visible crime and anti-social behaviour and improve our local environment, alongside addressing the more 'hidden harms', such as domestic abuse, sexual violence and exploitation."
Lydia Mills, Chief Officer for the Safer Stronger Consortium, said: "Ensuring our community has an influence on what we deliver locally is key.  Alongside the Have Your Say Survey we ran public community events across the county to help shape the plan and are continuing this approach to include our community in what we deliver locally. Through this plan we aim to generate a culture of doing things with communities rather than for them, and actively get them involved."
Commitments in the plan include:
Intensive partnership support for the ten towns with the highest levels of crime and disorder through our Safer Towns Programme, delivering strong local action plans that respond to the needs and voices of the whole community.  
Safer Communities Toolkit providing the knowledge, skills and support for any community group or local organisation to bring people together to tackle issues such as anti-social behaviour and environmental nuisance  
A trained community of 'active bystanders' made up of staff from local businesses and other organisations to prevent violence against women and girls, and make public spaces safer for all, as has been rolled out in Falmouth in recent months.
Working with partners in the Devon and Cornwall Serious Violence Prevention Partnership to support those at risk of becoming involved in violence and address the underlying causes, focused on young people under the age of 25.
The Safer Cornwall Partnership Plan can be found on the Safer Cornwall website and Easy Read and Large Print versions will be available by the summer.
The Have Your Say 2022 online survey will be launched this summer accompanied with drop-in events across Cornwall.
If you or someone you know needs help or support with alcohol or drugs issues, With You support adults, children, young adults and older people to make positive behavioural changes. Whether that's with alcohol, drugs, or mental health and wellbeing, we're here to help people improve their lives in ways they never thought possible. Go online or call 0333 2000 325 or, for under 18s, go to YZUP (young people) 
If you think you or someone you know is experiencing Domestic Abuse or Sexual Violence, Safer Futures provides support, safety planning, advice, therapy and recovery in domestic abuse and sexual violence. We can help if you have experienced sexual assault, abuse or rape and need support in your recovery. Services are provided to women, men, young people and children. Call 0300 777 4777, go online or email  saferfutures@firstlight.org.uk
Story posted 30 May 2022