University to host sports and LGBTQ+ leadership speaker
This Pride Month, the University of Bedfordshire will be welcoming the Chief Executive of the Sport and Recreation Alliance, Lisa Wainwright MBE, to deliver the final 'An Evening With' public lecture for the 2021/22 academic year.
Streaming online on Wednesday 8th June, Wainwright will be delivering a live lecture – titled 'Pride in yourself, Proud of others' – which will cover her inspirational career in sports leadership and delve into her life as a prominent LGBTQ+ figure within the sports industry.
During her talk, she will discuss her experiences of working in international sport as well as here in the UK, with insight into both her positive and negative experiences being a member of the LGBTQ+ community. She will also share and reflect upon some of her university memories and how she's navigated her career with an added dimension of sexuality.
A member of the University of Bedfordshire's Court, Wainwright is currently the Chief Executive of the Sport and Recreation Alliance, after previously holding Executive roles at a number of sports organisations including England Netball, Volleyball England and British Basketball.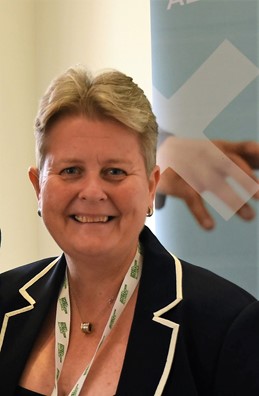 Internationally, she has also held roles on the International Volleyball Federation World Ethics Panel, the International Basketball Federation Governance Commission, alongside being a Director of the British Olympic Association. Her desire to help others is demonstrated in her voluntary work in Africa as a Director of the Wallace Group of Universities, supporting team sports and in particular women and girls in Namibia and Zambia.
A member of the LGBTQ+ community, Wainwright campaigns for diversity and inclusion in the male-dominated sports industry and wants to encourage more LGBTQ+ people to be working in senior management positions.
In 2019, she was ranked number 8 in the Top 100 Executive LGBTQ+ Allies by FT OUTStanding, became an Ambassador for Women on Boards UK and was named Women CEO of the year.
That same year, Wainwright was awarded an Honorary Doctorate of Science from the University of Bedfordshire's Faculty of Education & Sport in recognition of her services to Sport Education and, in 2021, was awarded an MBE for her services to sport.
Speaking about her upcoming lecture, she commented: "To be proud of who you are and remain authentic is one of the real challenges of daily life, and indeed can be even more pressured when you move into public and leadership roles. Sport in many instances is a true place to belong, like a family or close community but sometimes there are challenges and stereotypes we all need to smash. Take pride in helping and supporting others."
Dr Julie Brunton, Pro Vice Chancellor, will be chairing this event and introducing Lisa Wainwright MBE to the online audience. She said: "We're all very much looking forward to welcoming Lisa to deliver this public lecture as part of the University's Pride Month celebrations. Her career has been truly inspirational and this event is sure to leave the audience with a sense of pride in themselves and their achievements."
'An Evening With…Lisa Wainwright MBE' is free for the public, students and staff to attend – simply register through Eventbrite.
For more information about other upcoming University events visit: www.beds.ac.uk/events