Making caring visible, valued and supported this Carers Week

Posted on Wednesday 1st June 2022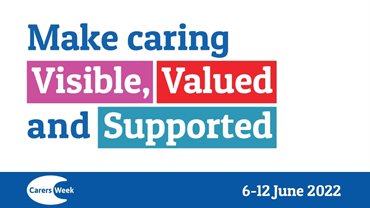 Next week marks the start of Carers Week and Blackpool Council is using the annual campaign to shine a light on the support available in Blackpool for people who are carers for friends and family.
Running from 6-12 June, the national campaign celebrates and recognises the vital contribution made by the UK's 6.5 million carers.
This year's theme is 'make caring visible, valued and supported' and helps draw attention to how important caring is. It also helps people who don't think of themselves as having caring responsibilities to identify as carers and access much-needed support.
Blackpool Council is encouraging people who are carers for friends and family to recognise themselves as unpaid carers, and to come forward for support and help.
If a person is unsure if they are a carer then the question to ask is, 'does someone rely on me?' For example, taking someone to appointments, providing personal care such as washing or dressing or helping with the supermarket shop.
Caring impacts on all aspect of life, from relationships and health to finances and work. Carers of all ages often feel isolated and lonely, especially older carers throughout the pandemic.
Help is available for those taking on caring responsibilities for their relatives and friends who for example, live with a disability, have an addiction, a mental or physical illness, or who needs extra help as they grow older.
The council can provide care, support and respite services for carers, helping to reduce isolation and loneliness, such as:
Carers assessments – these are completely free and understand the strains that carers may be under. The adult social care team will discuss the available support, which may include respite, care at home or day services
Respite care for a number of health concerns, such as Coopers Way for adults with a learning disability or The Phoenix Centre giving short-term support for those with a mental health diagnosis
Vitaline's community alarm service which also provides emergency cards for both carers and those being cared for. This card is for anyone who is a carer for another person
Day services – available for a variety of health concerns, for example, New Langdale for adults with a learning disability, or Keats day service for those with a dementia related illness
Warren Manor offer a variety of day sessions for adults with a variety of needs and Warren Hub has sessions for young adults
Unpaid carers can also access support and independent advice from the Blackpool Carers Centre. The service is available for unpaid carers from 5 years old and their families.
Respite sessions are available, along with a variety of practical and emotional support which can help to reduce the isolation felt by many carers. To find out more, visit www.blackpoolcarers.org or telephone 01253 393748.
Cllr Jo Farrell, Blackpool Council's Cabinet Member responsible for Adult Social Care & Community Health & Wellbeing, said:
"This Carers Week we are recognising the contribution that unpaid carers make and are encouraging them to get in touch if they need help.

"We are committed to ensuring carers in Blackpool are recognised and valued for the support they provide to loved ones.

"As carers continue to face challenging circumstances following the pandemic, it's vital that they are connected to the support they need to manage their own health and wellbeing.

"Many people don't realise that they are carers because it's just something you do to look after your wife, husband, friend, child, parent or grandparent. But, it's important for people to recognise the impact that the role can have on their lives and to understand that there are many services available in Blackpool to support them in their own right and not just the person that they are looking after.

"Help and support is available so please get in touch."
Contact the adult social care team on 01253 477592. To find out more about the care and support services available, visit www.blackpool.gov.uk/careandsupport
Carers Week is led by Carers UK, with the support of six other national charities in 2022 including Age UK, Carers Trust, MND Association, Rethink Mental Illness, Oxfam GB and The Lewy Body Society.

Posted on Wednesday 1st June 2022