Dorset's army of volunteer digital champions is growing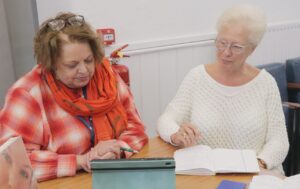 Dorset Council's army of volunteer digital champions is growing to help meet the growing digital skills need in the county.
Six new recruits have come on board to join the council's team of digital champions to help even more of the county's residents get online.
Research has shown that nearly a third of Dorset's residents don't have the means or the skills to get online and are increasingly being left behind in a world that is becoming more reliant on the internet.
The council recruits volunteer digital champions to help those residents through regular face to face sessions at libraries across the county.
They can also help people over the phone via the council's Digital Hotline.
New volunteer digital champion, Ellen Paver said: "I am a British Sign Language student with Dorset Skills and Learning. By becoming a volunteer digital champion, I'm excited to help deaf, hard of hearing and deaf-blind people use technology as an accessibility tool."
Another new volunteer, Paul Hutchings said: "I was already volunteering in our local parish online centre. Becoming a volunteer digital champion seemed like a good opportunity to reach more local people. I know how the older generation can struggle to connect, and it's a passion of mine to help in this way."
The digital champions can assist with any digital issue – from online shopping to ordering prescriptions and with help setting up and using new devices.
Since the start of the year, they have held 457 sessions across 32 locations.
Cllr Jill Haynes, Dorset Council's portfolio holder for Corporate Development and Transformation, said: "We're so grateful for the generosity of the volunteers, giving their time and skills to assist our residents to get online.
"In Dorset, we still have 11% of residents who are completely offline and another 20% lack all the essential digital skills needed. This means nearly a third of our residents are digitally excluded in some way.
"Our volunteers do a great job, to help people become more digitally included and we're thrilled to have recruited more volunteers, and we are looking for people in the Wareham area to join us."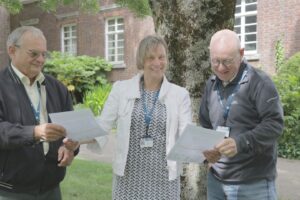 The volunteers recently received 'Dorset Volunteer Hero' certificates in recognition of their efforts.
Residents can find out where their nearest digital champion session is by calling the Digital Hotline on 01305 221048.