Study identifies best treatment for rare childhood cancer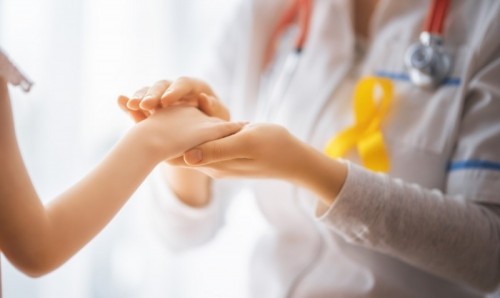 However, ifosfamide led to more brain and kidney toxicity than topotecan plus cyclophosphamide.
Both ifosfamide and topotecan plus cyclophosphamide had similar rates of febrile neutropenia (fever and a lower-than-normal number of neutrophils, a type of white blood cell).
Quality-of-life scores favored ifosfamide over topotecan plus cyclophosphamide in children but not in adults.
Dr McCabe, said: "The rEECur study has, for the first time, accrued randomized data for four widely used chemotherapy regimens and is now accruing data for a fifth regimen.
"Before the rEECur study, the basis for choosing drugs for patients with relapsed or refractory Ewing sarcoma was weak and lacking randomized trials to inform clinicians or patients about which treatments were most effective and/or most toxic."
Ifosfamide, first approved for use in the U.S. in 1987, works by adding an alkyl group to DNA, leading to an eventual breaking of DNA strands and affecting the ability of cancer cells to multiply.
About the Study
The phase II/III rEECur trial randomly assigned patients, ages 4 to 50 (median age of 19) with recurrent and primary refractory Ewing sarcoma to either topotecan plus cyclophosphamide, irinotecan plus temolozomide, gemcitabine plus docetaxel, or high-dose ifosfamide. The primary outcome was event-free survival in the phase III comparison. Secondary outcomes included OS, toxicity, and quality of life. At the first and second interim assessments, patients receiving irinotecan plus temolozomide and gemcitabine plus docetaxel had worse objective responses and event-free survival than the other treatments, thereby halting recruitment to both groups. The final assessment was a phase III evaluation of topotecan plus cyclophosphamide vs. ifosfamide. Median follow-up was 40 months.
The regimens were chosen because they were the most widely used regimens for recurrent/refractory Ewing sarcoma in Europe at the time the trial was established. These choices were important as some regimens, notably irinotecan plus temolozomide and topotecan plus cyclophosphamide, were being used as the chemotherapy backbone in trials with molecularly targeted agents.
The rEECur trial was funded by the Cancer Research UK and European Commission with additional funding from the Aamu Pediatric Cancer Foundation, Australia and New Zealand Children's Hematology and Oncology Group, Australia and New Zealand Sarcoma Association, Canteen, German Cancer Aid, Swiss Pediatric Oncology Group and the Zoé4life Other Foundation.
For more information about survival rates for Ewings sarcoma, visit the American cancer Society here