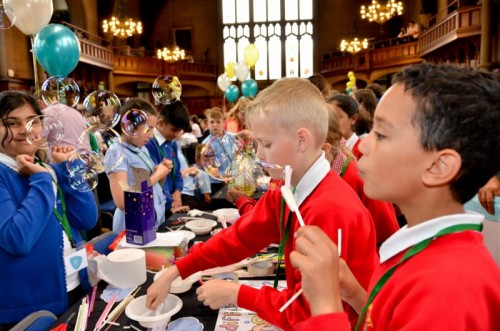 The Great Science Share for Schools (GSSfS) is a national campaign to elevate the prominence of science in the classroom.
Now in its seventh year, the campaign has seen exponential growth with over 275,000 primary and secondary school pupils signed up to participate this year. Thousands of schools and STEM organisations across the UK and internationally, will be sharing science on 14 June 2022. The University of Manchester will welcome primary and secondary pupils to their newly-opened Engineering Building for this celebratory event where pupils will demonstrate and discuss their scientific questions and evidence with hundreds of guests.
This year's theme is Climate Action – a pertinent theme that captures the interest and curiosity of us all. The pupils have spent weeks gathering data, analysing, and drawing conclusions about a wide range of questions, including:
·       What is the best green energy source to power our school?
·       Does location affect the amount of air pollution?
·       How well do natural insulators protect against colder climates?
The event will be attended by the Lord Mayor of Manchester, Councillor Donna Ludford and the Mayor of Greater Manchester, Andy Burnham, alongside other local business, and education professionals. The guests will be encouraged to listen and question the pupils about their findings as part of this inclusive and non-competitive event.  
"We are honoured to have the support of so many STEM organisations, industry and educational partners. Without their support the campaign would have continued to reach so many children, especially those in areas of high socioeconomic deprivation. I thank each one for their ongoing support and encourage each to consider how to strengthen their partnership with GSSfS in the future." said Dr Lynne Bianchi, Campaign Director