Dorset
Town centre to be left clear for Jubilee celebrations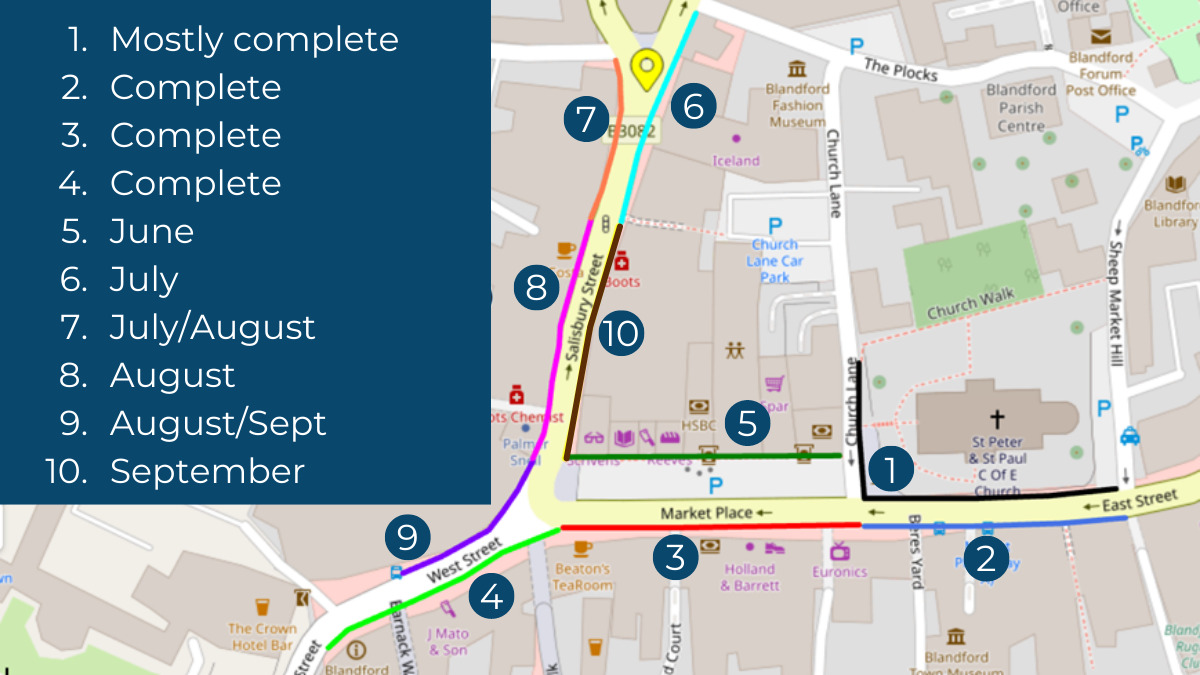 Paving work around Blandford town centre will be left clean and tidy for half term and the long bank holiday weekend.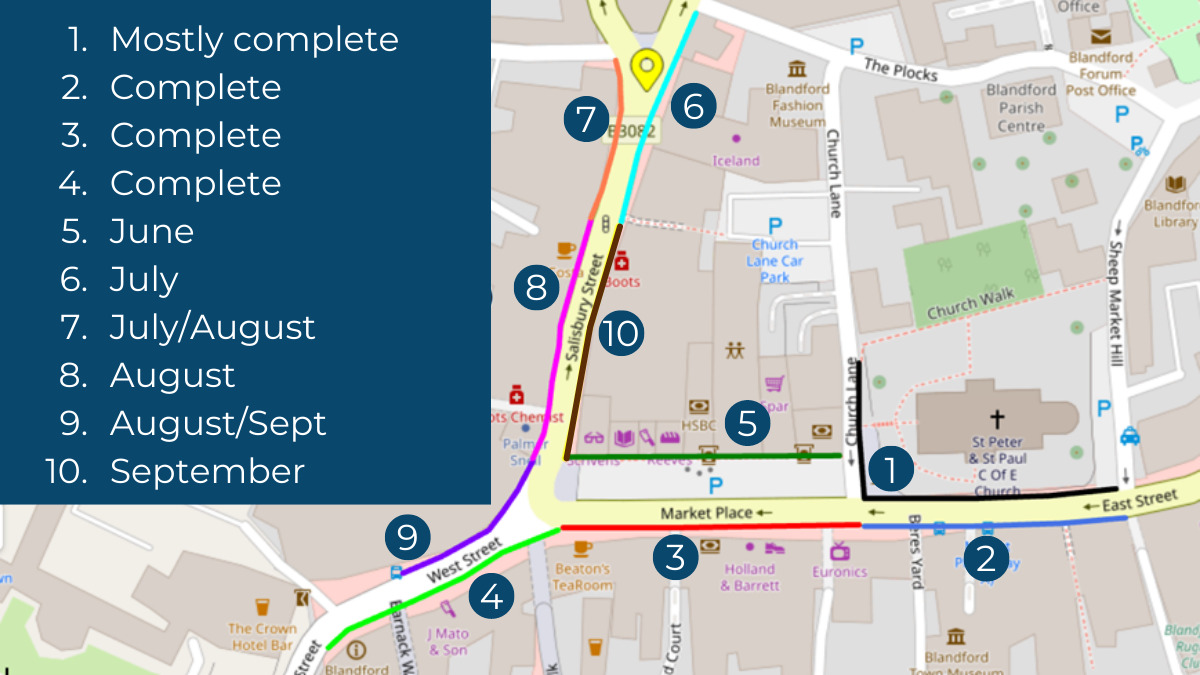 Dorset Council highways operatives will be removing equipment and barriers from site at the end of tomorrow (Friday 27 May), with work set to restart on Monday 6 June.
The council's work to replace 1,800m² of paving restarted in March this year following a pause for fibre cabling work to take place in areas set for new paving.
To minimise disruption to residents and businesses, highways operatives are concentrating on one area at a time, with short sections of paving being replaced in a rolling programme of work.
Phase 1: Mostly complete
East Street northern pavement from Sheep Market Hill into Church Lane
Phase 2: complete
East Street southern pavement from Sheep Market Hill to Beres Yard
Phase 3: complete
Market Place southern pavement from Beres Yard to Greyhound Yard
Phase 4: complete
West Street southern pavement from greyhound Yard to Crown and Anchor. This work will require two-way traffic signals to provide a safe working space.
Phase 5: June
Market Place northern pavement
Phase 6: July
Salisbury Street eastern pavement from The Plocks to Anchor Gateway
Phase 7: July/August
Salisbury Street western pavement from pedestrian crossing to Bryanston Street
Phase 8: August
Salisbury Street western pavement from Bell Inn Yard to pedestrian crossing
Phase 9: August/September
West Street northern pavement from Crown Hotel to Bell Inn Yard
Phase 10: September
Salisbury Street eastern pavement from Anchor Gateway to Market Place
Remaining paving renewal on Church Lane will be completed during Phase Five, when work is being carried out on West Street northern pavement.
The project is replacing existing limestone paving, which is susceptible to polishing and causes them to become slippery in wet weather – posing a hazard to residents and visitors.
Cracked and uneven slabs are also frequently in need of repair, with some areas having been removed and replaced with a black bitumen surface not in keeping with the historic setting of the area. This was one of the reasons the town was placed on Historic England's Heritage at Risk register.
The £300,000 project is being funded by Dorset Council maintenance funding, Section 106 contributions and the sale of the old, removed paving.
At the end of the project, the area will be registered as a site of special engineering difficulty to ensure utility companies are aware of the additional work required to reinstate the new footway.