Business
I visited McDonald's Global Menu Restaurant in Chicago — and tried delicious international fare like the Chinese Kung Pao Chicken Sandwich and Malaysian mango sundae

I visited McDonald's Global Menu Restaurant in Chicago, located on the lower level of its corporate headquarters.
The restaurant was opened in 2018 and offers a rotating menu of global items from McDonald's locations worldwide.
My favorite were the Spanish chocolate hazelnut McPops and the Chinese Kung Pao Crispy Chicken Sandwich.
McDonald's first opened its hugely popular Global Menu Restaurant in 2018. It's located on the lower level of the company's global headquarters in Chicago's West Loop neighborhood.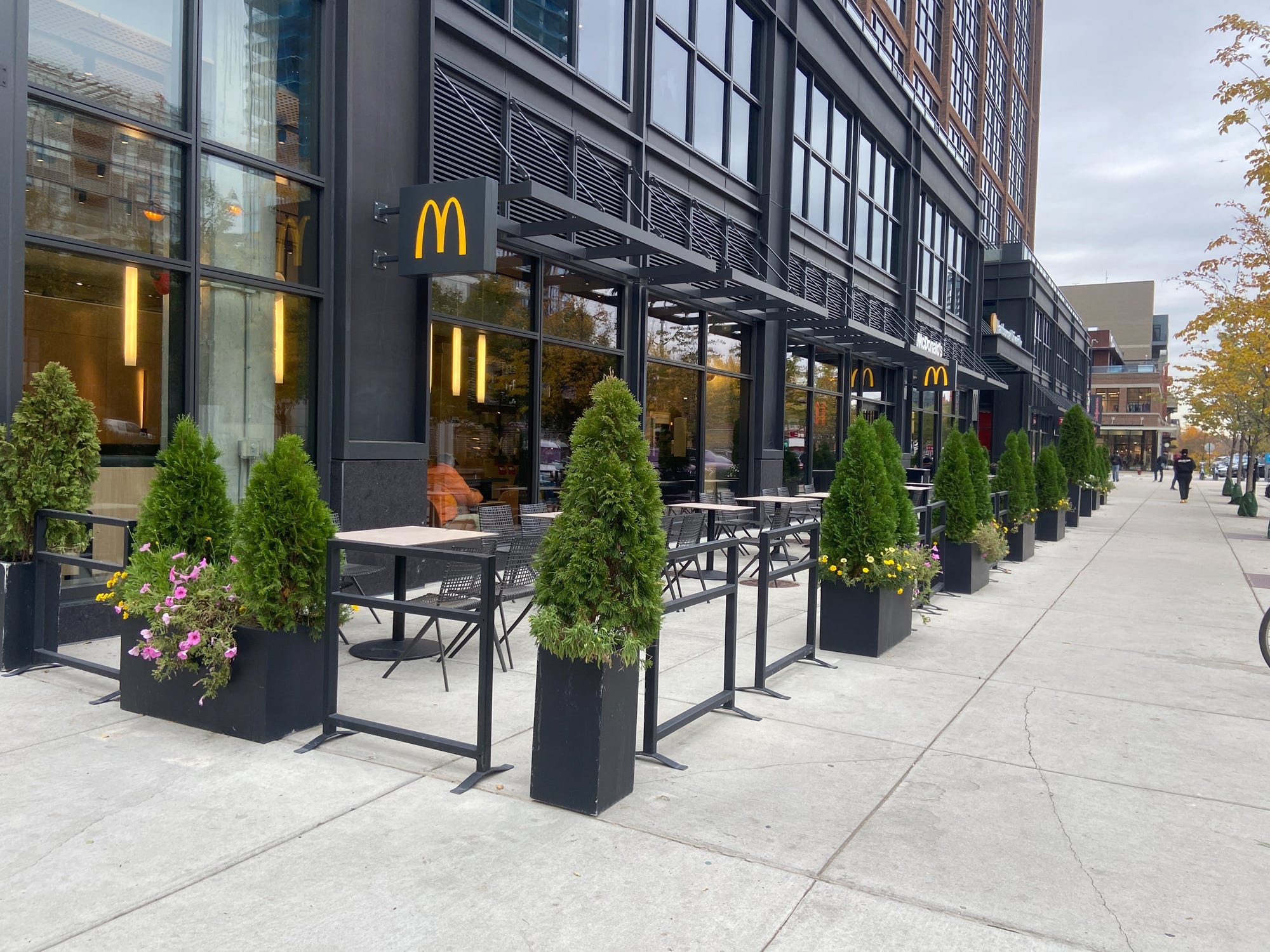 "As part of our new headquarters, we wanted to provide our customers with an exciting way to experience our global menu right here in Chicago," Steve Easterbrook, then-McDonald's president and CEO said in 2018. "We are delighted to showcase a taste of McDonald's from all over the world making this location a one-of-a-kind experience that Chicagoans will enjoy with friends and family."
In recent years, the restaurant has become the subject of several viral TikTok videos, depicting the restaurant's unique and international fare.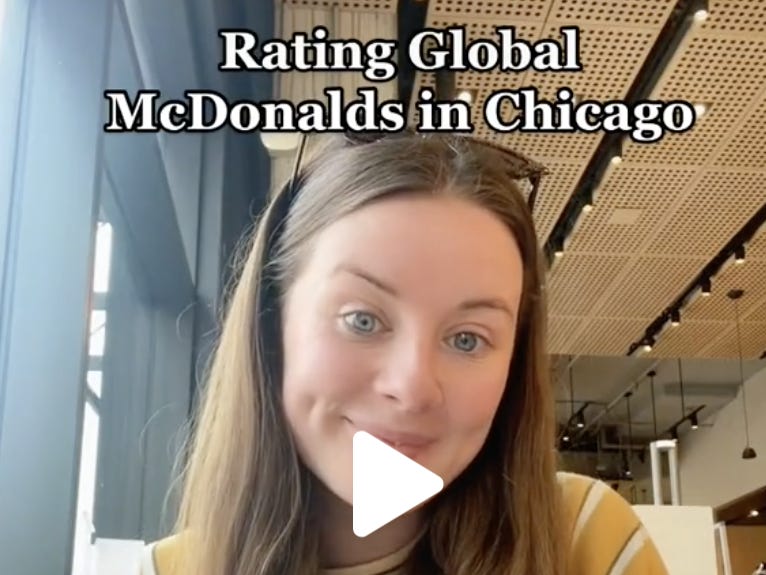 I moved from Brooklyn to Chicago earlier in the year and decided to visit the restaurant. As I approached the restaurant, it was right next to Hamburger University. It is a training facility for high performing managers, middle managers, and owners-operators.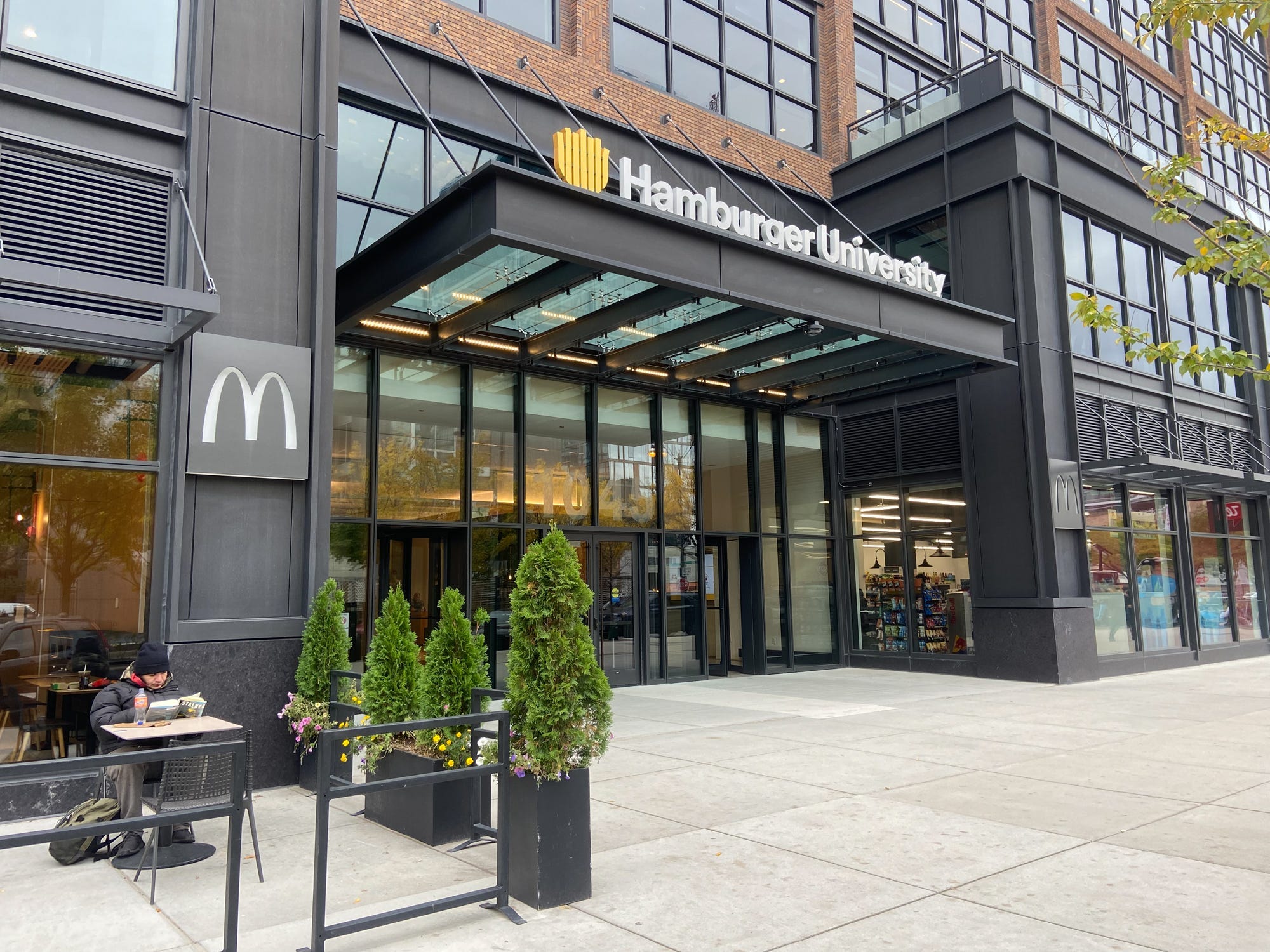 The program has multiple campuses around the world and is intended for high-performers. difficult to get into. Bloomberg previously reported that only 1% of applicants are accepted at the Shanghai campus. reported.
Upon entering, I could already tell this was no ordinary McDonald's restaurant.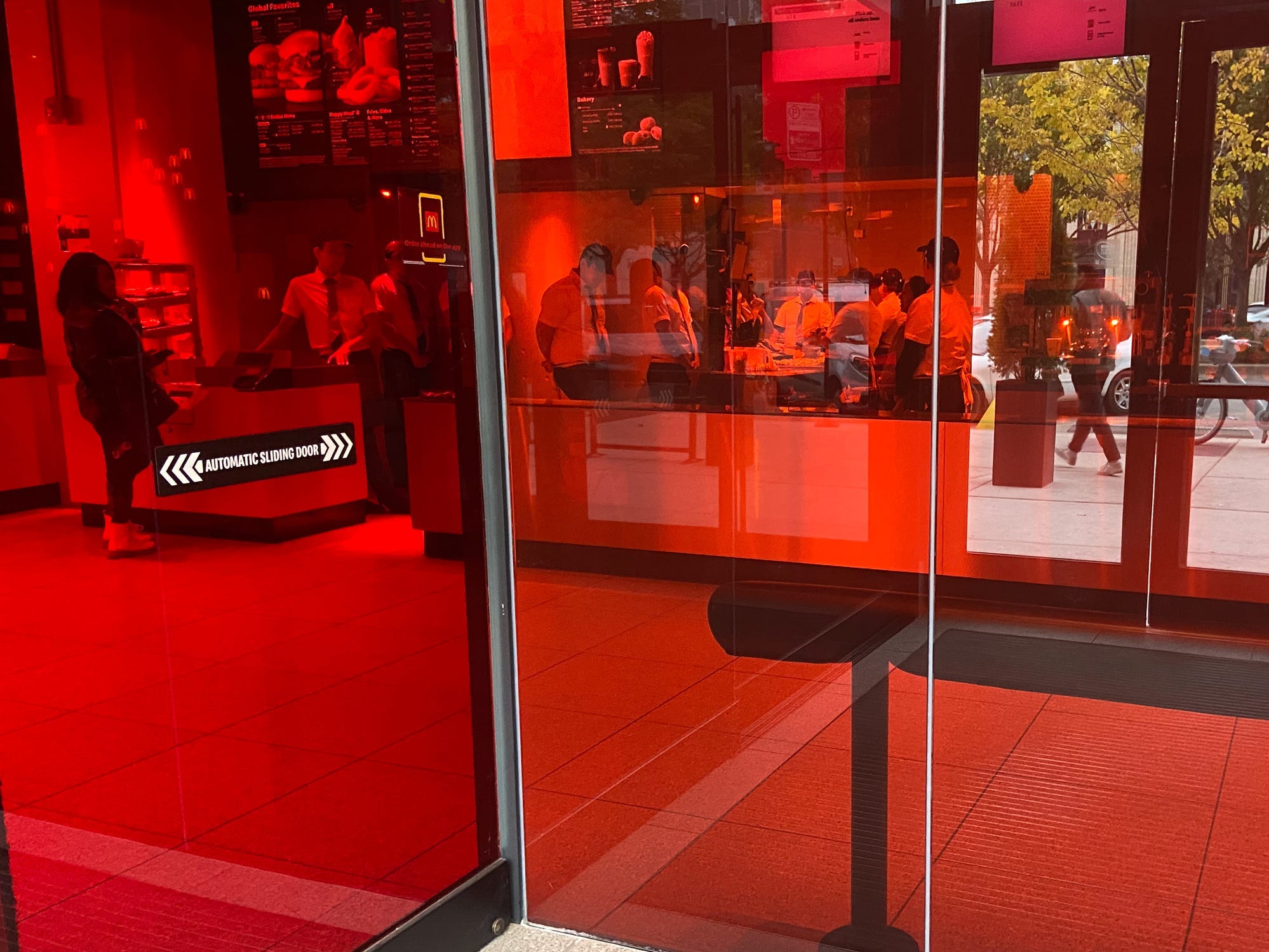 The space measures 6,000 square feet and features a modern, chic design.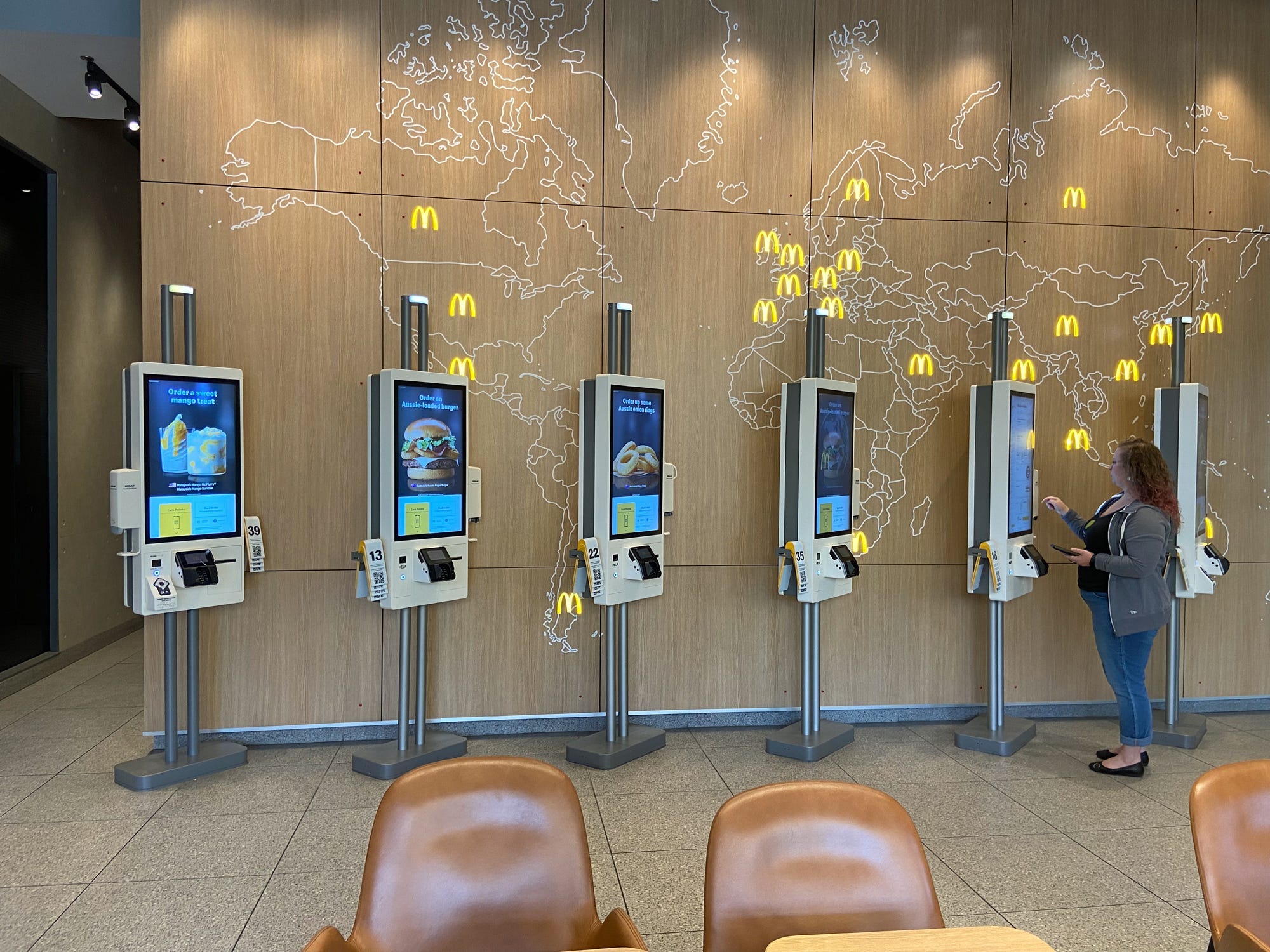 A crew of friendly, well-dressed staff members greeted me immediately with a warm welcome. They directed me to the menu which showed global offerings and the flag it hails from.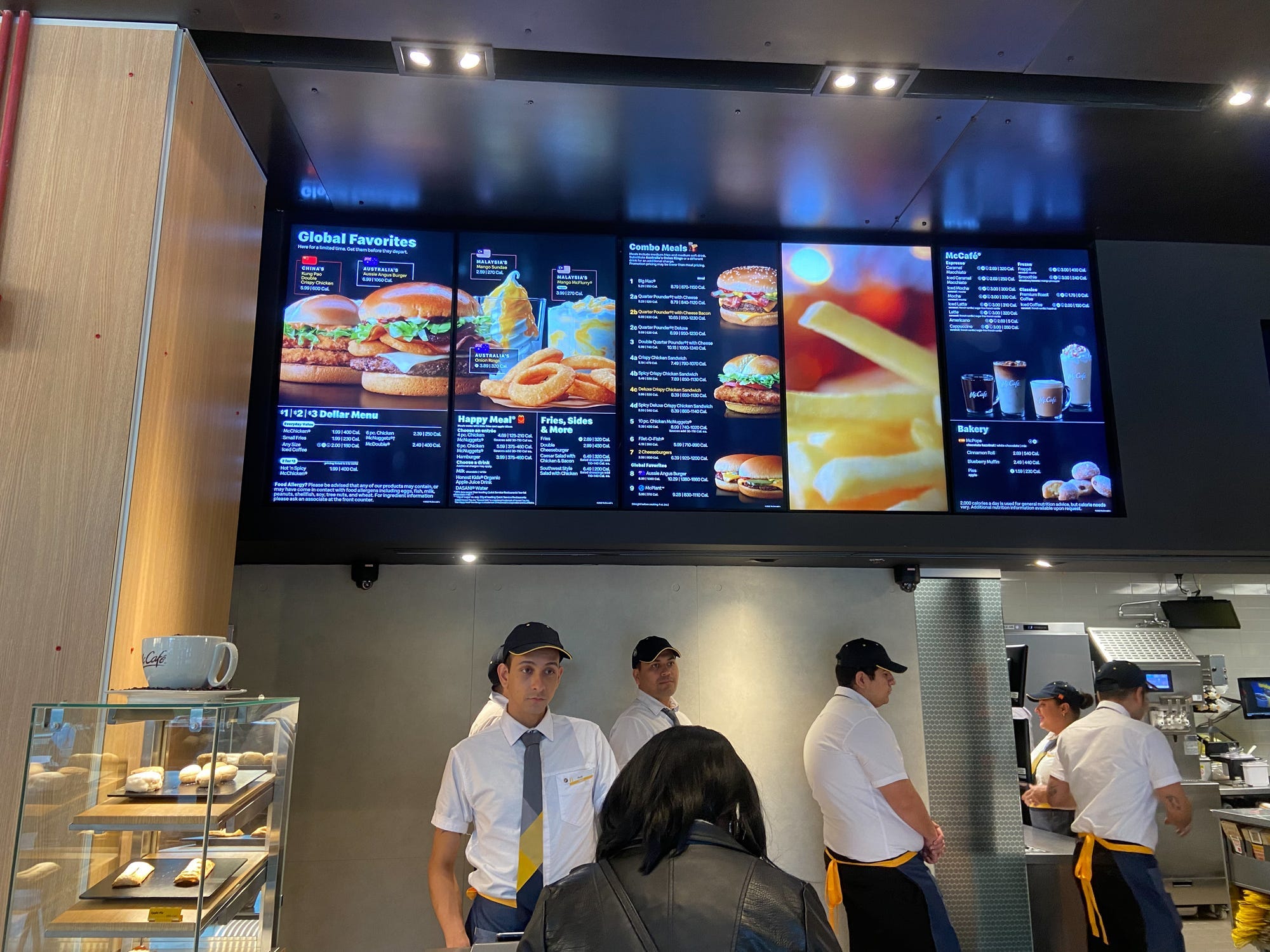 You can also find a separate handout that gives you a better look at the current global menu items. The restaurant features a rotating menu of offerings from McDonald's locations around the world.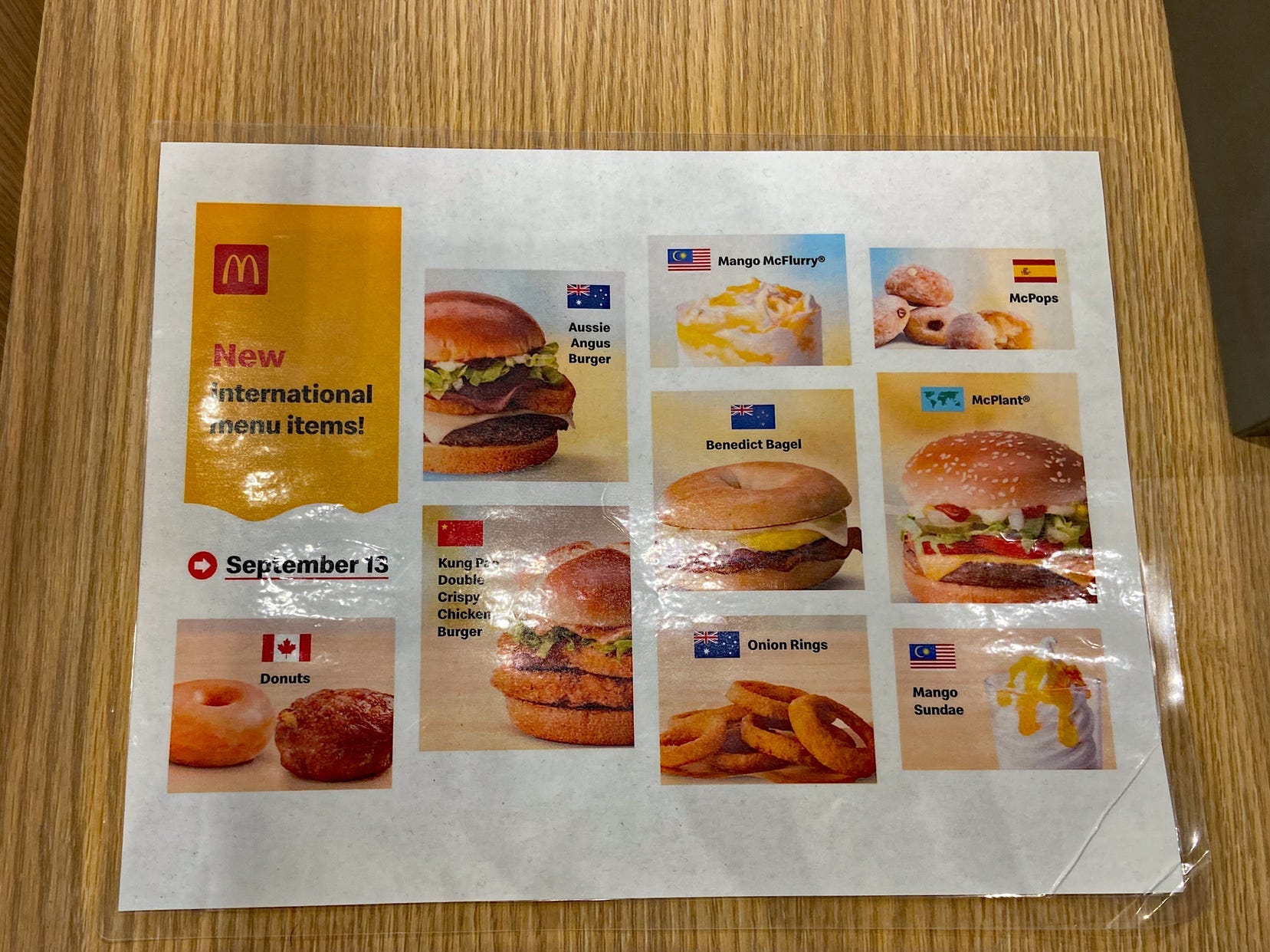 Near the register, there was a display case of pastries that immediately piqued my interest, featuring the classic apple pie, but also goodies I hadn't seen before at American McDonald's.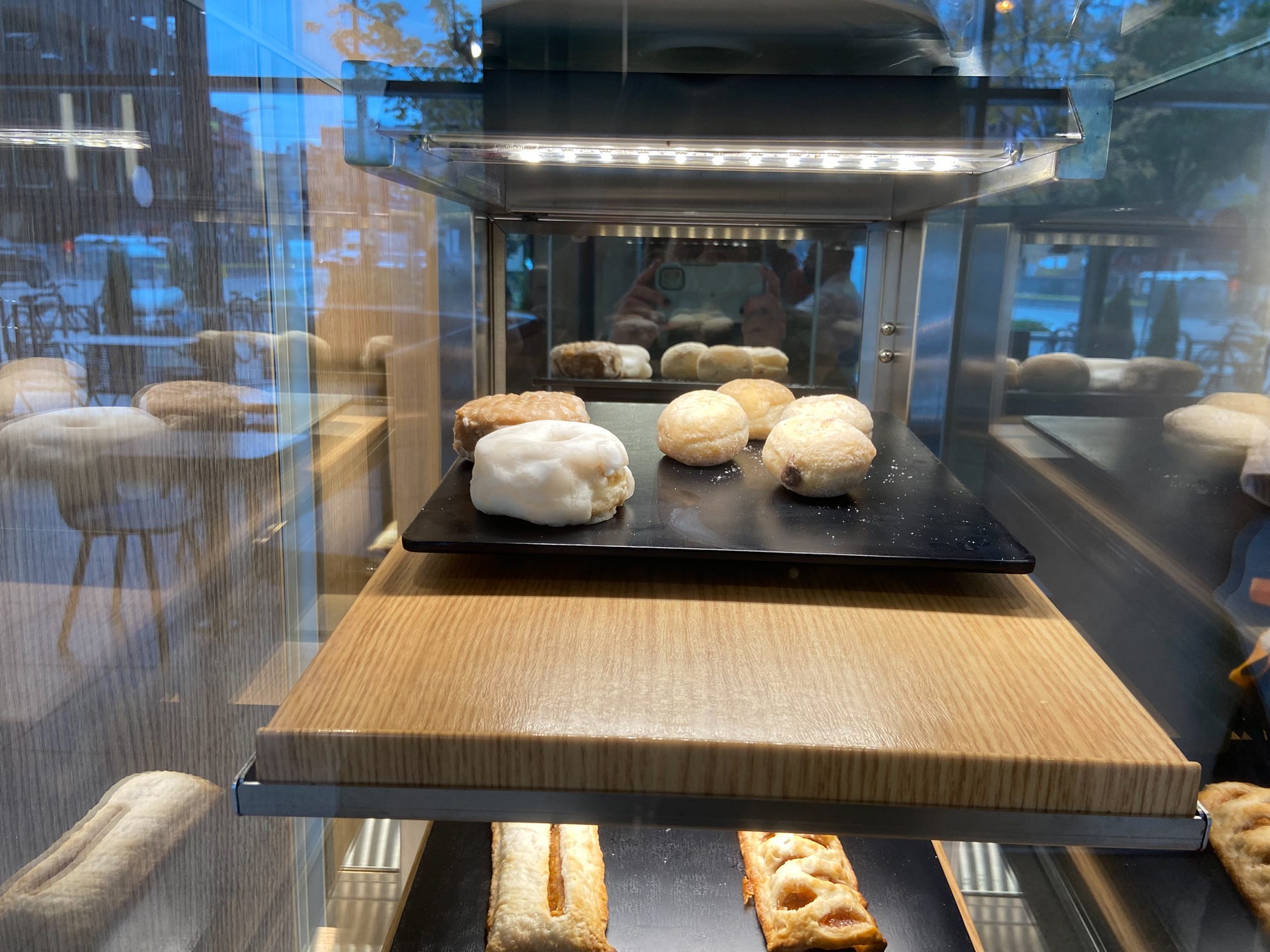 I also spotted a designated pick-up area for McDonald's employees. About 2,000 people work at the Chicago corporate headquarters.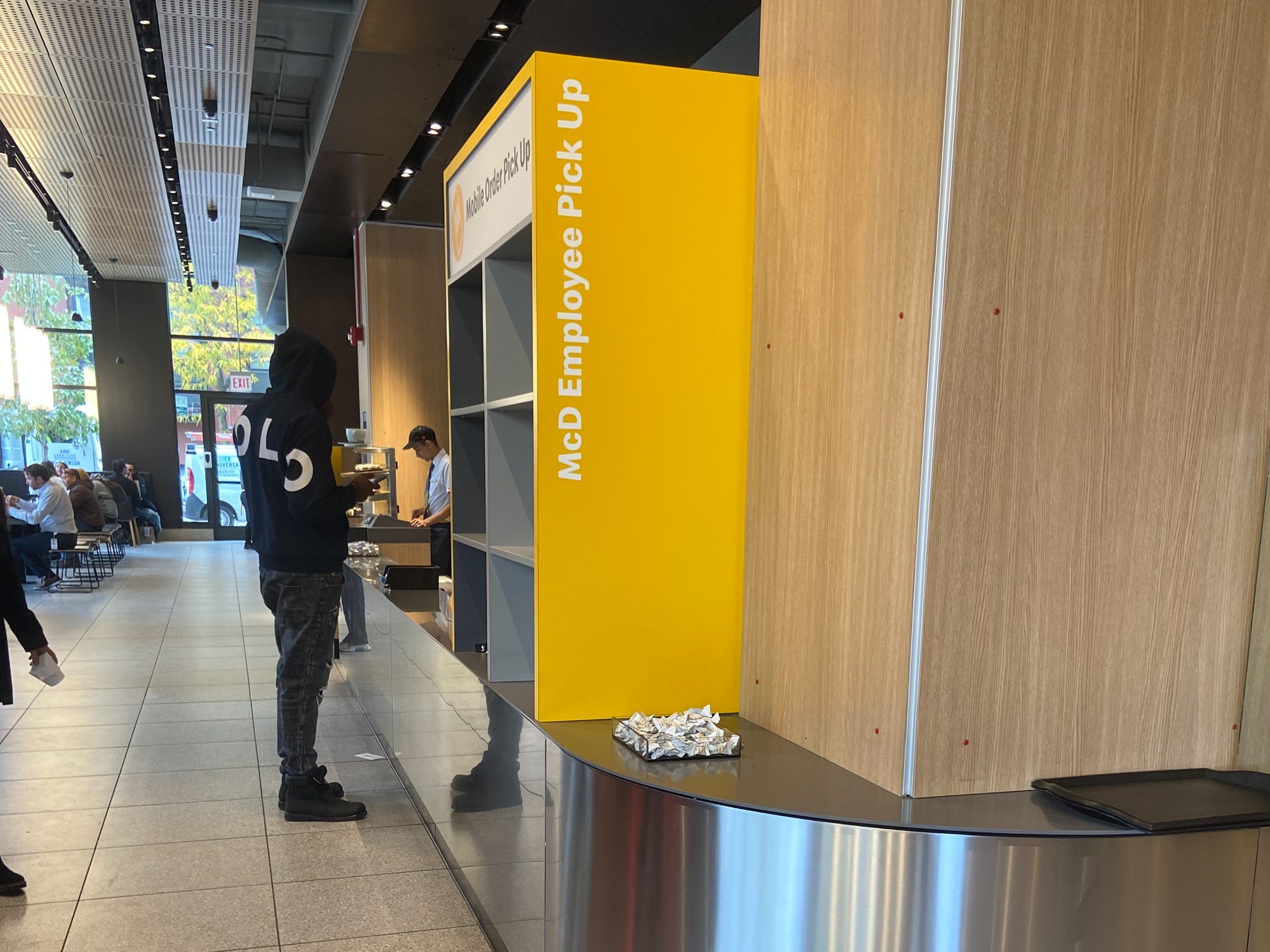 Source: Chicago Tribune
Unfortunately, a couple global menu items weren't available when I visited — including the Benedict Bagel from New Zealand, and the mini donuts and mini apple fritters from Canada — but I ordered every global item I could.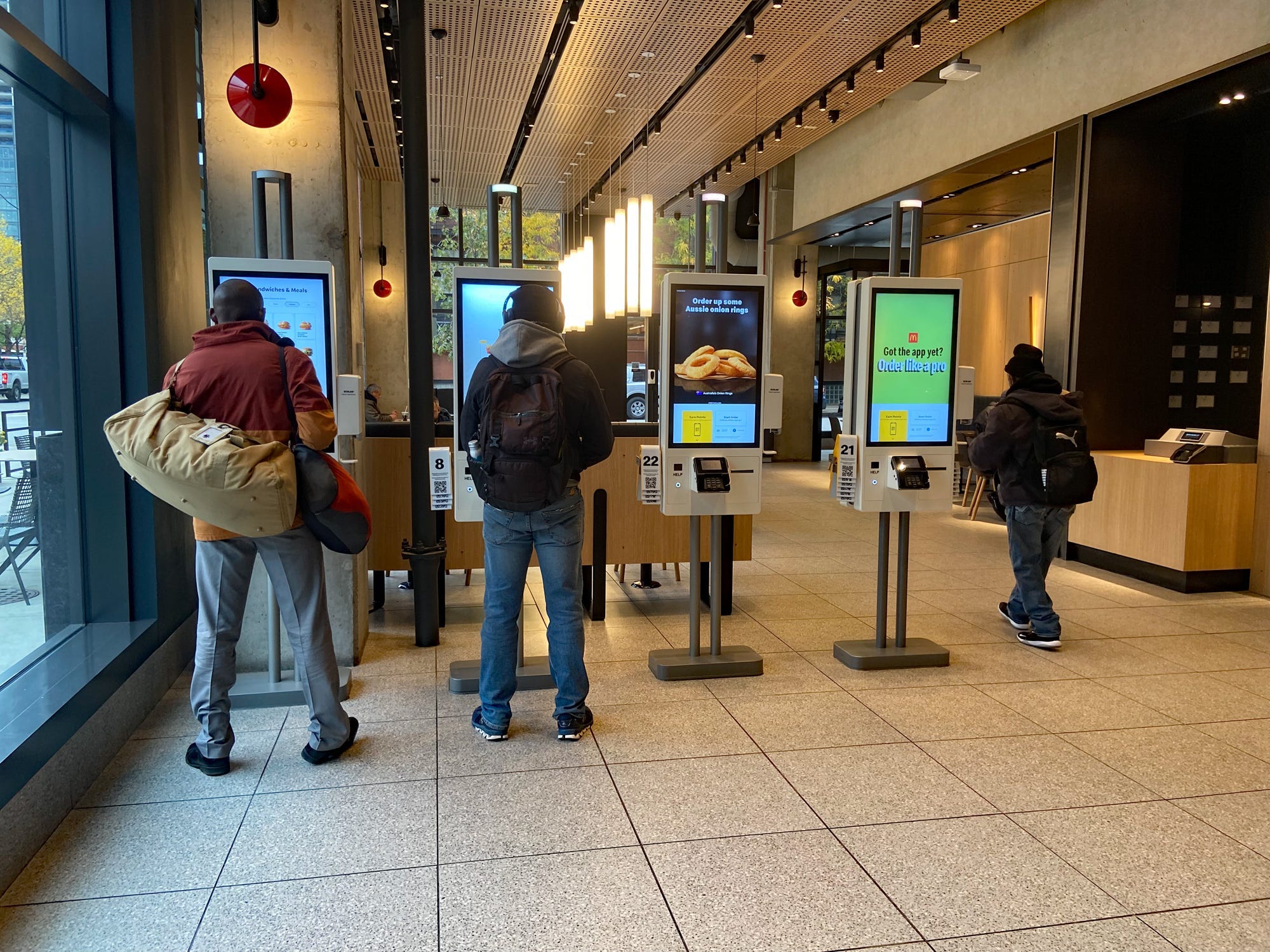 I arrived just before lunch rush so there was plenty of seating. However, the restaurant was quickly crowded during my time there. After ordering, I was given a number and instructed to sit down and wait for a staffer to deliver my food — I definitely wasn't in a traditional McDonald's anymore.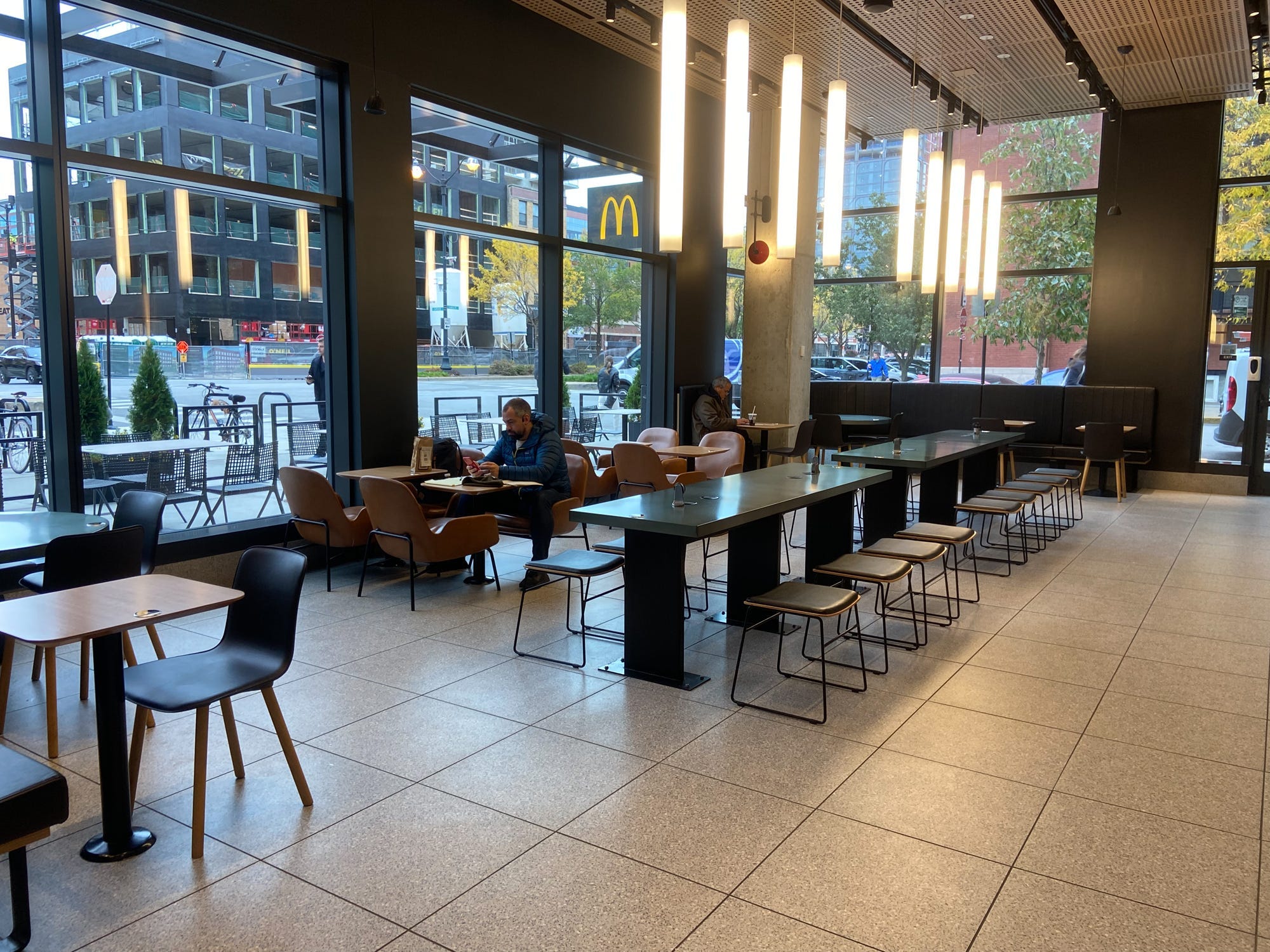 My food arrived on a large tray about five minutes after I ordered it.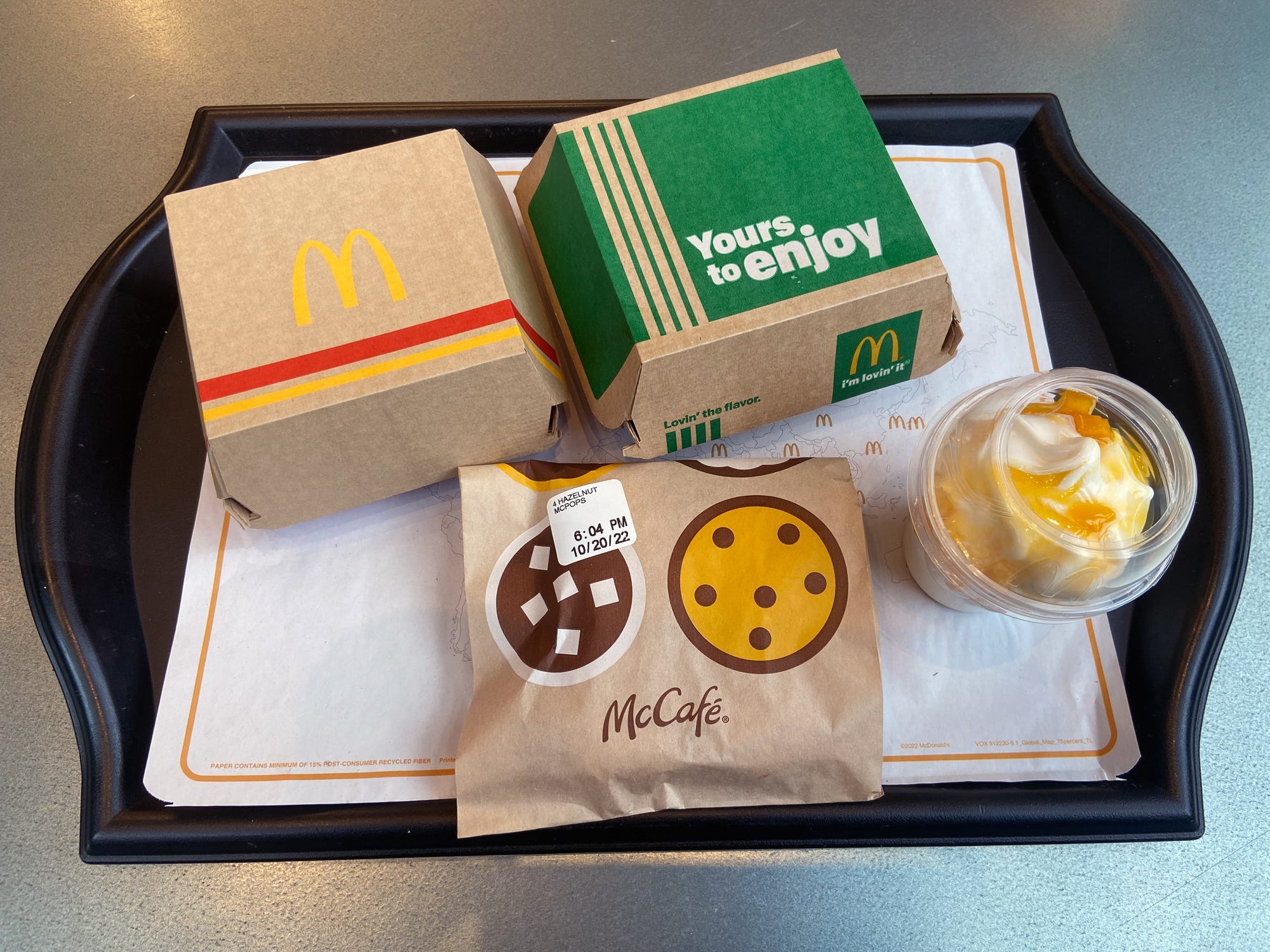 Before I could make a decision, I peeked under the lids.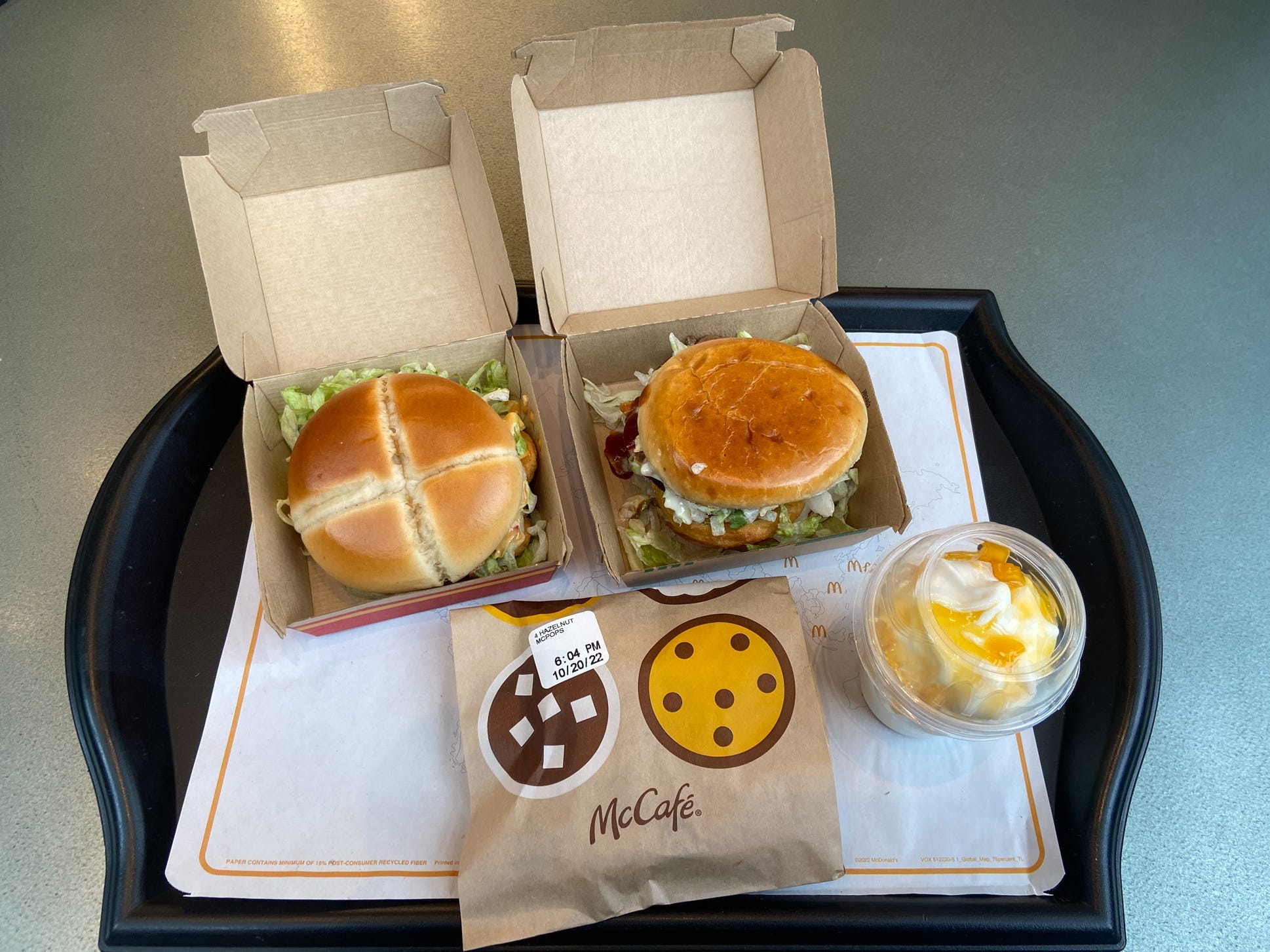 I started with the mango sundae from Malaysia, $2.59, before it melted, and because sometimes it's fun to have dessert first.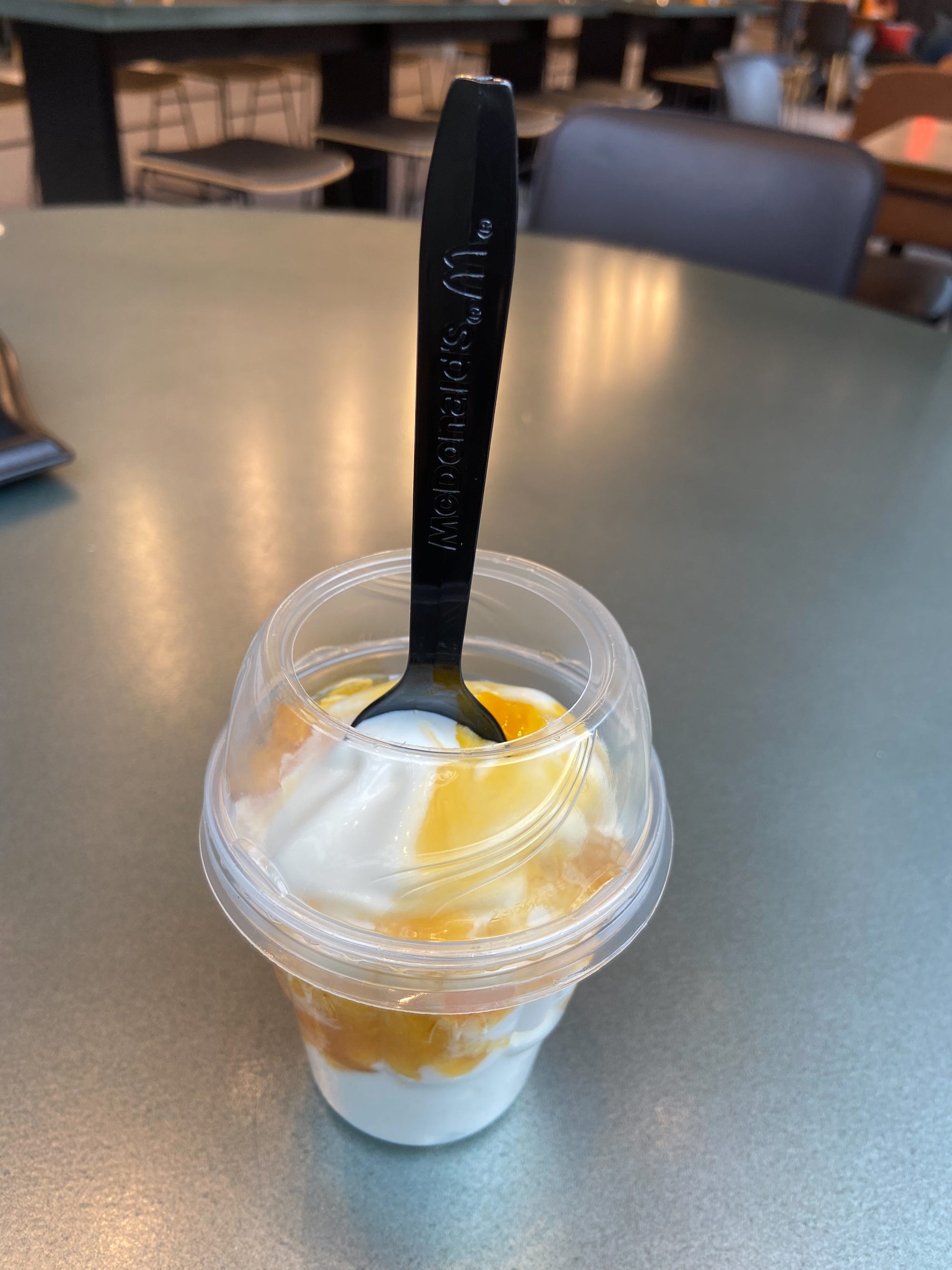 I've long been a fan of McDonald's hot fudge sundae in the US, as well as the famous vanilla soft serve, so this was a pleasant surprise. The mango topping reminded of Fage yogurt cups, so it made me feel like I was eating frozen yogurt.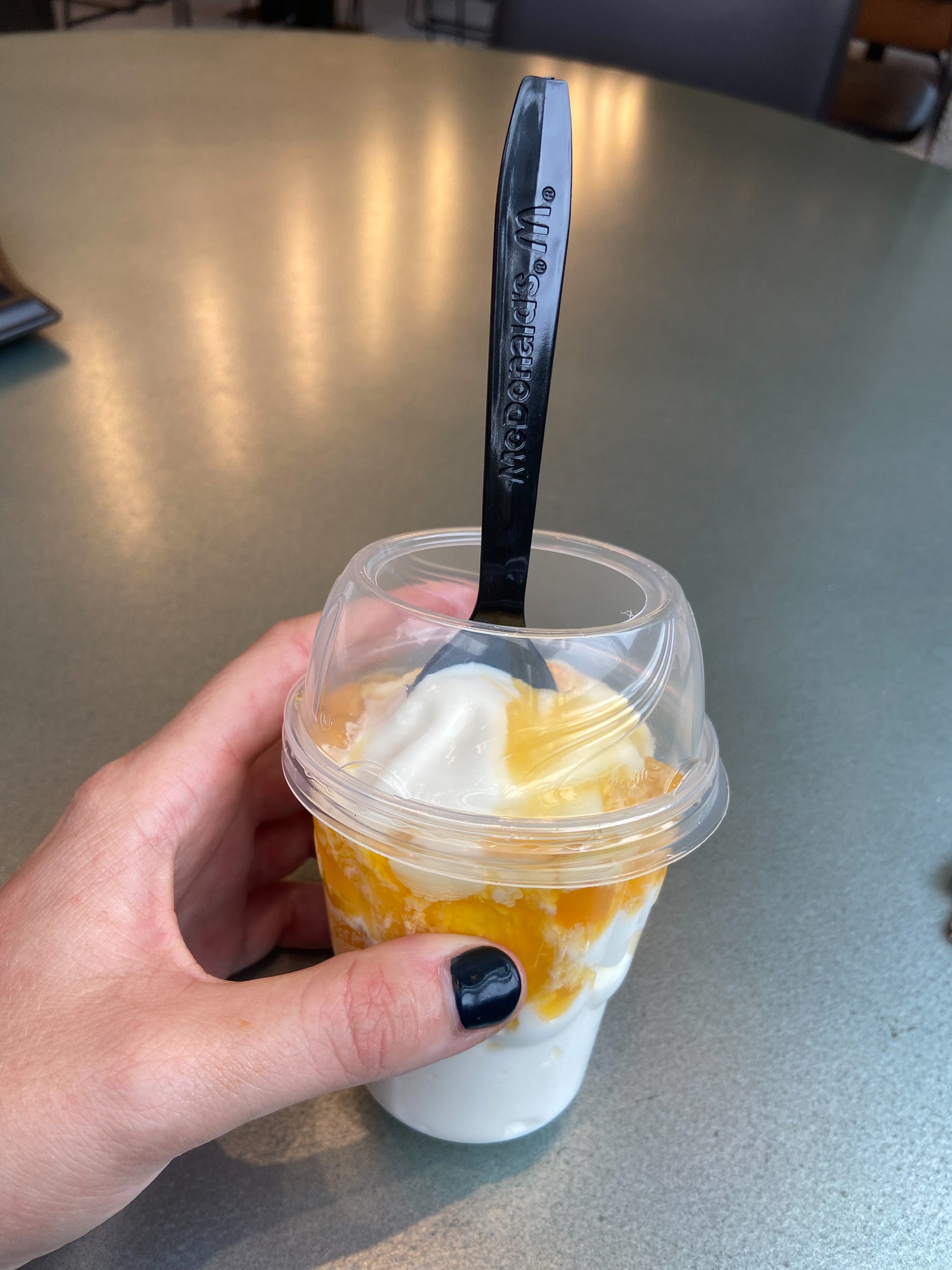 Next, it was time for me to try my two sandwiches.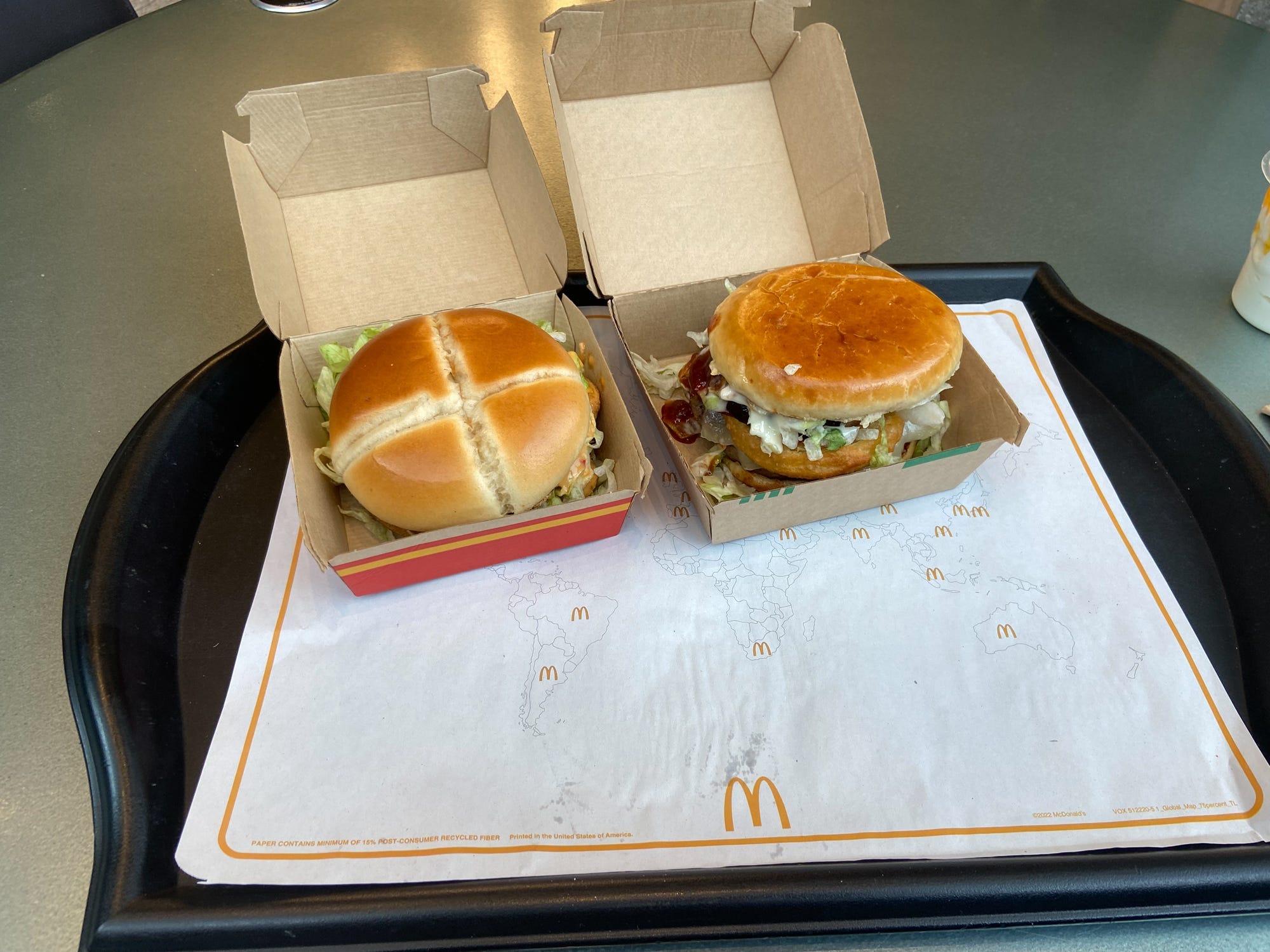 I started with the Kung Pao Double Crispy Chicken sandwich, $5.99.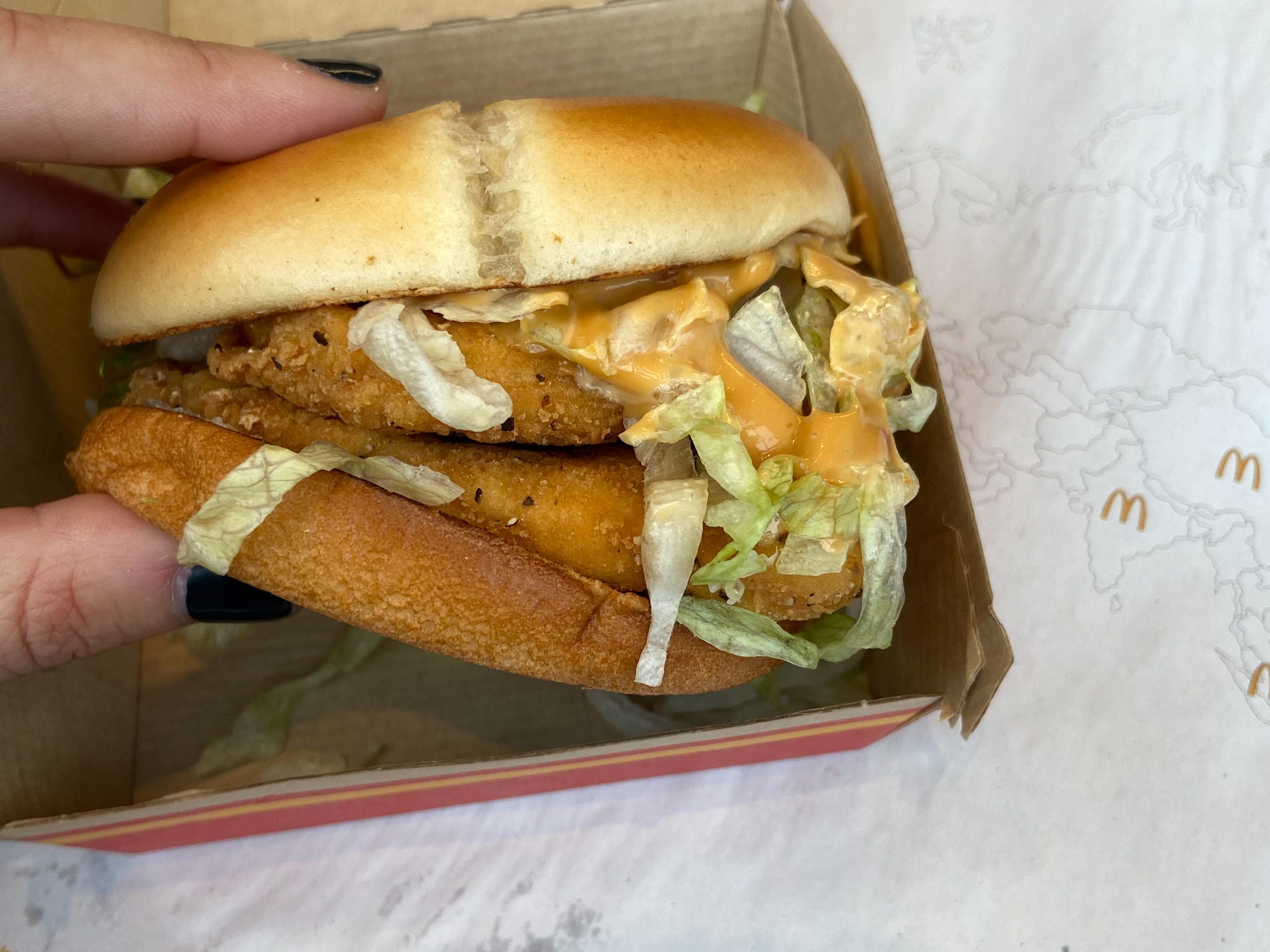 The sandwich contains two McChicken patties, shredded cabbage, and Kung Pao dressing on top of a cross-baked bun.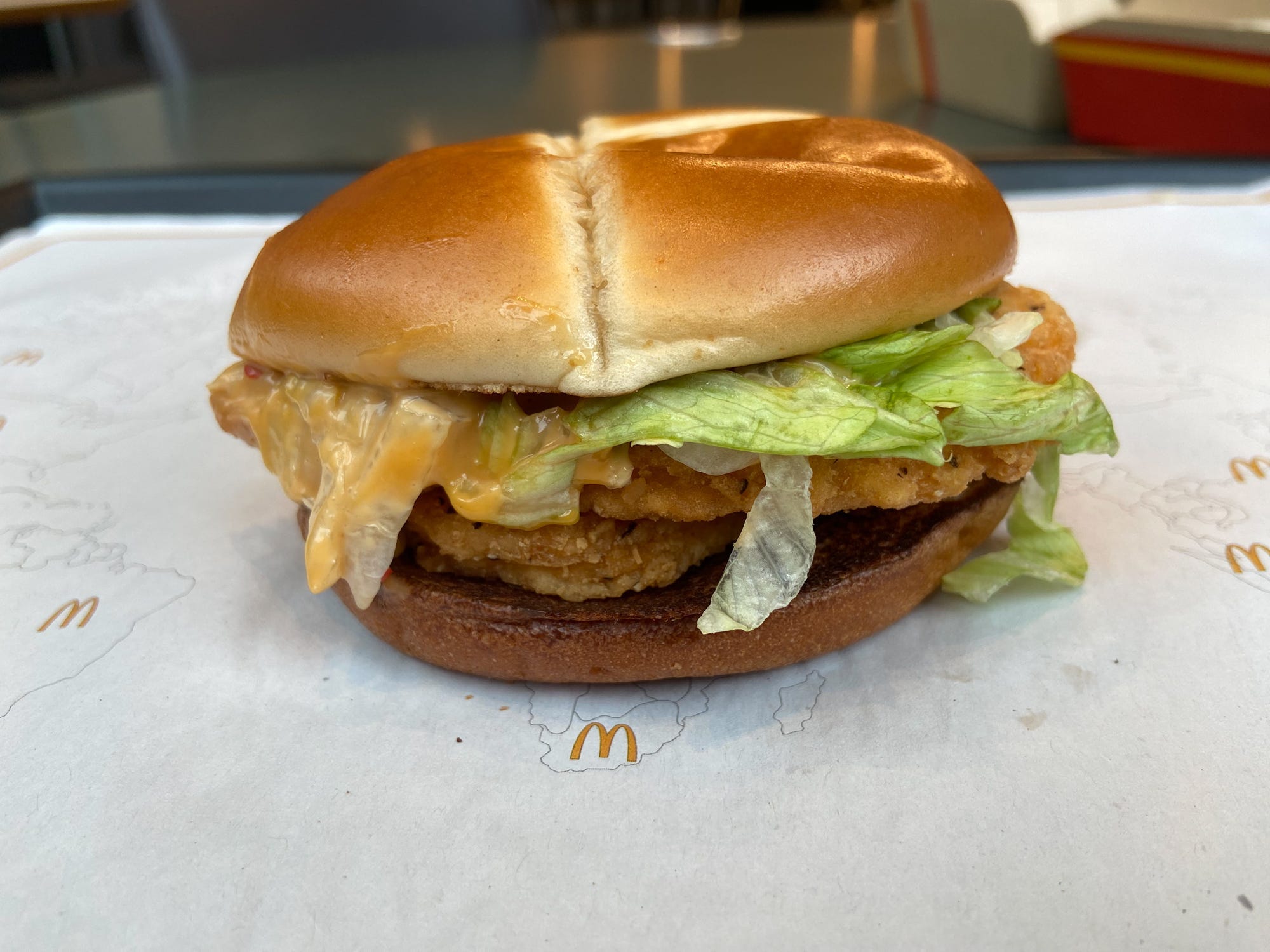 This was delicious with a nice combination of flavors that complimented the crispy chicken.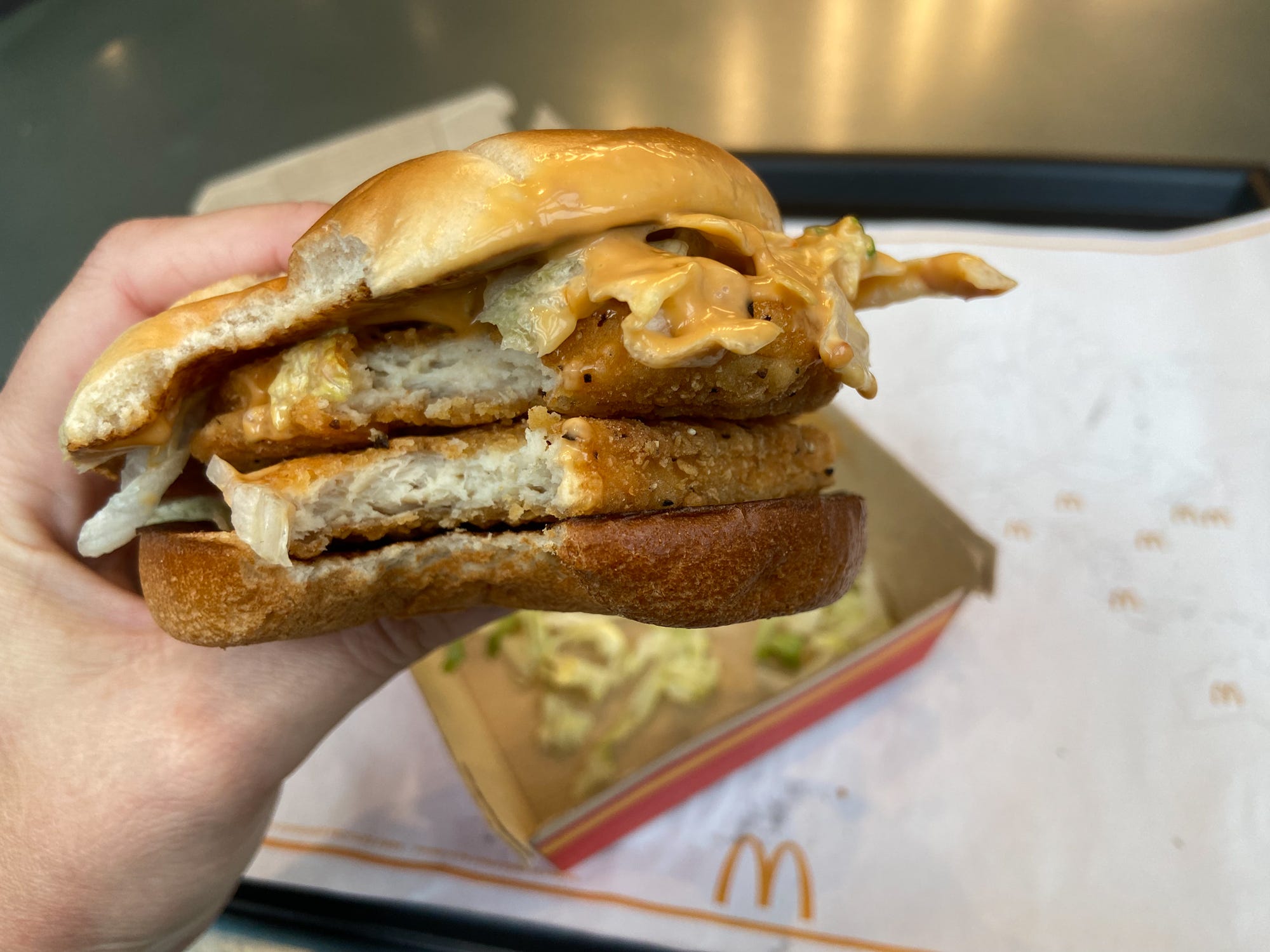 After a few bites, the Kung Pao was put on pause so I could test the Aussie Angus Burger, which costs $6.99 in Australia.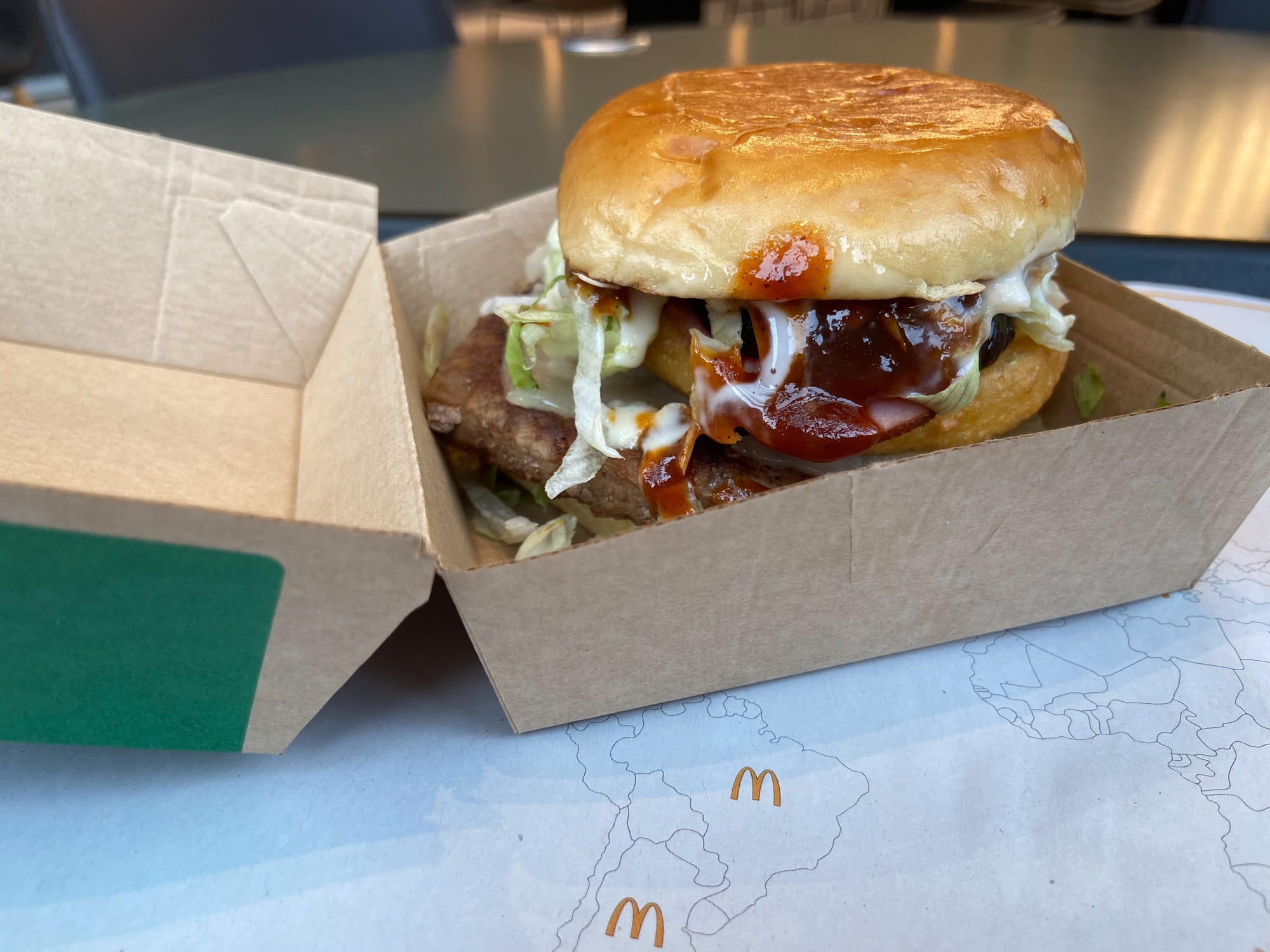 The Aussie Angus Burger is massively popular in AustraliaThis was only available for a brief time.
This one was immediately overwhelming. It was so large and messy, I couldn't pick it up.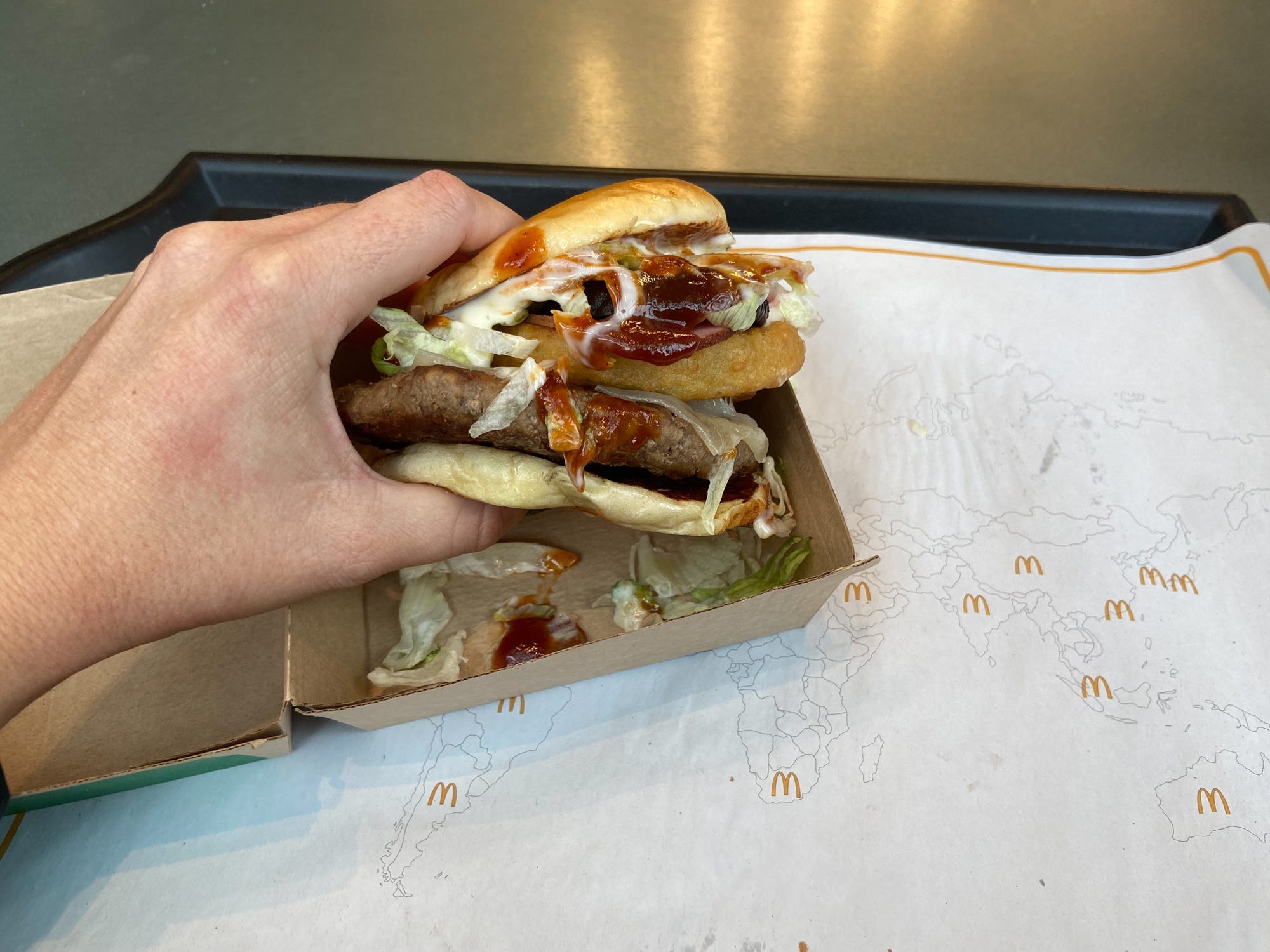 It includes 100% Aussie beef and garlic mayo, shredded salad, onion rings, Monterey Jack cheese, and a rasher bacon on an artisan rolling.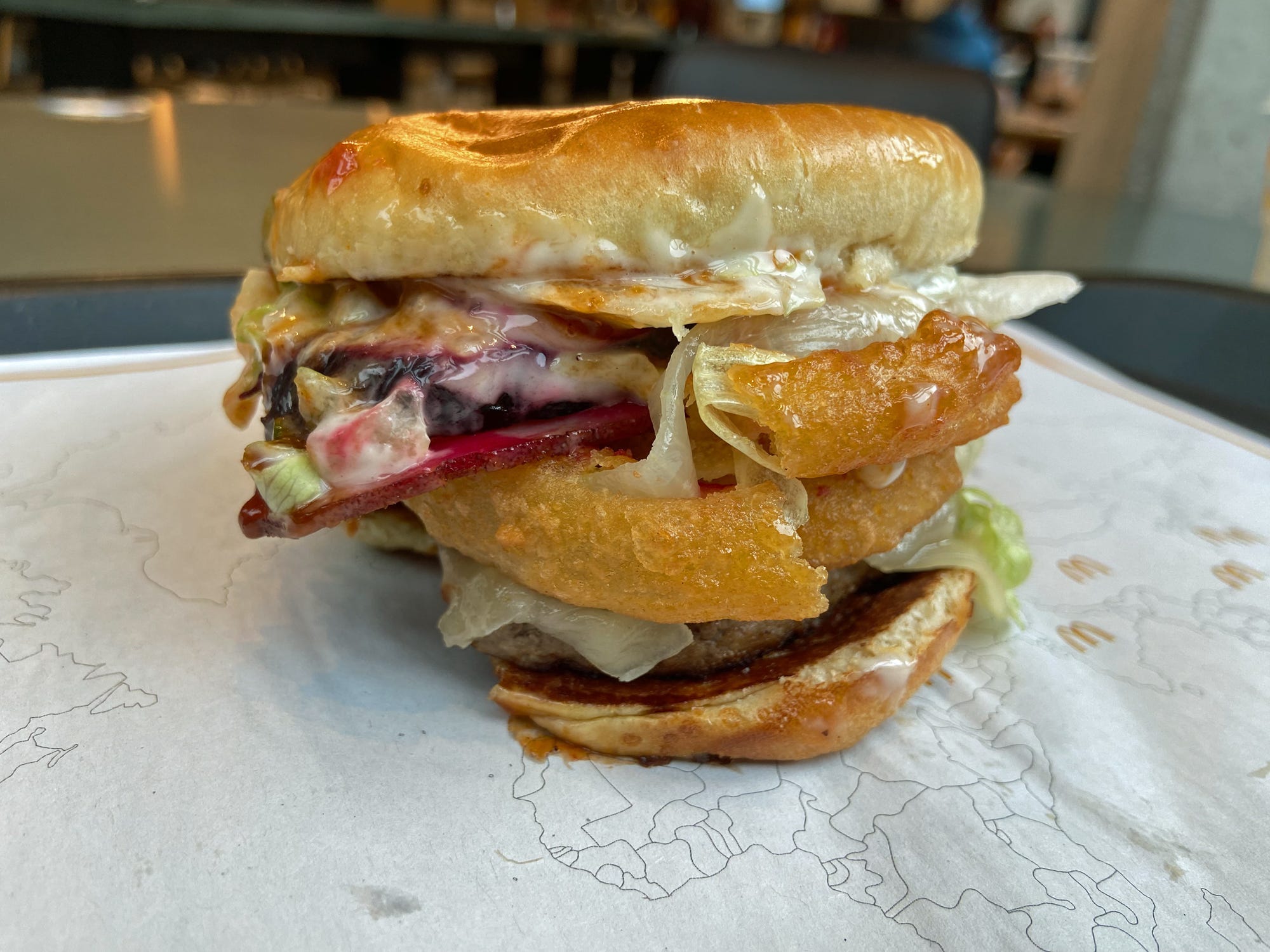 This was a product I really wanted to enjoy. But there was just too much going.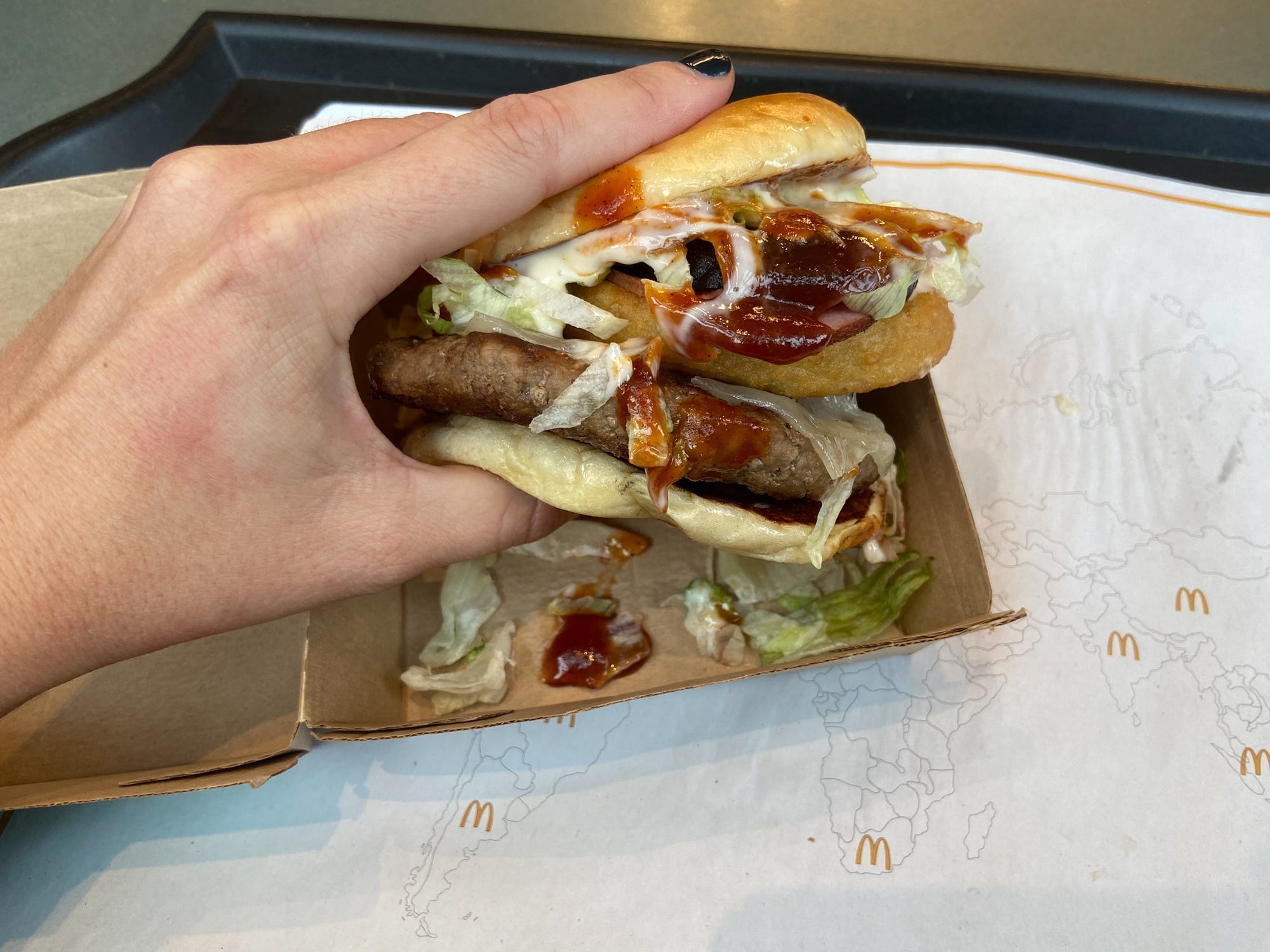 I once had to ask for utensils in order to eat it.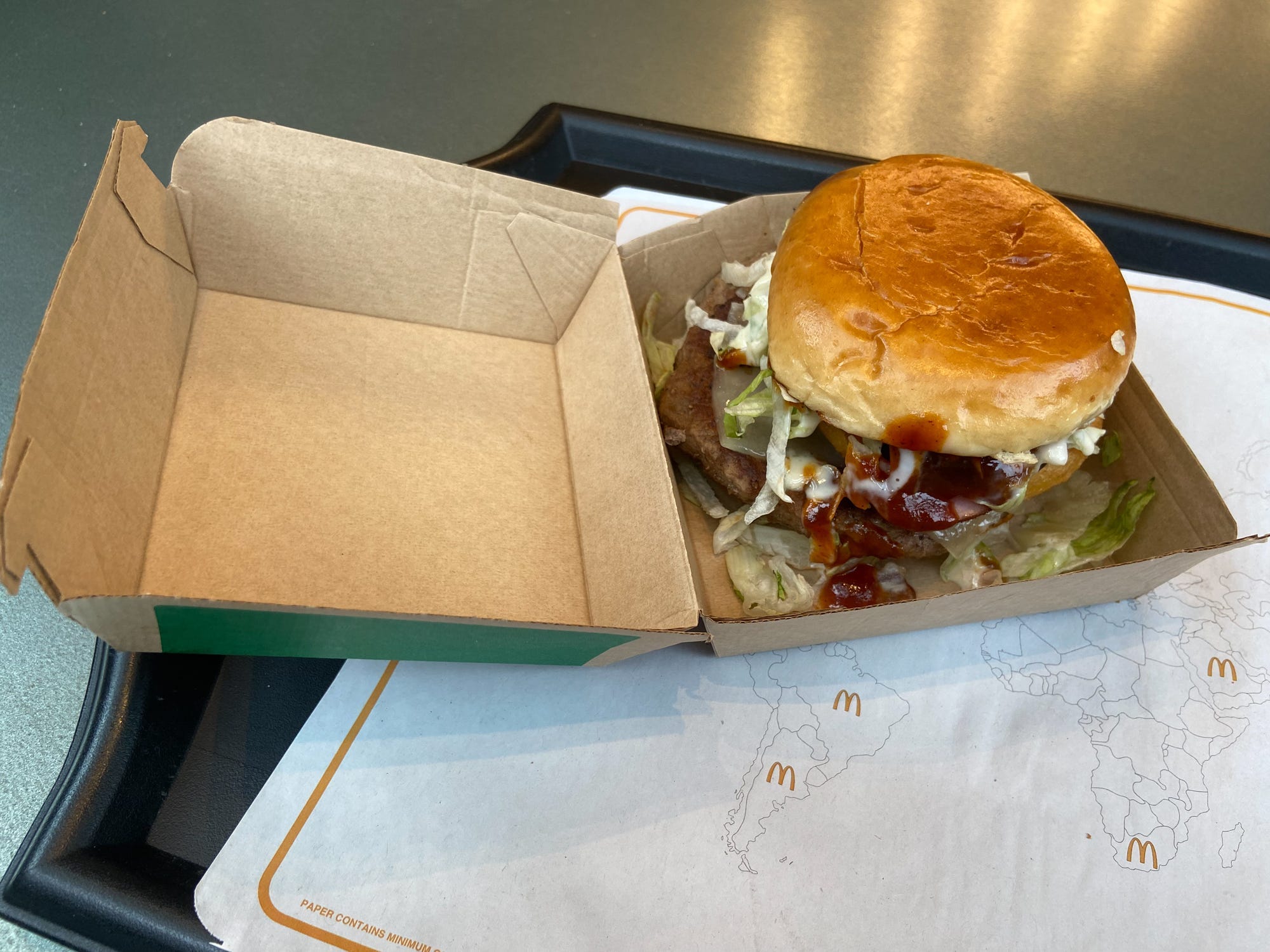 Last but not least, I was most excited for the Chocolate Hazelnut McPops (Spain), $3.99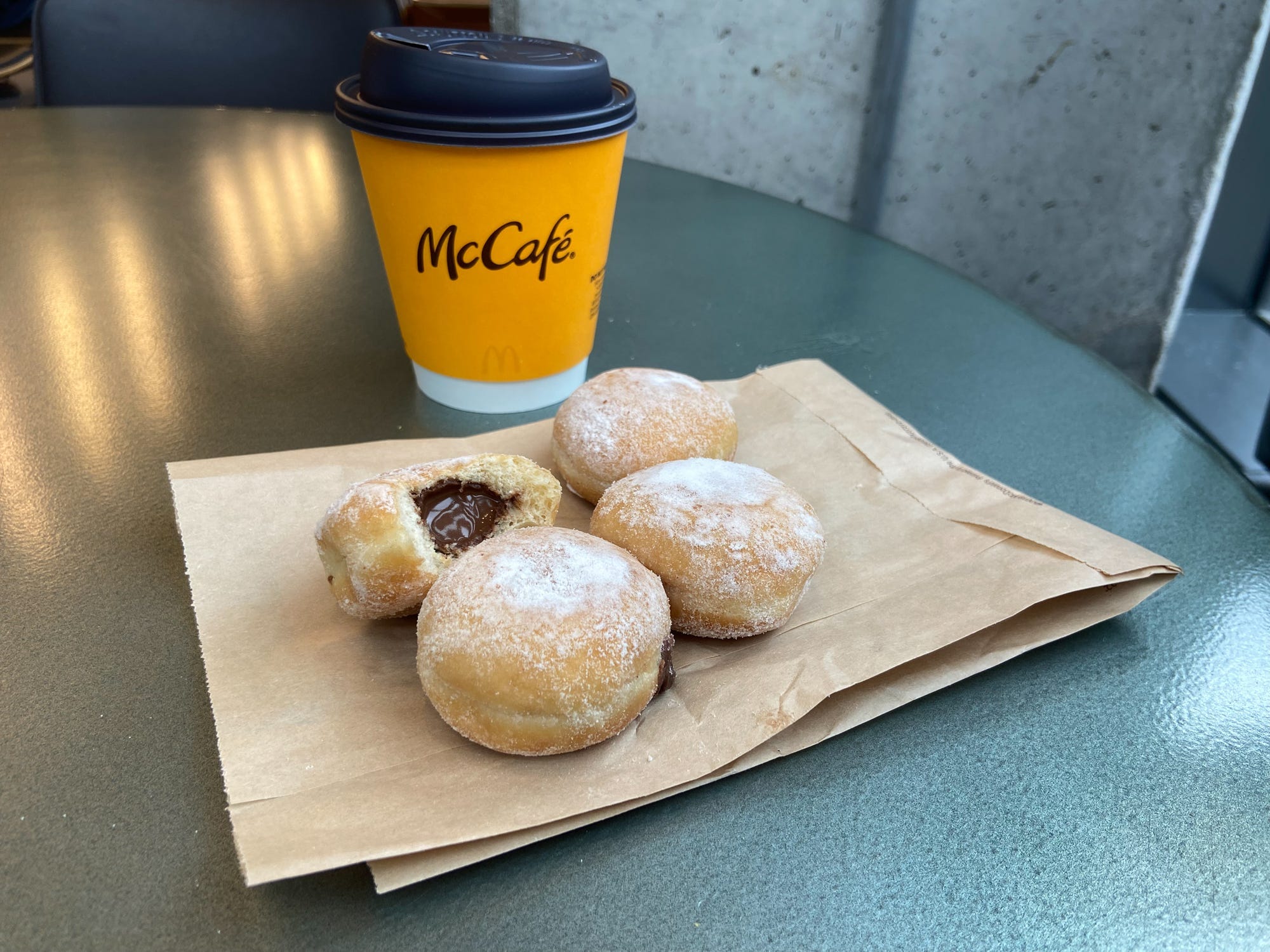 These were great — you can't really go wrong with doughnuts filled with chocolate hazelnut spread and covered in powdered sugar.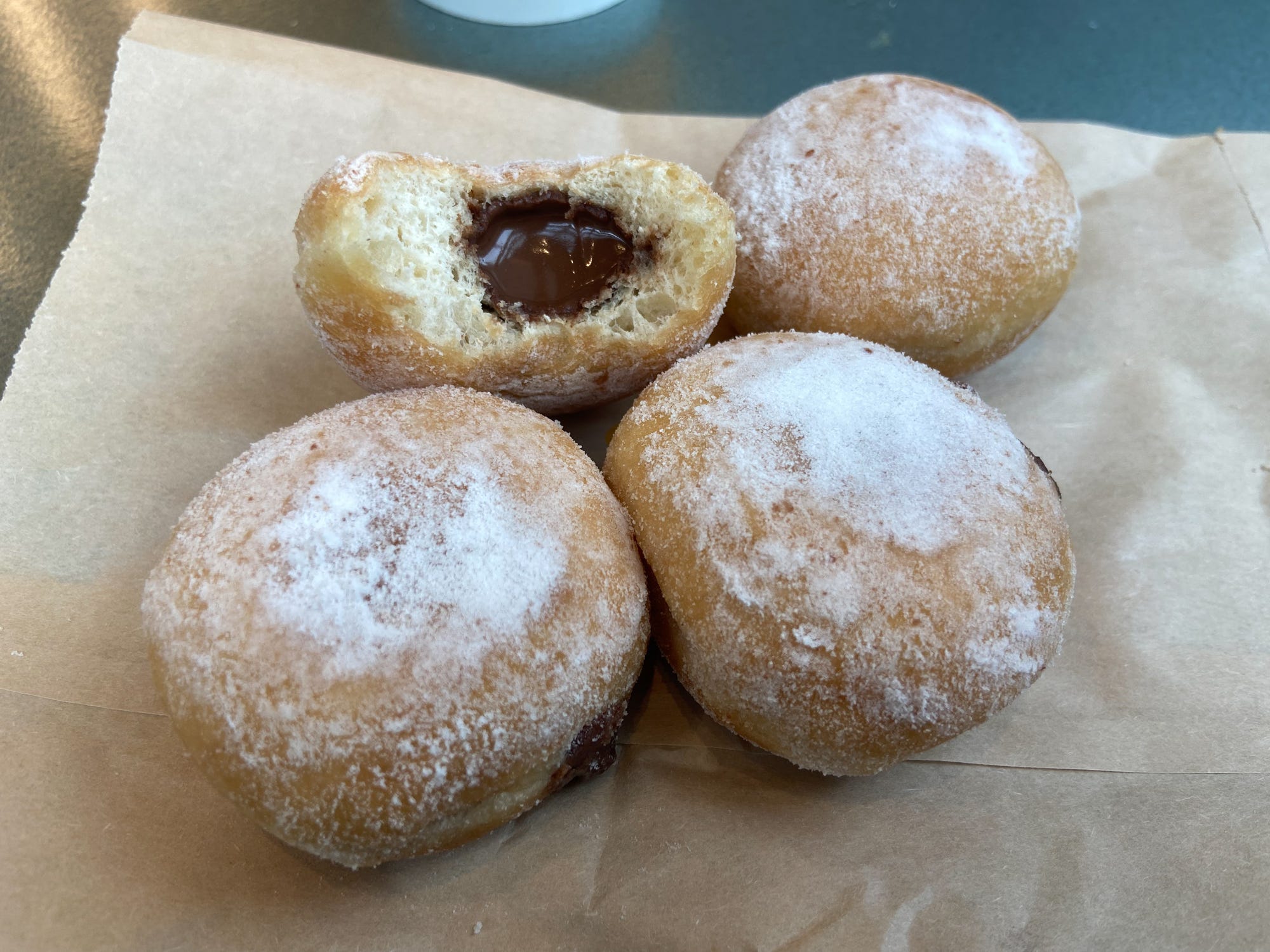 I chose chocolate hazelnut, but you can also choose white chocolate cream. They were very well paired with my latte (nothing particularly special or global about the coffee but still delicious).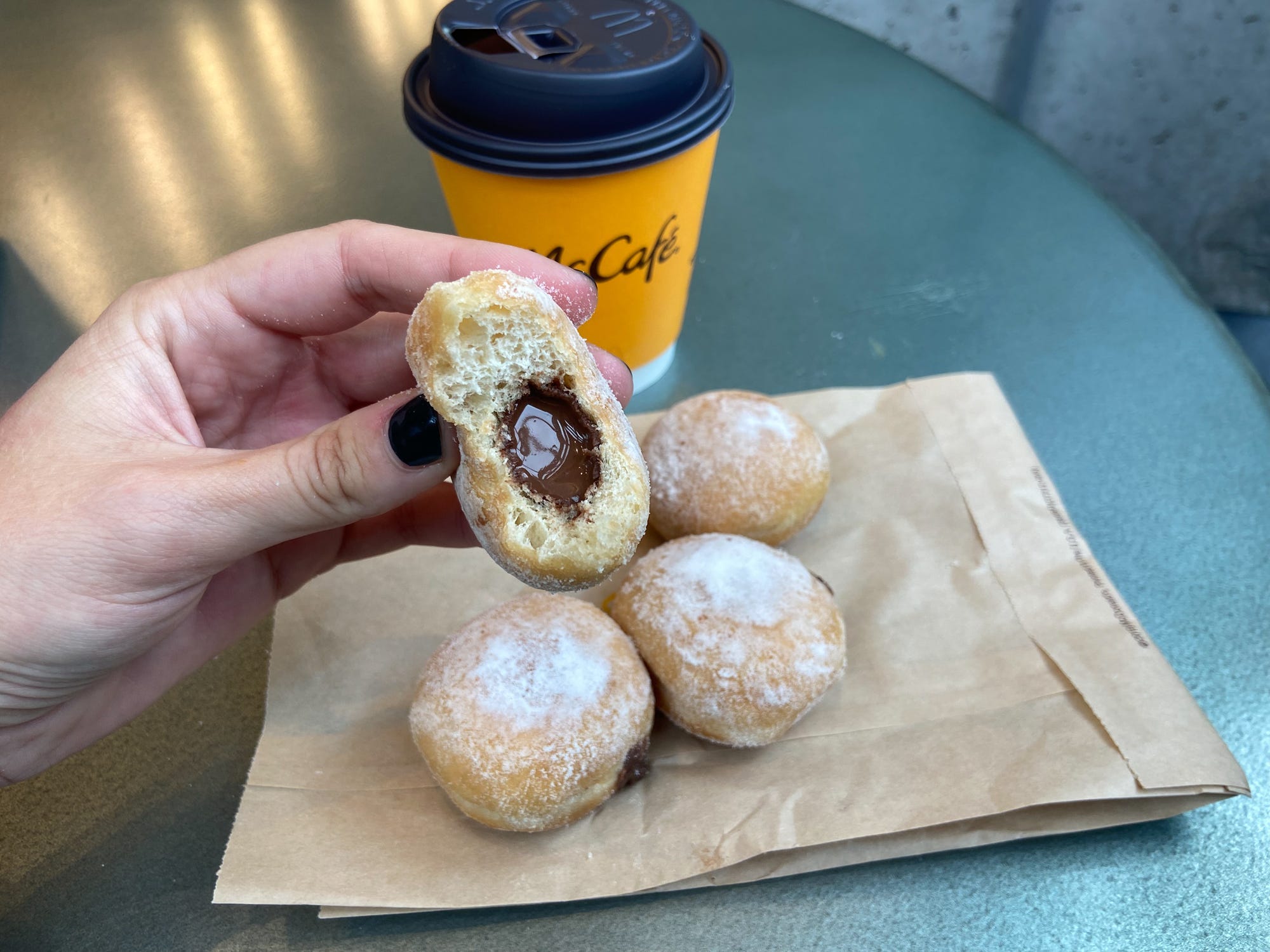 At this point, I was quite full and ready to call it quits. McPops and Kung Pao Crispy Chicken sandwiches were my favorites. I highly recommend this place.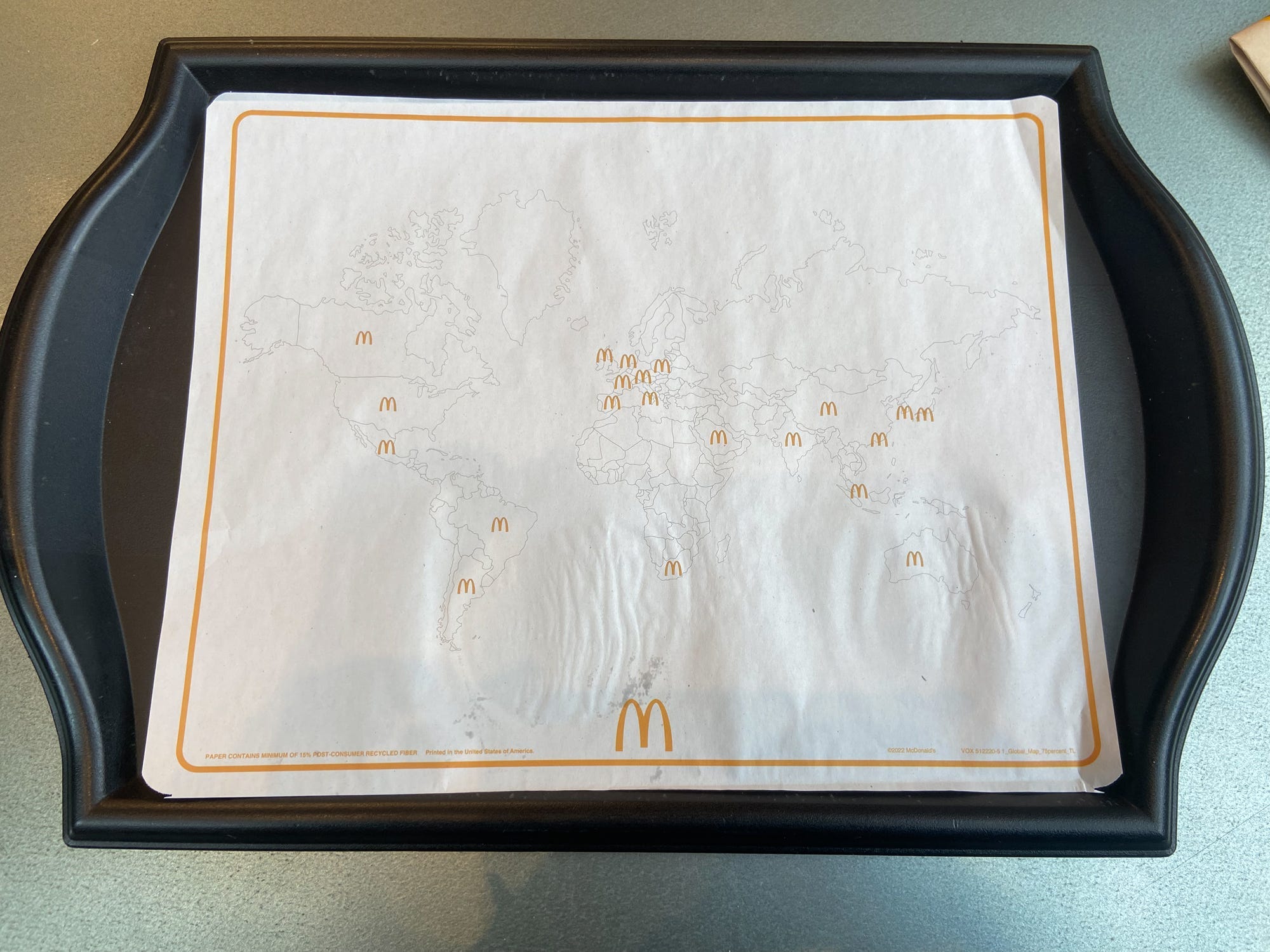 [Denial of responsibility! newsanyway.com is an automatic aggregator of the all world's media. In each content, the hyperlink to the primary source is specified. All trademarks belong to their rightful owners, all materials to their authors. If you are the owner of the content and do not want us to publish your materials, please contact us by email – at newsanyway.com The content will be deleted within 24 hours.]